What comes to your mind when you think about a story? Panchatantra, Grandma's tales, your grandparents? Stories have always been fascinating to all of us. There won't be one person in this entire wide world who doesn't like stories. But, have you ever thought about the whole digitalising concept of stories? I mean of course we have YouTube and audiobooks and e-books to name a few digitalising mediums of modern day storytelling. But what if there was more. Something more intriguing, more advanced.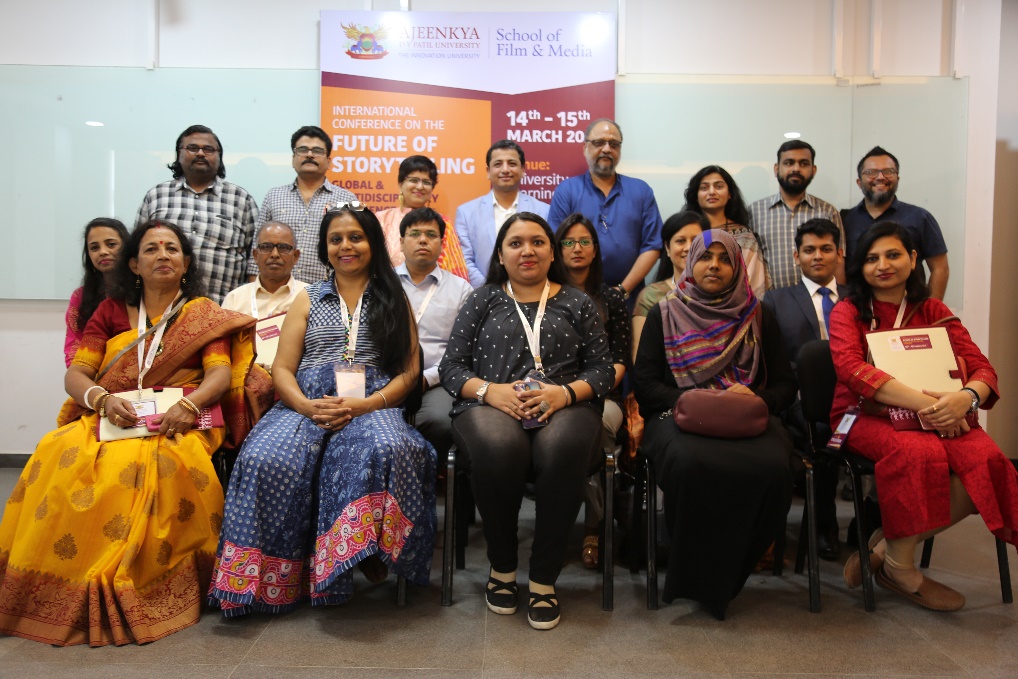 Just to shine light upon this topic, ADYPU School of Film & Media organized their inaugural International Conference on The Future of Storytelling (ICFST)recently. One interesting event that was. There was so much to be intrigued towards, so much to learn from and oh, so much fun!
It was an event worth attending, but not to worry, because we shall give a slight sneak peek into what happened during the ICFST 2019.
The event was kick started with lighting of the holy lamp, by Dr Manju Rughwani, (HOD, School of Film and Media), Mokeme Chiwital (MD, CEO, Alice, Alferd International, Nigeria) and Jaya Panvalkar (Director, Nvidia India).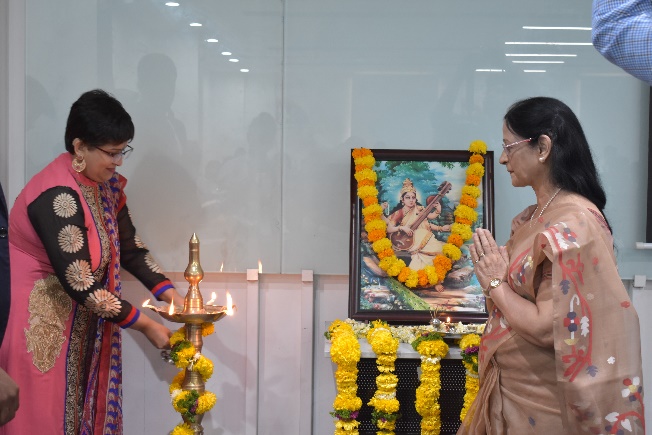 How do you call it a storytelling conference without having to tell a story? Mokeme Chiwetal knew exactly how to convey his concept of futuristic storytelling through an interesting story. And not one eyed drooped or not one head fell onto the desk. His story was so interesting to listen to. He explained his journey from Nigeria to India and the stereotypes he had to face because of the "stories" he had heard about India. He talked about stories making and impact on the minds of people. When his family was unsure about him doing his education in India, he convinced them that things are going to be fine and that he will come back with more stories to tell from India, good one though. Today he is back in Nigeria, and is the MD and CEO of Alice Alfred international and has a bunch of stories to tell about India, all good ones though.
Imagine been able to have your grandmother from India being virtually present with you in Australia, telling you the stories you love. Jaya Panvalkar, Director of Nvidia India one of the most popular GPU companies talked about the exact same thing. She talked how technology, more specifically, Virtual Reality will be a good initiative to bring together the families that are living afar and have the same experience of listening to stories as sitting in the same room together over a cup of tea. Cool isn't it? Never having to miss out on your grandmother's soft wrinkled voice and being able to see her while she takes you back down in memory lane. I am all game for that idea!
Talking about future of storytelling and not inviting a young budding entrepreneur can be a little unjust. Liu Yu, MD and CEO of Giantview, China, gave the audience a sneak peek into the world of digital marketing and its association with story telling. His entire perspective as young digital marketer, trying to sell, is that, the consumption of the content depends on the quality of the content. The Internet is just a platform to lay the buffet of choices. Ok, also, a tiny secret. His company got PUBG to India. I know you already like him more than others.
Visual Effects is one of the most amazing things that has been created by man. Jesh Krishna Murthy, CEO and Founder of Anibrain, a Pune based VFX company very ironically has a different outlook towards digital storytelling. He says, good content is what is intriguing, digitalisation or no digitalisation, the art of story should have the emotion and should create an experience, an experience we won't forget. The lost "grandmother" like experience.
Sonia Konjeti, The Founder of PULA ladies' community, inspired the audience with a bunch of stories about brave women who fought against all odds made and name for themselves. The audience was left awestruck by the end of her presentation and many left inspired.
Rahul Jain, Managing Director & CEO, InnoServ group of companies explained digitalisation and storytelling being the part of it. His inspiring journey was a story in itself and was nothing less than a treat to hear.
The first day of ICFST was concluded with a very interesting Iranian film, the Song of Sparrows by Iranian filmmaker Majid Majidi. The film was an intriguing piece which kept the audience stuck throughout. Prior to the screening, we had Taroba—A young Iranian filmmaker talking about the essence of Iranian Cinema.
Day Two began with an interesting session by Harsh Pamnani-Marketer & Author of the bestselling book—Booming Brands. He spoke about the importance of storytelling in the dynamic world of marketing & branding. He explained the insights of popular Made in India brands like Gole Vadapav, Bookmyshow, Paper Boats and so on. His presentation left the students and the rest of the audience inspired and intrigued towards the end.
After Pamnani's speech, the delegates were invited on to the podium to present their insightful research papers on the theme of the Conference.  It was nothing but sheer pleasure to hear such interesting papers by a bunch of scholars who had flown from all over the countries to give the audience a piece of their knowledge. Covering topics like digital marketing, VR, literature and associating them with the art of storytelling in a very beautiful and intriguing manner was a tough challenge, which the delegates seemed to fulfilled to the core.
The Finale was the Valedictory Session. It was presided by none other than young and dynamic media entrepreneur—Anikait Chavan—Co-Founder of Campus Times Pune. He inspired the students with his story as to how he climbed to become a media entrepreneur. His talk was engaging as students could connect with him due to zero age gap. The session was a very interactive one with students and faculty both volunteering to ask questions. Later on, he felicitated all the faculty and staff of School of Film & Media for their untiring efforts for a successful Conference. The vote of thanks was proposed by Dr Manju Rughwani—who was also the Convenor of ICFST-2019.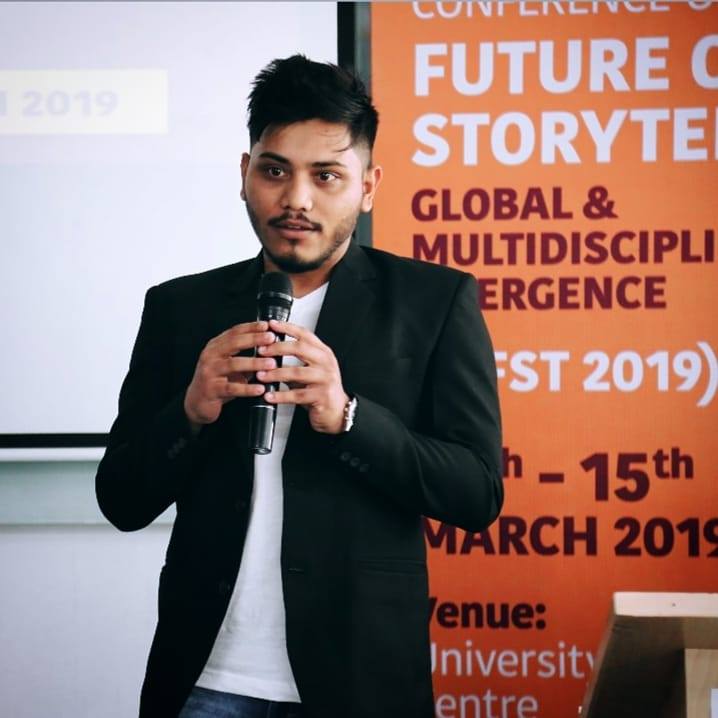 On that note, International Conference on the Future of Storytelling was concluded leaving behind a bunch of inspired students, giving a platform to a bunch of very intellectual scholars and giving a little sneak peek into the future of storytelling. And that is what made ICFST a success. Ajeenkya DY Patil University and Dr. Manju Rughwani's initiative showed colors and it is definitely hopeful that there will be more such events in the future.
Don't forget to share this upcoming event details with your network. Join Campus Times Pune on Facebook, Google+ & Twitter. Also do subscribe our YouTube Channel. Click on Push Notifications to get notified whenever we publish a post.