The most coveted conclave for the world of Human Resources- HR Summit, organized by Symbiosis Institute of Operations Management, Nashik is back again with all its vigor, this time bigger and better.
HR Summit is an endeavor to culminate eminent leaders including CEOs, CHROs, VPs, Directors, and other HR professionals across the industries to speak about visionary ideas, best practices, cutting-edge insights, and industry experiences in the field of human resources.
Here's all you need to know about the event: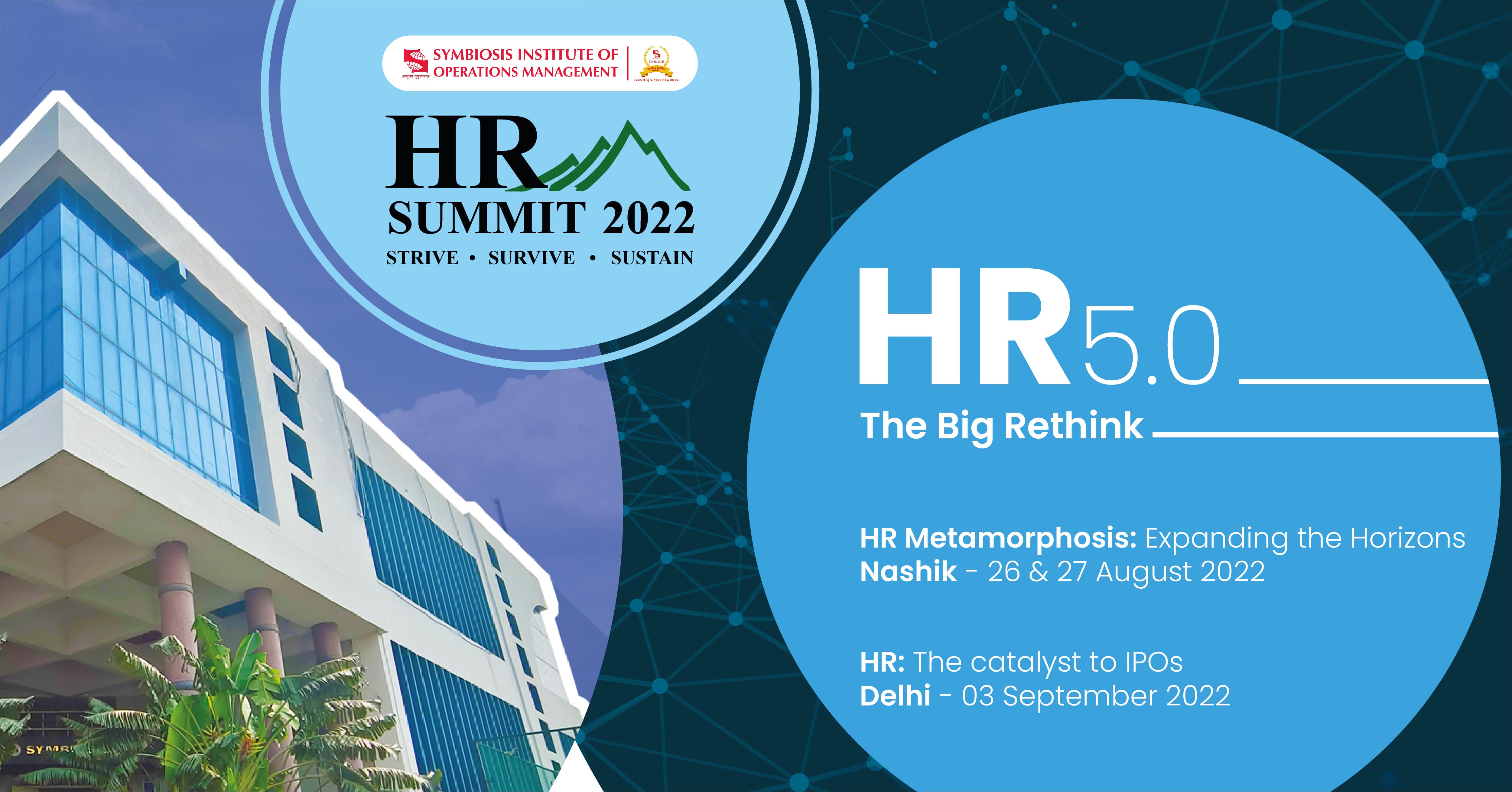 When & Where:
The event has been phased out into two parts, the first being on the campus itself at Nashik on the 26th and 27th of August and the next at Delhi, on the 3rd of September.
Why Should You Join:
Network and Interact:
Since its inception, HR Summit has been witnessing many eminent personalities from the business world sharing their wealth of knowledge in the conclave. Even though the event had been taken online for the last two years courtesy of the pandemic, this time it is back in all its glory and you get to attend it physically at the campus in Nashik or in Delhi.
Nonetheless, it is a great forum for aspiring and budding management professionals and human resources enthusiasts to interact and listen to the leaders solving real-world problems and the changing dynamics of the HR function.
Click Here To Read More About Such Events!
Themes and Sub-themes:
HR Summit comes with its great legacy of revolutionary and carefully curated themes striving to address issues and deliberating on the ever-changing dynamics of the human resources function.
This year, the focus is on the evolution and the reforms brought about by technology in the HR praxes and thus the theme HR 5.0-The Big Rethink. Two sub-themes accompany it- HR Metamorphosis and HR: The catalyst to IPOs which speak about the paradigm shift in practices such as hiring and onboarding, hybrid work culture, inclusivity, diversification, and productivity in workplaces, etc.
Dynamic Speakers:
HR Summit boasts of having hosted some of the esteemed business icons in the past and this year is no different. Several visionaries and industry experts are expected to discuss and deliver on various sub-domains of the theme throughout the three days in the efficiently curated panel discussions and keynote speeches.
Among them, Lt. Colonel Alok Kumar Das, Chief People's Officer at Brinton Pharmaceuticals, Dr. Amjad Khan, Vice President at Cornerstone International Group, Mr. Bimal Vyas, Head – HR Strategy & HRBP at Astral Adhesives, Mr. Anil Santhapuri, Director – Skill Solutions, Global Talent Management at FIS, Mr. Akshaya Kashyap, Sr VP, HR at Future Generali Insurance, Ms. Priyanka Thakur, Lead, Talent Management & Development for India at AstraZeneca, and Mr. Sumit Bhatia, HR Leader, Global Service Delivery at Mercer are a notable few.
Anurag is an inquisitive budding Engineer.
Being perfect at his job is his watchword. Persistent learner, Aesthete photographer. Football , memes & Game of thrones fanatic.