Graffiti; the annual techno managerial festival of Symbiosis Centre for Information Technology is a two day extravaganza that sees participation from both corporates and students from various technical and business institutions across India. The participants gather to take part in a wide
variety of quizzes, presentations, performances, competitions and lot more. It is this diversity of participation that helps drive the event to a glorious pinnacle.
In commemoration of SCIT reaching its 20th year of inception, the theme of this year's Graffiti is Venti Cosmo; an amalgamation of the Italian word Venti, meaning twenty and Cosmo, a word that symbolizes the infinite, the uncharted and truly representing the transcending of all limits. Venti
Cosmo will attempt to provide a platform for participants where they can showcase and unlock the skillsets that are expected of the techno managers of the future.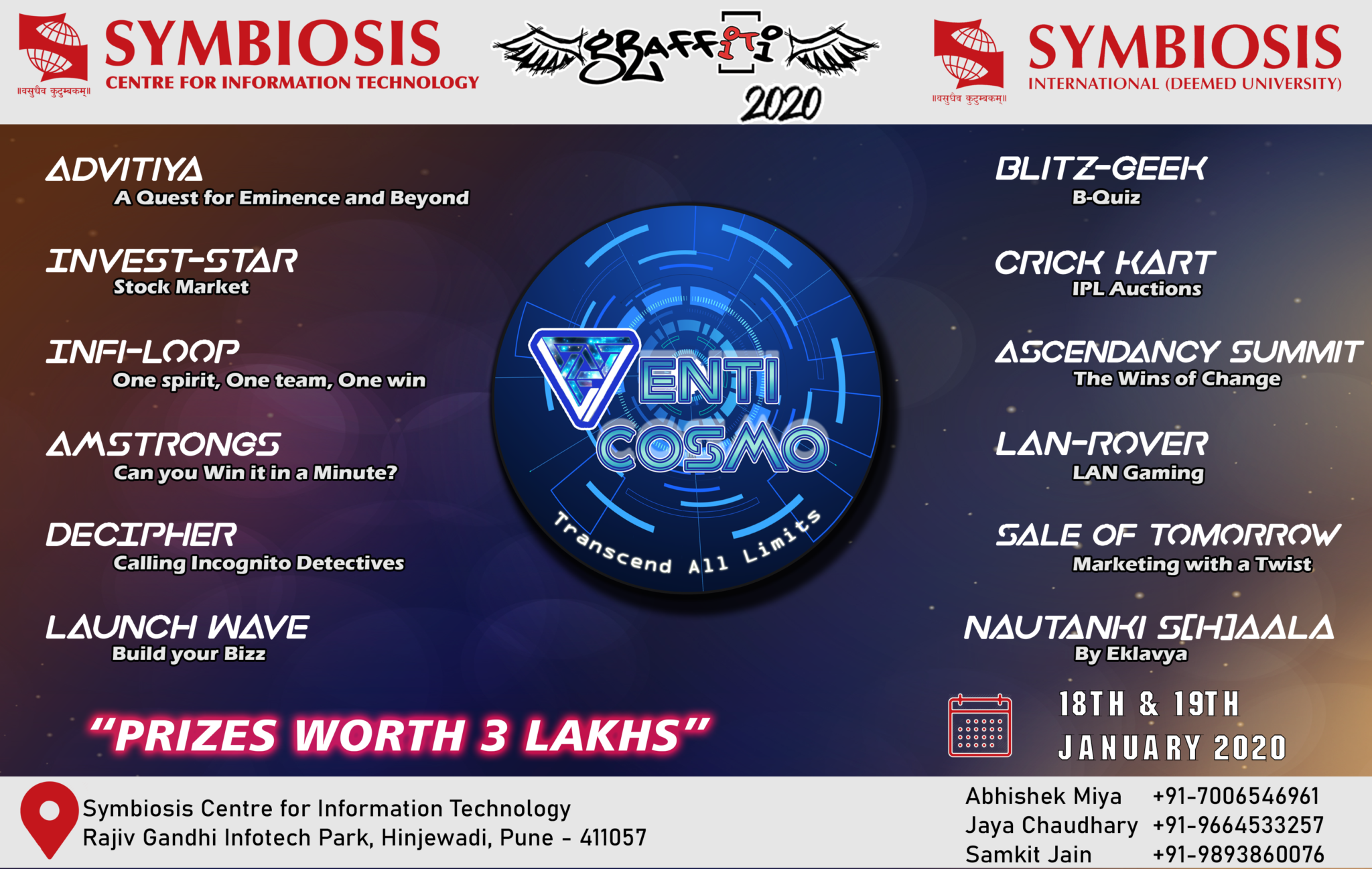 Every year, Graffiti holds many events that aim to test capabilities of the participants in a wide array of areas be it theatre, team work, business quizzes and even knowledge of the stock market. Keeping in line with this tradition, this year has the following events on offer: Advitiya; the flagship event, designed to test and push the problem solving capacities of the
participants to their very limit, Invest-Star; a stock market simulation game that focuses on the analysis of a situation's impact on stocks and how business strategies must be modified in a dynamic fashion in order to make the best of this impact, Infi-Loop; An event that tests team spirit
and understanding, with a special focus on tapping into one's individual capabilities and turning them into strength, Lan-Rover; an event that is dedicated to gamers, featuring a variety of popular games like PUBG, FIFA and NFS, Crick-Kart; a simulation of the IPL auctions where people have
to display their intricate knowledge about the game of cricket and how they can leverage the same to turn it into a well balanced team, Sale of Tomorrow; the marketing event, designed to be challenging and put you in the shoes of a marketing mogul, Decipher; a crime scene investigation
event aimed at channeling your inner detective, Blitz-Geek; the business quiz that tests the business understanding and knowledge of our participants, Ascendancy Summit; an event that portrays the important role leadership plays in projecting groundbreaking ideas revolving around global issues
and coming up with innovative and diplomatic solutions to make the best out of the given situation, Launch Wave; the business plan competition that test's your ability to plan and execute an idea, Amstrongs; our very own version of Minute to Win It, Nautanki Shaala; multiple events spread
across the theatre and dramatics genre that aims to showcase the talent of the participants in the following events: street play, mime and solo performance.
Don't forget to share this upcoming event details with your network. Join Campus Times Pune on Facebook, Google+ & Twitter. Also do subscribe our YouTube Channel. Click on Push Notifications to get notified whenever we publish a post.