The Entrepreneurship Cell at the Indian Institute of Information Technology, Pune, announced its flagship event, E-Summit'22: Making Impossible Inevitable. It will be one of the most incredible entrepreneurial events of the year in online mode with 14 different fascinating events highlighting every aspect of entrepreneurship. Since Metaverse is taking over, E-Summit'22 is converging towards the realm of future startups by reflecting Global Financial Capitals in Metaverse and contributing to globalization by letting young entrepreneurs propel the startup world into the next age without worrying about where they are.
Website: https://esummit.ecelliiitp.org/
The registrations for this event started on 2nd March 2022 on the Dare2Compete platform, and will be closed on 18th March 2022. There is no registration fee for this event, and anyone enrolled in a UG/PG course globally is eligible to participate.
E-Summit'22 is going to happen in two segments. Round 1 of all the 14 events will take place in the first half of the E-Summit between 19th March – 21st March 2022. The second half of the event, which includes all of the remaining stages of the multi-round events, will begin on 25th March and end on 27th March 2022.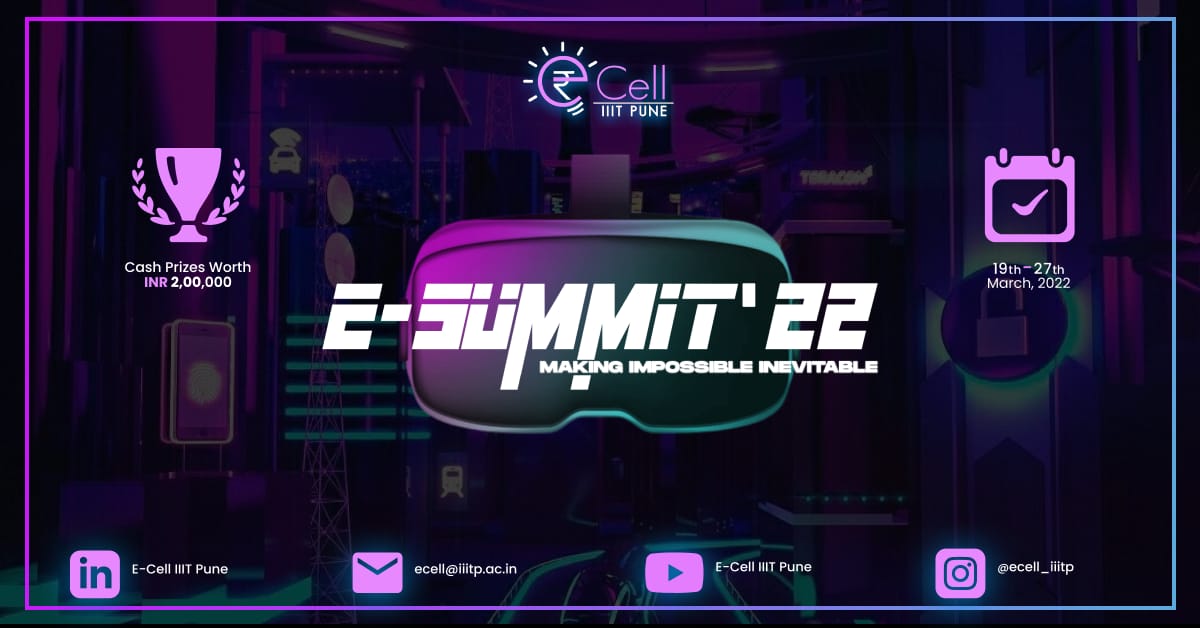 All 14 events are tailor-made to appraise the entrepreneurial capability of the participants. E-Summit'22 has in-store events that allow participants to experience the thrill of trading. Trading Arena, a virtual stock trading event, and CryptoClash, a virtual crypto trading event, will be live from day one. Thought-provoking events like Flawless, Hooked Up with Design, MadAds, and Saleable emphasize the concern of strategies and business plans in entrepreneurship. The events like TopTalks, Poker, and Deal No Deal amend the decision-making and critical thinking skills of the participants. Pitch Perfect, aQUIZition, and Bidcon are events that will help participants boost their pitching skills, business knowledge, and team-building abilities. E-Summit'22 also comes up with playful events such as the Online Treasure Hunt, and Brains on Fire, which make your mind race in all possible directions to find the solutions to the bewildering puzzles.
It's not over yet. E-Summit'22 brings back the much-anticipated YouTube series Breaking Conventions. E-Cell IIIT Pune teamed up with prestigious organizations and individuals to enhance participants' confidence and make them aware of the current scenario in various dimensions of entrepreneurship. Gear up to witness enthralling speaker sessions from eminent speakers, Mr. Arjun Vaidya (Founder of Dr. Vaidya's), Ms. Mahalakshmi Saravana (Founder, Women Entrepreneurs India), Mr. Prasoon Gupta (CEO & Co-Founder, Sattviko), Mr. Paresh Gupta (Founder & CEO, GCEC) and  Ms. Himanshi Singh (Educator & Youtuber) from 25th March – 27th March 2022.
Watch The Season 1 of Breaking Conventions:
E-Summit'22 will have unique and engaging workshops focused on the newest business and technological trends, such as Digital Marketing, Web 3.0, NFTs, Stock Marketing, Crypto Trading, Futures and Options, to name a few. They are designed to assist beginners in entering the realm of entrepreneurship and acquiring the necessary skills.
The event presents whopping cash prizes worth more than INR 2,00,000, exciting gifts worth more than INR 5,00,000, and free vouchers worth INR 2000 to all participants. Making this happen is where the seemingly impossible becomes inescapable, and E-Cell IIIT Pune ascends to newer heights. The purpose of E-Summit'22 is to bring out the full potential of all participants, manifest innovation, and foster an entrepreneurial attitude.
In December 2020, E-Cell IIIT Pune was born with an aspiration to spread the spirit of entrepreneurship and build a robust culture of entrepreneurs. E-Cell IIIT Pune has earned an uproarious triumph over the last two years by hosting events such as "Ideathon 2k21," "The Silk Route Quiz," and "Hackathon 2k21″ along with a brand new YouTube series "Breaking Conventions". This year, with E-Summit'22, E-Cell IIIT Pune is raising the bar to unprecedented heights. In just ten days, the number of registrants has already surpassed 6500. The Spectacle Is True!
E-Cell IIIT Pune is on a quest to do the impossible and will not calm down till it becomes inevitable! Brace yourselves to compete in this gripping adventure.
Anurag is an inquisitive budding Engineer.
Being perfect at his job is his watchword. Persistent learner, Aesthete photographer. Football , memes & Game of thrones fanatic.