JSPM's Wagholi Campus Bhivrabai Sawant Polytechnic Institute hosted a three day startup and entrepreneurship conclave event "Entrepreneurship Summit-2k19" from 26th to 28th Sept 2019 under the DST-NIMAT Project, Dept.of Science & Technology Govt.of India, sponsored by National Science & Technology Entrepreneurship Development Board (NSTEDB) in association with Entrepreneurship Development Institute of India, Ahmedabad as NIMAT (National Implementing & Monitoring Agency for Training).
This Entrepreneurship Summit brought together successful entrepreneurs, motivational speakers, innovators and student's community on entrepreneurial platform. It also provided a platform to nurture innovative business development ideas for a startup. It also put forth innovative business ideas and inculcated the entrepreneurial spirit among the students community. It created awareness among students of engineering and science courses about various facets of entrepreneurship as an alternative career option – to become a job creator instead of job seeker.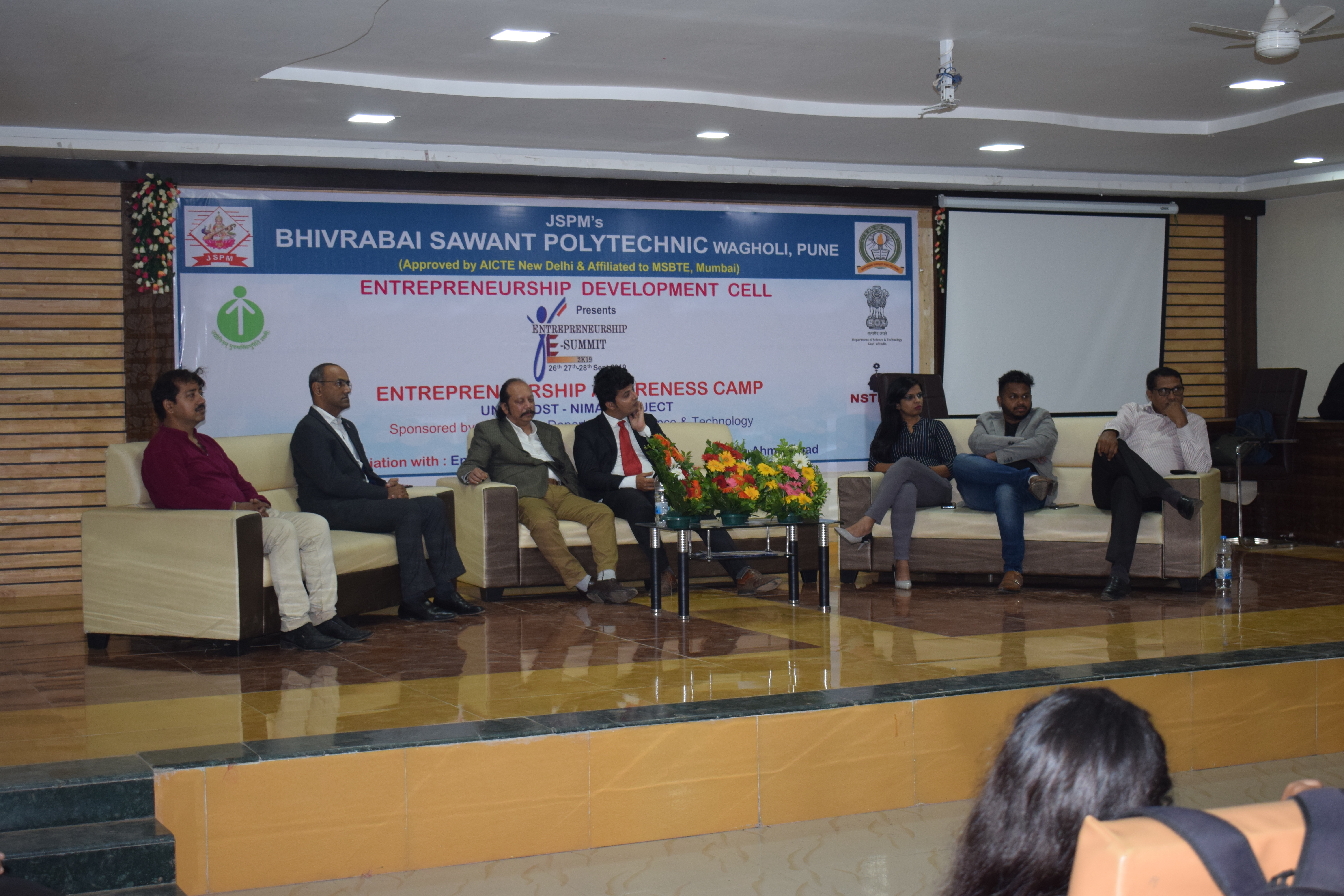 The event also spread awareness about entrepreneurship among students and guided them to develop creative ideas into business plans.
This  entrepreneurial event inaugural day was graced by the guests Mr. Vijay Kolhe (Asst.Secretary,RBTE) and Dr.Nitin Parab (CEO & Evangelist, Crosslink international) and with presence of Campus Director Dr.V.A.Bugade, Dr.S.N.Patil, Dr.V.M.Kayande, Institute Principal Dr. Sachin Admane, C convener Prof.Sanjay Jagtap, EDC Head Prof. Shriganesh Mane, Prof. Raghvendra Kadkol, Dr.Pradeep Kale, Prof.Sanket Gaikwad, Prof.Yogesh Sapnar and 300 students participated from various colleges for this event.
The Crosslink International CEO Dr.Nitin Parab called upon engineering students to become entrepreneurs which could lead to the creation of jobs. 
"The availability of jobs is reducing with developments in technology. Hence, it is important that there are more entrepreneurs as they are the ones who will generate jobs. In the future, importance will surely be given to new innovations. You have to prepare yourselves for that and have updated knowledge of what new is happening" said Dr.Nitin Parab.
Dr.Nitin Parab say's " Such type of startup and entrepreneurship conclave events helps into building the eco-system and creating the entrepreneurial spirit that is needed to take our nation to the next economical orbit.  Our Youth are the beacons of hope. On their young shoulders lies the immense challenge of a new nation in the making. 
The RBTE, Pune Asst.Secretary Mr.Vijay Kolhe while addressing the students said, "It is important to be an entrepreneur. You have to create jobs. When you work for a company, it is just distribution of wealth, but an entrepreneur is making wealth." He guided to the students for how to develop and implement the innovative business ideas to build startup.
Mr.Harshi Gupta with guiding students on digital branding and marketing of the startup for business growth says' Digital marketing is gaining acquisition of customers and growth hacking is about retaining them. Growth hacking is about full funnel marketing that basically covers 3 A's: Awareness, Acquisition, and Activation of customers on website.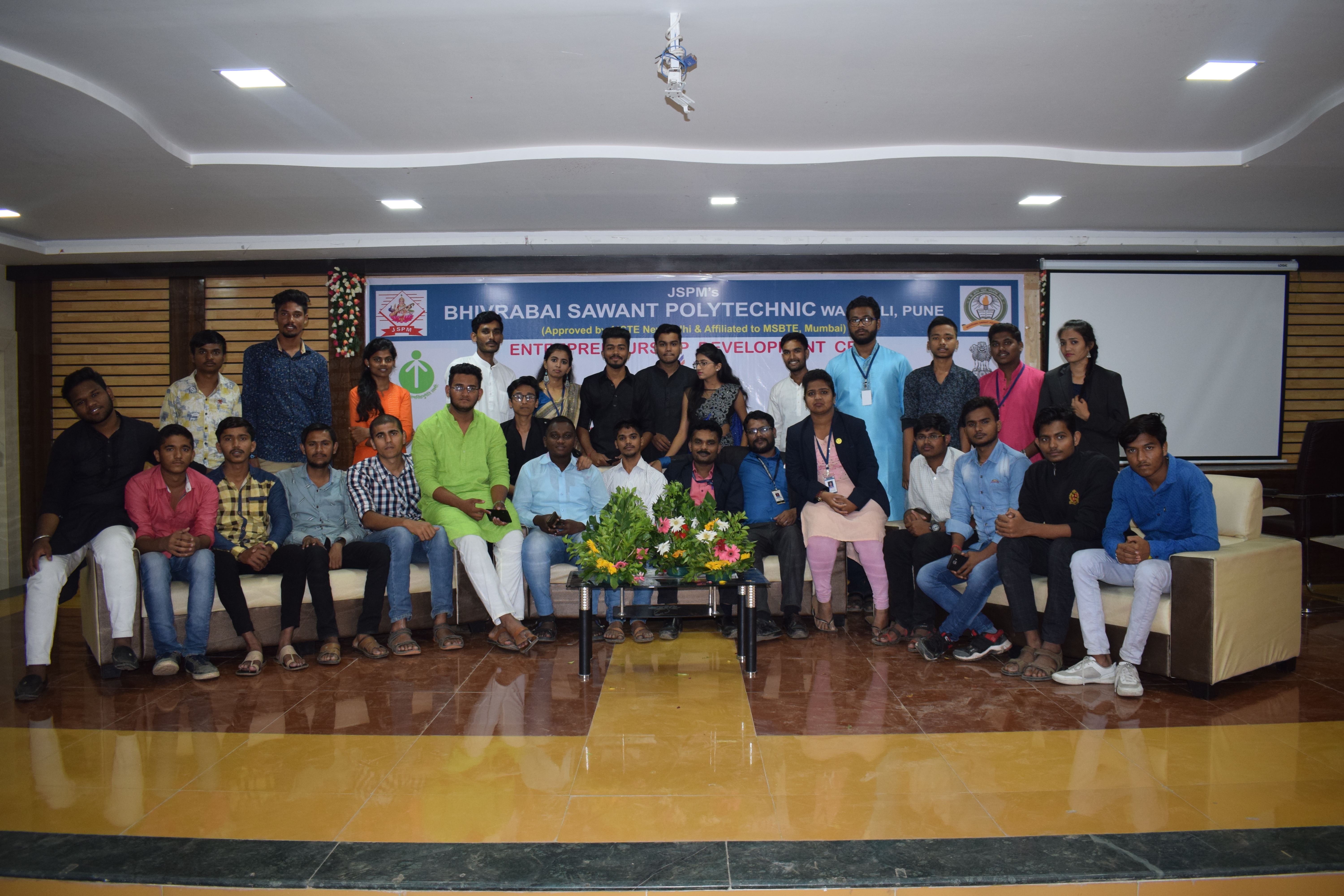 The students were guided in various sessions on the following on themes:
Entrepreneurship present scenario,opportunity and challenges

Business leadership & Business mind in entrepreneurial era

Growing opportunities in field of innovation & entrepreneurship.

Entrepreneurial Competencies – Identification & Selection of potential entrepreneurs

Business Plan Preparation & opportunity identification.

Creating innovative business idea for Start-up.

How to Start a SSI unit, agencies involved in promoting and assisting SSI units.

Business idea and its market opportunity.

Identification of customer's and need.

Marketing strategy and skills development for business  growth

Financial analysis and funding resources.

Digital marketing and growth hacking
 The institute Entrepreneurship Development Cell Convener Prof. Sanjay Jagtap, Head Prof. Shriganesh Mane, Prof. Sanket Gaikwad, Training and Placement Cell Prof. Raghvendra Kadkol. Prof.Yogesh Sapnar along with guidance to EDC students coordinated this event effectively and made it successful.
Don't forget to share this upcoming event details with your network. Join Campus Times Pune on Facebook, Google+ & Twitter. Also do subscribe our YouTube Channel. Click on Push Notifications to get notified whenever we publish a post.
The following two tabs change content below.
Campus Times Pune is an initiative taken by some enthusiastic students of Pune to entertain the "Netizens" by providing cool and trending content online. Articles from contributors who prefer keeping their identity anonymous, are published under our authorship. You can contact us with your articles by sending them to "
[email protected]
"
Latest posts by Campus Times Team (see all)