For the very first time, Dr. D.Y. Patil College of Arts, Commerce and Science, Pimpri introduces its first edition of inter-collegiate fest a mixture of variety of events that provides a platform for students to explore their talents.
CYGNUS 2019 is all about extra curricular events that include Management activities like THINK-IN (Group discussion), Q-bizz (Business quiz), Eudoxia (Business Plan, Case Study & Roadies), Tangential Events such as Collage Making, Face Painting & T-Shirt painting, Frolics i.e the Sports category that focuses on events such Futsal, The Cygnus Premier League and Table Tennis. The event also revolves around some cultural activities like The Danza (the dance competition), The Voice Of CYGNUS (the Singing Competition ), Mr.& Miss CYGNUS (The Model hunt) and the most Prominent added attractions like War of DJ'S (crack the floor), Smack And Hack (The Rock Band show), Motto Throttel (The Bike Show ) and D'Belliza (The Fashion Show ). CYGNUS 2019 is an event designed with a view to provide a platform to students for their extra-curricular activities and to provide them with a juncture to showcase their hidden talents.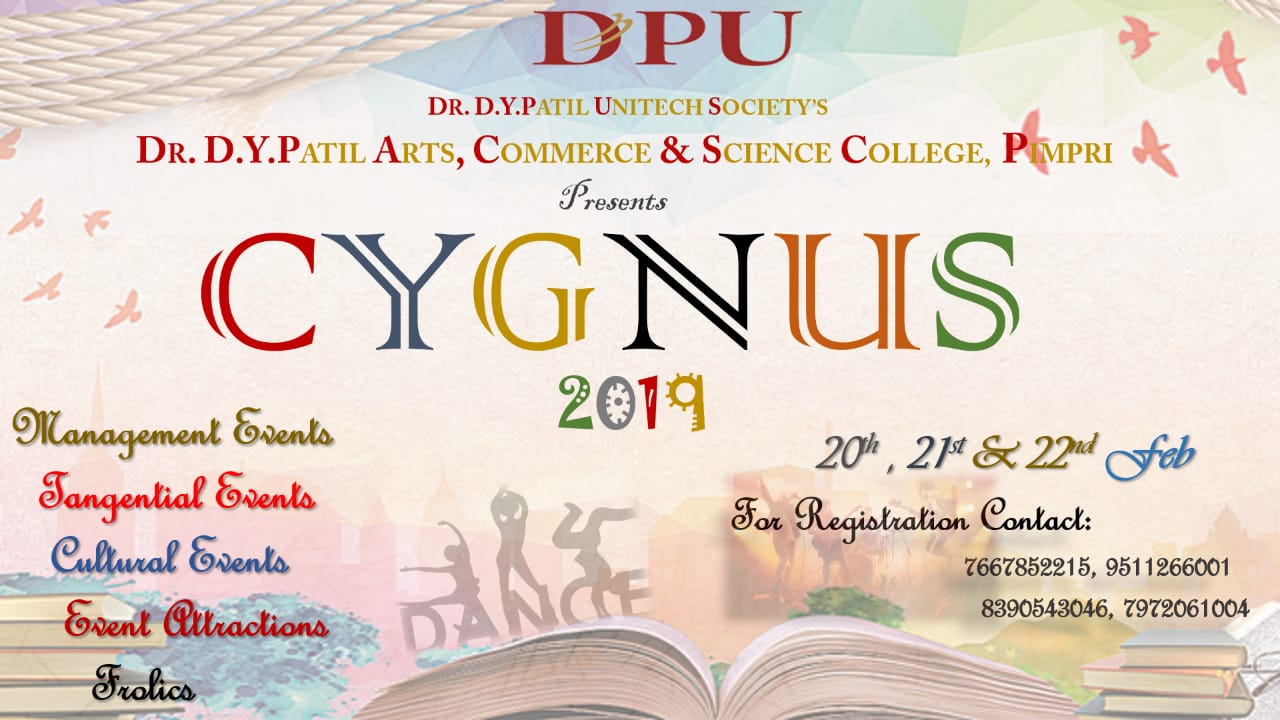 CYGNUS 2019 is scheduled on the 20th, 21st and 22nd FEB'2019 at Dr. D.Y. Patil Arts,Commerce and Science College, Pimpri. It is a 3 day event that starts from 20th Feb'19 morning 7.00. Every day is scheduled with prominent event attractions wherein the upcoming youth professionals will showcase their skills and talents. The event attractions include The War of DJ's wherein the rising DJ's will have a floor battle to win the heat of the Competition. The Rock Show is a proper Battle of Bands wherein the Rock Bands will combat with each other to win the title. D'Belliza is the very own CYGNUS Fashion Show that provides a gradient to the upcoming designers and models.
Get ready for an exciting series of event at CYGNUS 2019.
Don't forget to share this upcoming event details with your network. Join Campus Times Pune on Facebook, Google+ & Twitter. Also do subscribe our YouTube Channel. Click on Push Notifications to get notified whenever we publish a post.