FRESHERS' NIGHT!! The second year girls of Cummins College always host a night for our juniors. And believe me, this night is worth the wait! A night which is awaited by all girls (or also the guys outside college maybe!) This event surely holds a special position in our hearts. But when it comes to planning an event, first question that people asked us is
"How will you GIRLS manage everything??"
Our answer..?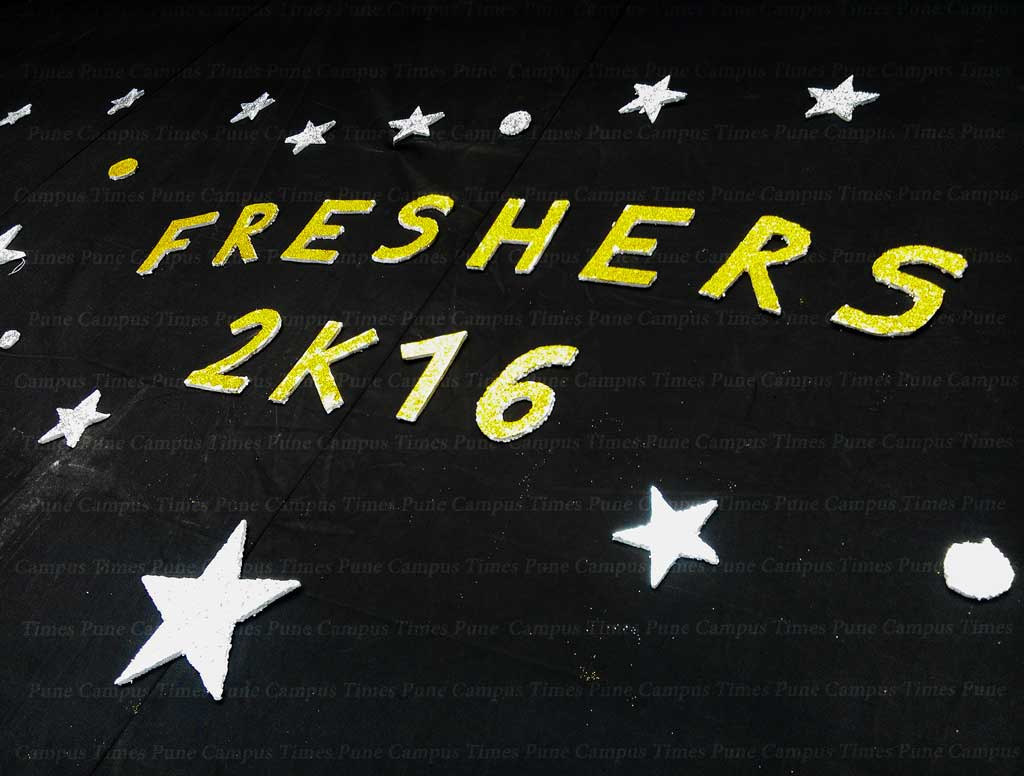 Image Courtesy : Campus Times Pune Ambassador
Check this out.
The One With The Flashmob!
Who isn't fond of Flash mob? When it comes to Freshers' night, that's the first thing that comes into our mind. Flash mob is a gesture to invite all the new faces with open arms to join the gang of seniors and follow them. Loud music in our own Quadrangle itself calls out the juniors for shaking their legs and after a minute, entire space is occupied by the beauties, feeling and enjoying the beats of music.
The One With The Practice
Indeed "Practice makes a WOMAN perfect!". And when it comes to performing band or dance performances, excitement follows with the preparations from weeks ago. It is surely a sight to watch, when girls are practicing before the final performance. The spark of fire to make their performances up-to-the-mark is seen in everyone's eyes. Final performance is always praised by the audience, but the real hard work is seen when these girls give their 200% during practice.
The One with The Decorations
"Decoration hai toh party mein jaan hai.
Decorations nahi, toh party kuch bhi nahi!"
And in Cummins, party is always complemented with a THEME. With decorations made accordingly. Girls never fail to manage their time; irrespective of their submissions and lectures. Each of them takes equal efforts to make the Quadrangle dressed up like a beautiful young lady *wink* glitters, balloons and ribbons are spread all around to give an electrifying effect to the party.
The One With The Anchoring
The heart of this event… Our Anchors! They are the ones who speak on behalf of entire college and welcome the juniors in Cummins Family. For making the evening lively and active, they never fail to inject a serum of energy into the audience. And guess what, it really works! Entire crowd is shouting loud with them and a wave of enthusiasm can be felt in the air.
The One With The Dance Performances
And this is the moment where you have to show off your dancing skills. As said before, since Second year students throw this party, girls work hard from weeks back to make this gig a memorable event. Dance performances choreographed by them are really appreciable.
And that scene where everyone is concentrating at the wonderful steps that have been executed is really EYE-PLEASING! The most trending and catchy songs suck up all the girls into the performances and make the entire episode of freshers' a big HIT!
READ ALSO – Amazing places to Hangout Near Cummins College
The One With The Miss Freshers'
Woohoo..! Miss Freshers'!!
The root of entire event lies here. Where every girl wishes to wear the crown entitled "MISS FRESHERS" How is it done? Every first year girl participates in this contest which starts from a very simple written pen-paper round and goes to a small quiz round in freshers' party. The heart of every girl who gets selected for final round races at twice its speed when it comes for quiz /personality/talent round. Finally, a girl is selected with her overall Personality, Attitude, Confidence and is crowned as Miss Freshers' of Cummins. Cheering for a participants from our respective class is the moment which sends chills down the spine of every contestant.
The One with the DJ Night
"Are abhi toh party shuru hui hai!!"
Yess! This is the call of almost each and every girl for the most awaited part of every freshers' party – the DJ night. Cluster of girls dancing like tiny drops of different color trying to merge with each other can be seen. Girls in Cummins College are always ready for the dance & nothing can stop them when the music is on. DJ night is the best time to dance your heart out. No one, we repeat NO ONE can resist dancing this night. Even non – dancers find hidden talent of being dancer in them!
The One with the Panel Members
OUR SUPPORT SYSTEM…!! An event at Cummins cannot be imagined without the Students Panel. This team holds the charge to manage every activity going on in and around the campus. Whether it is DJ or food, band or security. These are the ones because of whom we celebrate each and every fest. And when it comes to freshers party-like-events, enthusiasm of this team has to be seen to believe. They give their heart and soul to welcome the newbies in the best possible way.
Wait! This isn't it.
Fresher's in Cummins is much much more than this. These are the events which brings out Love – Unity – Creativity – Hardwork out of everyone. A general misconception being "Two girls cannot work as One" is scratched off in Cummins. Hard to believe but "NO CAT FIGHTS – NO EGO PROBLEMS – NO BITCHINESS" is witnessed here! Just a setup which contains Everyone Together and Long Term Friendship Goals is installed here.
Now that's Cummins for you…!
Special thanks to our super awesome Campus Times Pune Team in Cummins College of Engineering who proactively helped us in every way possible to get this article published.
Shivani Shinde
Campus Times Ambassador (CTA)
We're looking for writers from Cummins College!
Don't forget to share these amazing campus pictures of Cummins College with your network. Join Campus Times Pune on Facebook, Google+ & Twitter. Also do subscribe our YouTube Channel. Click on Push Notifications to get notified whenever we publish a post.
Engineer under construction. Punekar by default. 'Simple Living, High Thinking' girl. Loves Reading, Photography, Travelling, Exploring, Dancing. Blogger. A Planner; whether it's life or outings. Appreciates a simple yet crazy life.