COEP ZEST'24, an epitome of enthusiasm, is gearing up for its first flagship event – CYCLOTHON, slated to take place on 8th October 2023. This event promises an exhilarating blend of cycling, promoting fitness, and advocating road safety with the theme "PEDAL FOR LIFE, ROAD SAFETY DRIVE".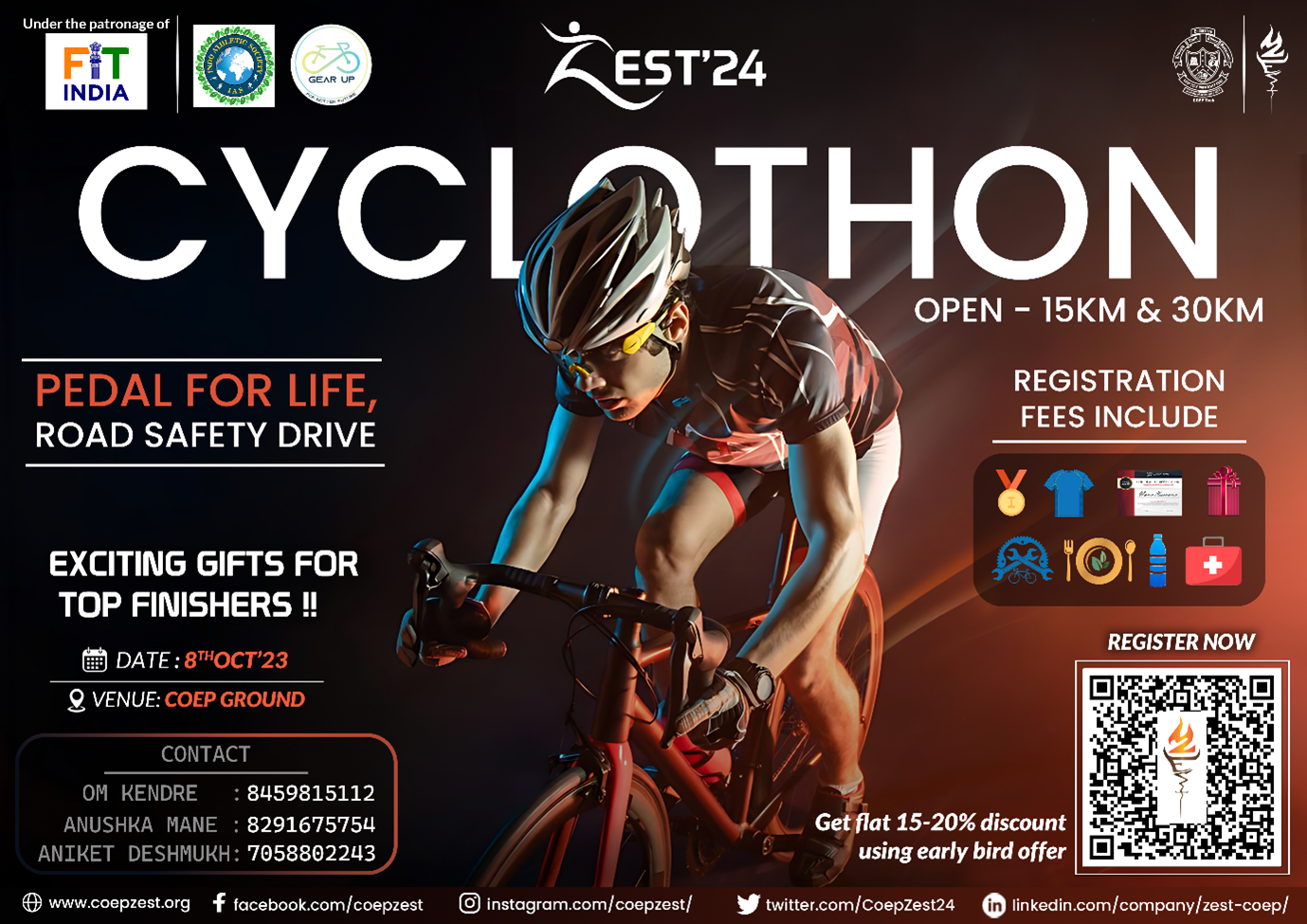 The theme "PEDAL FOR LIFE" emphasizes the profound health benefits of cycling. In an era where sedentary lifestyles and their associated health issues prevail, this event encourages people to embrace cycling as a means to lead healthier lives and promotes mental well-being.
The accompanying theme, "ROAD SAFETY DRIVE," underscores the importance of safety on the roads. Whether you're a pedestrian, cyclist, or driver, adhering to road safety principles is crucial. This includes obeying traffic laws, respecting speed limits, avoiding distractions while driving, and always wearing seatbelts.
Road safety isn't just a legal requirement; it's a responsibility we all share to protect lives and ensure smooth, secure journeys on our roads.
EVENT DETAILS:
Date: 8th October, 2023
Time: 4:00 A.M.
CATEGORIES:
15 KM Open Cyclothon
30 KM Open Cyclothon
Registration fees varies as per category.
EVENT LOCATION:
COEP Tech, College Ground, Shivajinagar, Pune.
Campus Times Pune is an initiative taken by some enthusiastic students of Pune to entertain the "Netizens" by providing cool and trending content online. Articles from contributors who prefer keeping their identity anonymous, are published under our authorship. You can contact us with your articles by sending them to "[email protected]"