Standing up for more than 166 years, the iconic heritage building of the College of Engineering, Pune, known for its Victorian-Gothic architecture, continues to exude the glory of the splendid past.
COEP Impressions is a celebration of art and culture, a creative environment for art and artists to thrive. It aims at creating a space to showcase the world's boundless art and do justice to its magnificence. The core belief at COEP Impressions is to provide amateur artists with a platform that is culturally diverse, artistically creative, and respectfully gracious. COEP Impressions invite artists from all over the country to come and experience this exceptionally gripping and enjoyable cultural event. Impressions hosts not just a fest but a multifaceted experience for students. It has a rich history of being graced by eminent personalities in almost every major sphere of art and culture.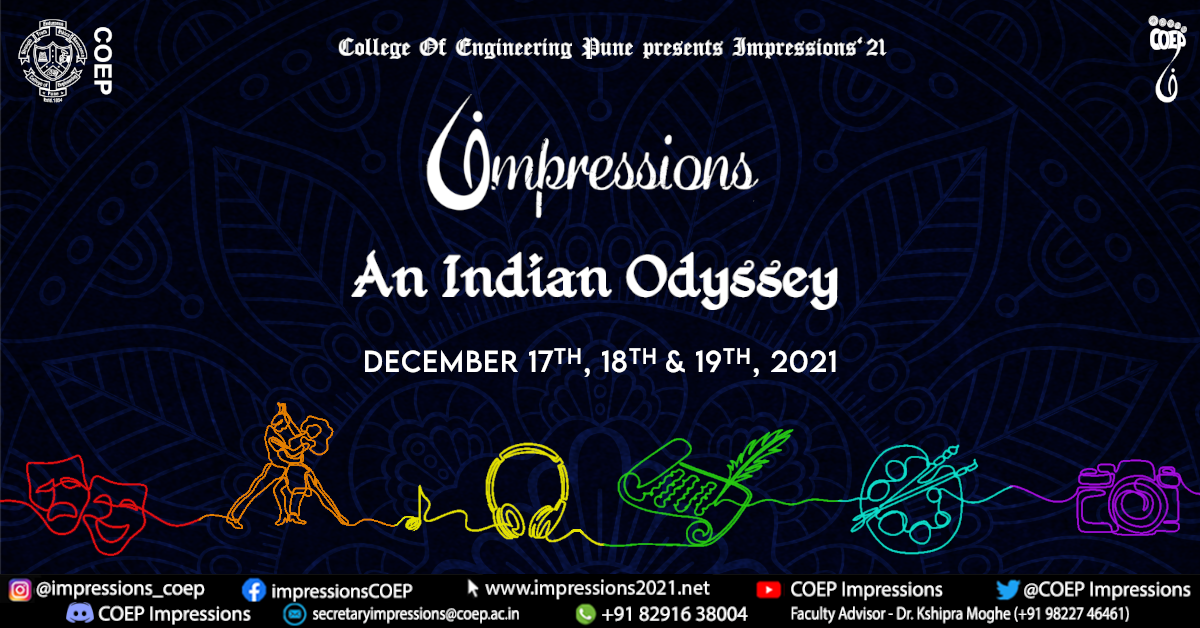 Hosted on Asia's third-oldest engineering college campus, Impressions is marking its sixth year of serving as a platform made "By the artist, For the artist". With a rising footfall, every year Impressions continues to organize and conduct exhilarating workshops in different domains.
Impressions have been associated with various dynamic artists worldwide to listen to their words of sagacity and experiences. We have been turning the hearts of our audience with the spectacular voice of the emerging superstar Anuv Jain. Impressions have also collaborated with veteran artists like Mr. Shishir Sharma, Pandit Sanjeev Abhyankar, Tulsi Kumar, Julia Bliss, touching all the dimensions of art. Going international and extending our family of free minds appreciating creativity, we collaborated with Alexandr Misko, an unblemished freestyle guitarist from Russia.
"A person without knowledge of their history, origin, and culture is like a tree without roots."
India's deep cultural roots are its identity. Remaining connected to these roots, deeply ingrained in our identity, is vital to our existence.
Alas! In this modernized world, we are moving away from our roots. The variety, uniqueness, vibrance, and elements complementing each other despite their diversity are at the heart of Indian culture. With this thought and a propel of zest, Impressions 2021 unveiled the theme of this year's edition – An Indian Odyssey.
The inauguration ceremony of this edition was graced by the presence of the ever-versatile actor, director, singer, and producer – the Chief Guest, Mr. Sachin Pilgaonkar.
This year, Team Impressions inculcated a two-day spectacular "Pop Culture Fiesta," including various strikingly successful competitions. It incorporated every element of pop culture by fusing the comic and pop world genres, from movies and television to comics, games, cosplay competitions, and many more, which witnessed active participation from all over the world.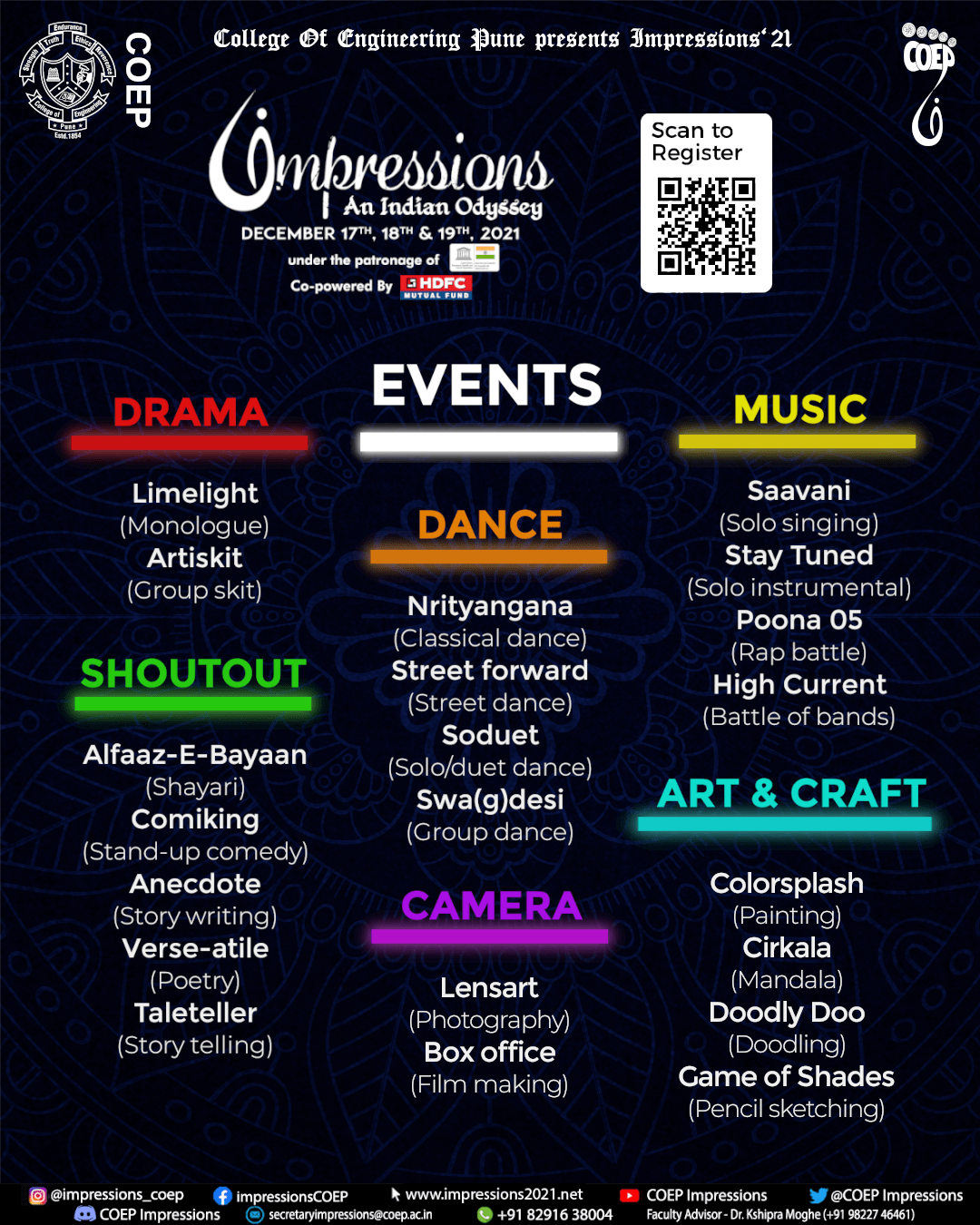 Each year, Impressions hosts 22 breath-taking cultural events over three days, enriching workshops, competitions spread over seven modules, namely Dance, Music, Acting, Arts N' Crafts, Photography, shout out, and Digital Art, and larger-than-life pro-shows and concerts, creating an atmosphere of vigor and gusto. Considering the present challenging circumstances, Impressions plans to organize the fest in a hybrid mode involving one day of virtual events and two days of offline events.
Click Here To Read More About Events in COEP
Additionally, Impressions 2021 is incredibly delighted and honored to be under the esteemed patronage of the Indian National Commission for Cooperation with UNESCO (INCCU).
Team Impressions is very keen on making the fest an absolute extravaganza. So, let's weave this experience together as an adventure filled with thrills and excitement awaits your presence!
17th to 19th December, save the dates!
If you've got the talent, we've got the stage for you!
Connect with Team Impressions 
Official Website | Instagram | Facebook | LinkedIn | Youtube
Anurag is an inquisitive budding Engineer.
Being perfect at his job is his watchword. Persistent learner, Aesthete photographer. Football , memes & Game of thrones fanatic.