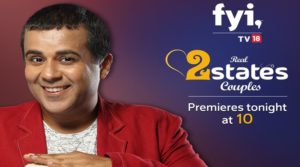 Chetan Bhagat never fails to surprise us. Whether it's by writing mainstream Bollywood style books or by hosting a Dance Competition. Looks like he will do anything to stay in the news, and this time he has gone too far.
With just a couple of days spare of releasing the first poster of his new book "One Indian Girl", Chetan Bhagat announced that he will be hosting a TV Reality show called "Real 2 States Couples". This show aired on a new channel of the TV18 network called FYI on July 5th.
Though we didn't have the balls to go watch an episode, we did find out what the show is about for you, so you don't have to watch it. The show will revolve around 5 couples, obviously cross-cultural, who try to endure with each other's families. The official Facebook page of FYI TV18 boasts about the show with their own generated English (dekhofy and milaofys).
The Twitterati gave Chetan Bhagat their thoughts on this news: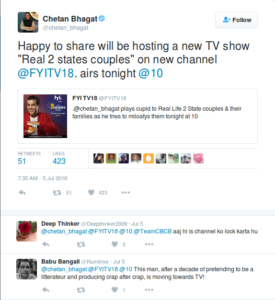 The following two tabs change content below.
Shweta Mustare. A girl living in Pune, India, waiting for life to give the big break. Blogger, Thinker, sometimes funny, always a weirdo.
Latest posts by Shweta Mustare (see all)