VishwaConclave 2019 – which is heralded as being a truly multi-disciplinary student-centric conclaves is being hosted by Vishwakarma Institute of Technology, Pune. The Conclave is scheduled on Saturday, 6th of April and in its inaugural edition strives to be a story worth telling, for years to come. At an extravaganza such as VishwaConclave a little guide about the highlights never goes awry. Here is why you should be looking forward to VishwaConclave:
Why is VishwaConclave Special?
VishwaConclave is an anchor moderated interactive discussion with the change makers of today. It is a multi-disciplinary student-centric conference that emphasizes on curating an inspirational dialogue from exemplary orators who have excelled in domains centred on nation building along with facilitating their interaction with the student community.
Mr. Hanmantrao Gaikwad, Chairman and Managing Director of BVG India Limited, India's largest integrated services company and an alumnus of VIT,Pune is the Chief Guest.
For Registrations visit www.vishwaconclave.com
Exceptional Speakers , Exceptional Agendas
With a plethora of luminaries who are titans in their fields, VishwaConclave certainly promises to facilitate interaction of the highest order between the change makers of today and the change makers of tomorrow.
With her background as the Executive Director of Maharashtra Village Social Transformation Foundation (VSTF) and as an awardee of the prestigious Entrepreneur of the Year (2011) ,the Digital Media Excellence Award (2017) and as Advisor to Honourable Chief Minister of Maharashtra , Mrs Shweta Shalini's address on the Importance of Digital Media as a tool for Social Transformation would set the tone perfectly for an exceptional Conference.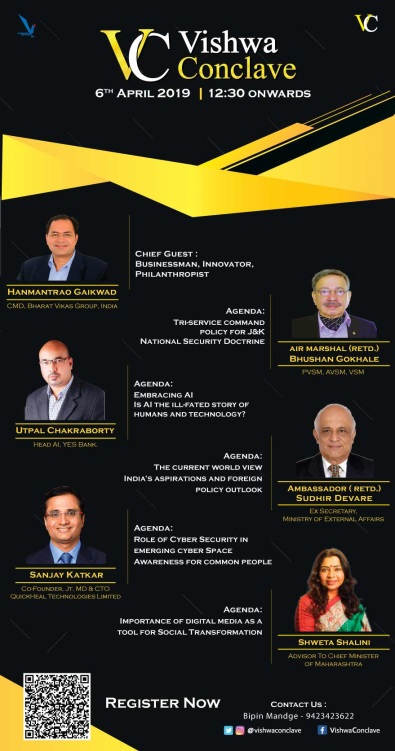 There is something in it for everyone
As Albert Einstein once said, "The only source of knowledge is experience."
Whether you are a tech-geek, social activist, budding entrepreneur or Diplomat-in-waiting, there is an abundance of knowledge waiting to be grasped at VishwaConclave 2019.
Furthermore, with Air Marshal ( Retd.) Bhushan Gokhale, PVSM AVSM VSM touching upon sensitive issues that frame the national security policy of India, VishwaConclave is definitely a conference that you do not want to miss out on.
With tickets priced extremely reasonable at Rs. 350 ( Cushioned Chairs ) and Rs.250 ( Benches ) a VishwaConclave ticket is certainly economical to say the least.
The icing on the cake is that the ticket price includes Dinner, High Tea and Merchandise along with Access to the Conference sessions.
With distinguished former Secretary of the Ministry of External Affairs, Ambassador ( Retd.) Sudhir Devare who was pivotal in the development of the 'Look – East' Policy and was the first Indian Ambassador to Ukraine , Armenia and Georgia sharing his perspectives on the Current world view and India's Foreign Policy Outlook , VishwaConclave is going to be one hell of a ride.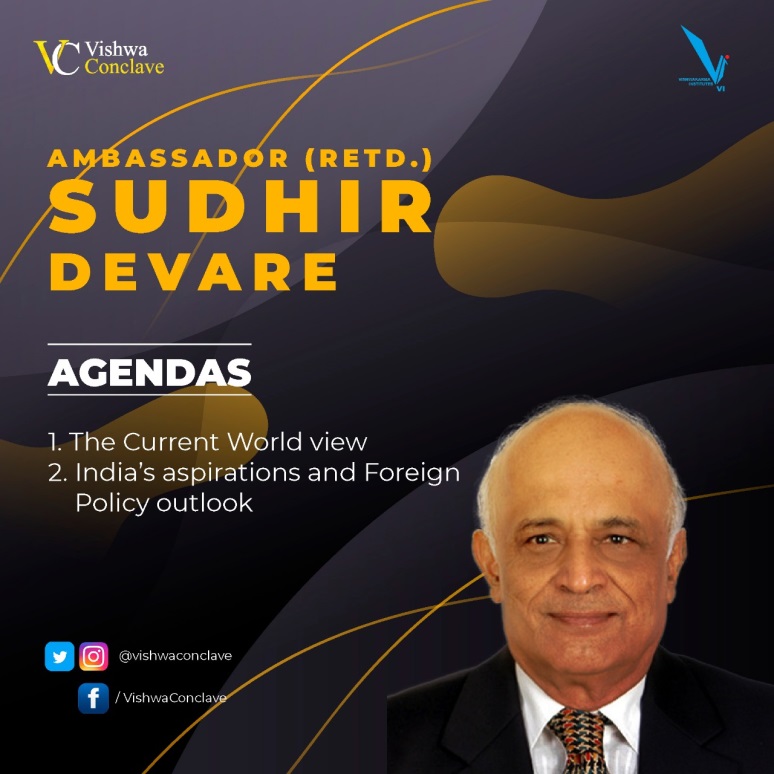 Corporate Tickets Available
For tech-geeks and corporates who believe in lifelong learning, an opportunity to interact with trail blazers such as Dr. Sanjay Katkar, Co-Founder and CTO of Quick Heal, Mr. Utpal Chakraborty, Head of Artificial Intelligence at YES BANK among others on areas such as Role of Cyber security in Emerging Cyber Space and Embracing Artificial Intelligence at an extremely reasonable price of Rs.450 is definitely a chance of a lifetime.
We thank our sponsors IMS Academy, Unique Academy, Punetimes , Sakal, Radio City, Budhani Bros Waferwala , Sunny's Food, Drey  and CETking for their extensive support.
Don't forget to share this upcoming event details with your network. Join Campus Times Pune on Facebook, Google+ & Twitter. Also do subscribe our YouTube Channel. Click on Push Notifications to get notified whenever we publish a post.