About TEDxNITDurgapur:
This year, the institute was granted an official license by TED to conduct TEDxNITDurgapur independently on its campus. To deliberate further about TED, it is a nonprofit, founded in the year 1984, devoted to spreading ideas, usually in the form of short powerful talks.
In a global community, wherein people regardless of their discipline or culture can seek a deeper understanding of the world, TED believes vehemently in the power of ideas to alter attitudes, lives, and ultimately the world, for the better.
While TEDx is an independently organized equivalent to its international counterpart, TED, it resonates with TED's mission of researching and discovering "ideas worth spreading". TEDx aims to provide a global platform to an emerging pool of talent at the grassroots, subsequently sparking constructive discussions locally.
Consequently, in coherence with the principles laid down by TED, TEDxNITDurgapur will provide a plausible platform to a diverse assemblage of voices from a plethora of spheres to propagate ingenious ideas and thoughts, consequently propelling rational thought and original thinking amongst the audience.
Scheduled to be held on the 31st of October, TEDxNITDurgapur would feature a series of talks, focusing on the theme – "A Beautiful Mind".
About NIT Durgapur:
Established in 1960, the National Institute of Technology Durgapur is a premier engineering institute within the country, which since its inception has trained ace engineers and industry stalwarts. A pioneer in the field of technical studies, it has been ranked 29th among engineering colleges by the National Institutional Ranking Framework (NIRF).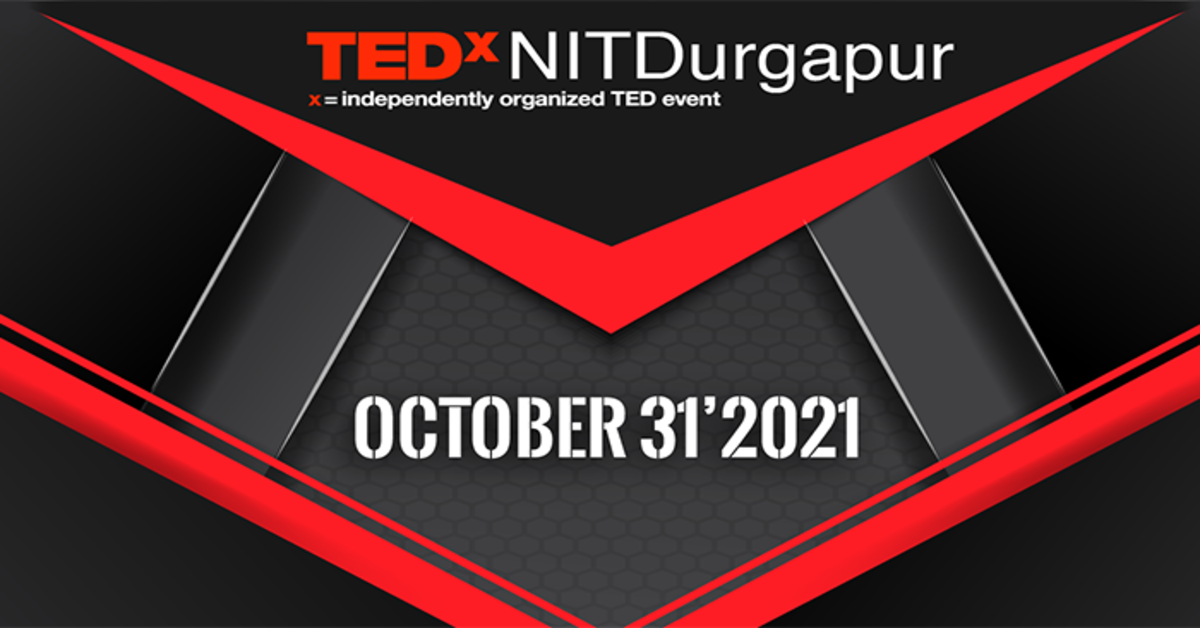 List of Speakers at TEDxNITDurgapur:
Suhas Gopinath: Suhas Gopinath started a web-solutions venture at 14, which has now grown into a multinational IT company, Global Inc. A self-learner, driven by curiosity to set a benchmark for the entrepreneurial world, he became the youngest leader in the history of the World Economic Forum, where he demonstrated leadership and addressed major political Economic reforms. As an epitome of a "beautiful mind" delved into innovation and technology, he has proven himself to be a strong visionary in both, the technical and the business world.
Jade Winters: Jade Winters is a best-selling author of over thirty novels.
Her novel 'Lost in You' was shortlisted for the Amazon Kindle Storyteller Award in 2017 and she has since been nominated for the 2020 and 2021 Diva Magazine Author of the Year Award.
She made her feature directorial debut this year with the film 'One Four Three' which goes on to show the creativity that she incorporates.
Her thoughts being bold and beautiful is what makes her unique in all ways. Taking a stand for many, Ms. Winters takes a special place not only in the field of literature but also in humanities.
Kamna Chibber: Kamna Chhiber is a renowned clinical psychologist with experience of over 12 years. She believes mental health to be a priority to live a life worth living. Kamna is currently the Head of the Department of Mental Health and Behavioural Sciences at Fortis Healthcare.
She is also a trained therapist who works on issues related to children, adolescents, and adults. Her active cooperation in child-adolescent mental health, relationships, trauma, and abuse-related issues is a testimony of her passion in these domains. Eventually the same has influenced her to design and create programs for schools, corporate organizations, as well as NGOs that are directed towards enhancing mental health and well-being. Besides being a medical professional, she is a writer and has authored books. Kamna is also regularly featured in publications on issues pertaining to mental health.
Rupesh Mahore: Rupesh Mahore is currently a research intern at Harvard University in the Department of Molecular Biology. With a proclivity for research and technology, and having previously worked at the Indian Space Research Organization (ISRO-Bangalore), he takes great interest in a multitude of scientific domains.
In addition to his internships at coveted institutes and organizations, Mr. Mahore's ingenious brainchild, Oxyserve, a device to monitor and optimize the use of oxygen during the COVID-19 pandemic, was selected for the CERN – Entrepreneurship Program 2021.
Furthermore, his work has been featured in a number of established publications, the likes of which include The Times of India and the New Indian Express.
Kishwar Chowdhury: The final speaker of TEDxNITDurgapur, is Kishwar Chowdhury, a celebrated chef, who earned a spot amongst the top three finalists at MasterChef Australia.
A chef, who seamlessly integrated the dynamic Bengali spices with the seasoned western palette, which consequently earned her praise at the acclaimed culinary show.
Her journey through three continents has added to her ability to fuse unique and dynamic flavors of great history and taste. From the legacy brought from Bangladesh to Victoria, her palette has always made its way from the kitchen at home to recognition from fellow celebrated chefs.
Dr. Munish Jindal:  Every success story has a person behind it and Dr. Munish Jindal is the person behind many with his philosophy- "We rise by uplifting others". He gave life to many through his startups MENTORx Global and HoverRobotix.Heart full of passions and ambitions, he worked committedly and achieved the so-called unachievable at a very young age. With a huge affirmation, Jindal empowers the crowds with his messages to follow the right paths. For his enormous contribution towards technology and entrepreneurship, he has been awarded the prestigious "Karmveer Chakra" by United Nations. With the ambition of "Education, Empower, Elevate", he enlightened many lives in India. He is the true kind of a leader in today's world. Even after being so successful in his life, Jindal is very down to earth and loves assisting others. This is what differs him from the rest of the leaders and the world celebrates this.
CLICK HERE TO READ MORE ABOUT TED EVENTS
Schedule and Registration Details:
The event is scheduled to be held on the 31st of October.
Registrations close on the 30th of October. You can register and purchase your ticket for TEDxNITDurgapur at: Here
Keeping in accordance with the precautionary measures owing to the raging pandemic, the event will be held on an online platform. Regardless of the circumstances, the organizing committee of TEDxNITDurgapur, reassures to deliver efficiently and ensures to conduct a riveting event, one that inspires and evokes prudent thoughts.
The curation team at TEDxNITDurgapur believes that the current assortment of speakers would inspire students and attendees to venture into paths, seldom traversed, and subsequently create a niche for themselves in a domain, that they as individuals are genuinely passionate about.
What Are You Waiting For?
Register Now
For More Updates Follow
Facebook | LinkedIn | Twitter | Instagram
Anurag is an inquisitive budding Engineer.
Being perfect at his job is his watchword. Persistent learner, Aesthete photographer. Football , memes & Game of thrones fanatic.