Synchronicity, introduced in 1988, is the biggest, meanest and most fierce rock festival in the country and one of the flagship event of Antaragni, IIT Kanpur's Cultural Festival. Antaragni, IIT Kanpur's cultural festival in its 54th year of existence and one of the biggest college festivals in the country, is held in October in IIT Kanpur every year.   
Synchronicity boasts of its own pro-night headlined by international artists with a head banging crowd of over 16,000 footfall which more than justifies the statement that Synchronicity is all that you expect it to be and much more.
The competition kicks off with preliminary round road trips in 10 major cities throughout the Indian subcontinent including the International ones in Dhaka and Kathmandu. After kick start of the campaign of promoting rock culture in Hyderabad, Bangalore and Mumbai, time is for Pune. With Campus Times Pune as the media partner, The Funky Kona as the Venue Partner, Filmix Studios as the recording partner, Utkarsh Kelkar Photography as the Coverage Partner Synchronicity's Pune road trip will surely reach unprecedented heights.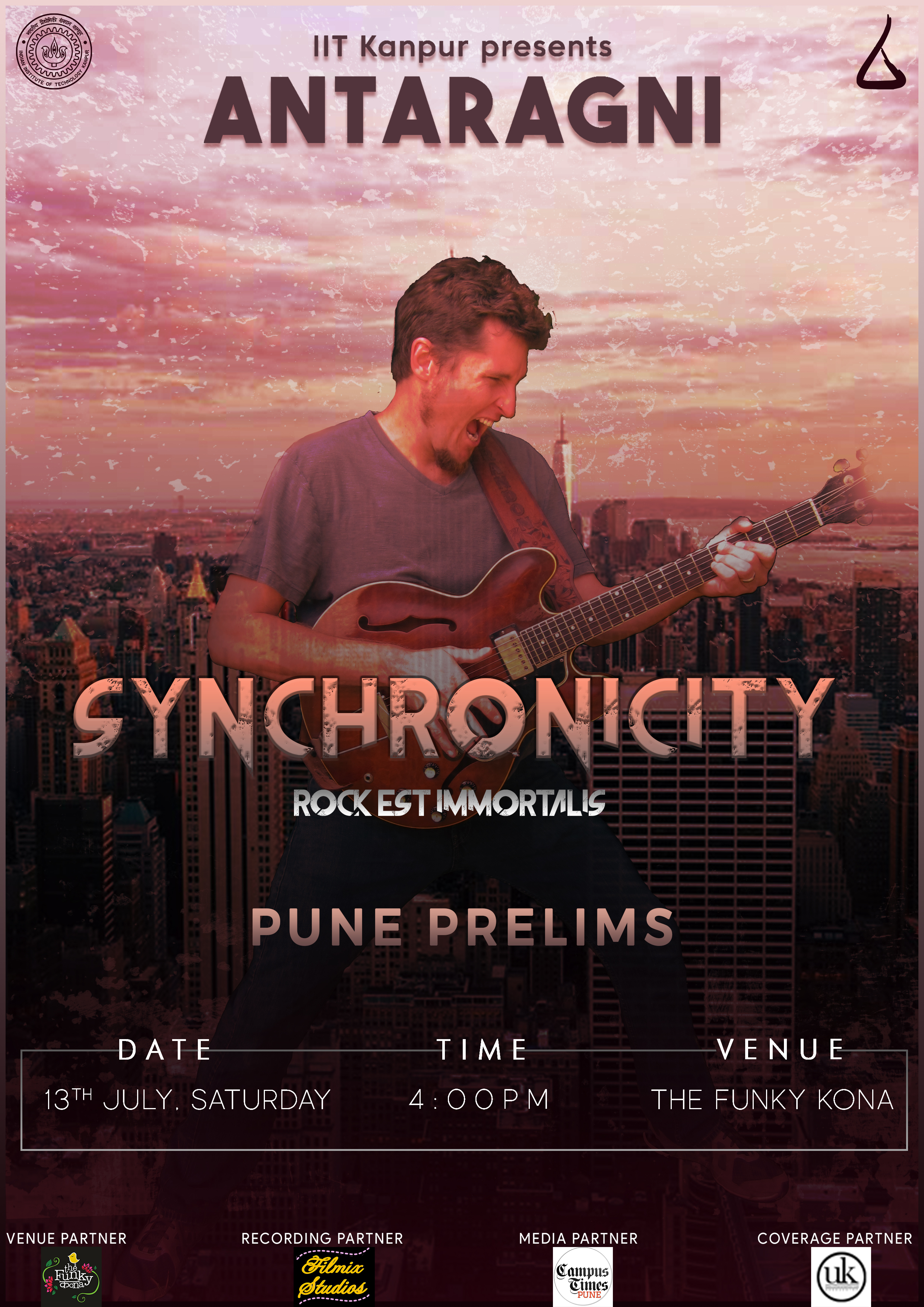 Antaragni's rock festival, Synchronicity is all set to rock Pune, the fourth road trip of the other ten. Synchronicity, India's biggest rock music festival is organised annually by students of IIT Kanpur since 1988 and has been a launchpad for big bands like Parikrama, Pentagram.
So get ready to headbang as we witness the best bands of the city, battle it out with their crazy and groovy music in 'The Funky Kona' on 13th July at 4:00 p.m.
Where : The Funky Kona, Baner
When : 13th July 2019
Timing : 4 pm onwards
Don't forget to share this upcoming event details with your network. Join Campus Times Pune on Facebook, Google+ & Twitter. Also do subscribe our YouTube Channel. Click on Push Notifications to get notified whenever we publish a post.