To promote entrepreneurship and support the startup ecosystem, Aakaar IIT Bombay in association with Society for Innovation and Entrepreneurship (SINE) brings to you Smart Pitch, a competition providing all the startups with an opportunity to pitch their idea to an esteemed panel of investors and SINE mentors. Smart Pitch offers excellent opportunities for startup incubation and investment in startup ideas through our investor and judging panel.
About SINE: 
Society for Innovation and Entrepreneurship (SINE) is a leading Technology Business Incubator (TBI) hosted by IIT Bombay (IITB). SINE has pioneered incubation efforts in academic institutions in India and offers Start-to-End support to innovators and entrepreneurs. Since its inception, SINE has catered to 170+ start-ups and 550+ entrepreneurs. ( www.sineiitb.org )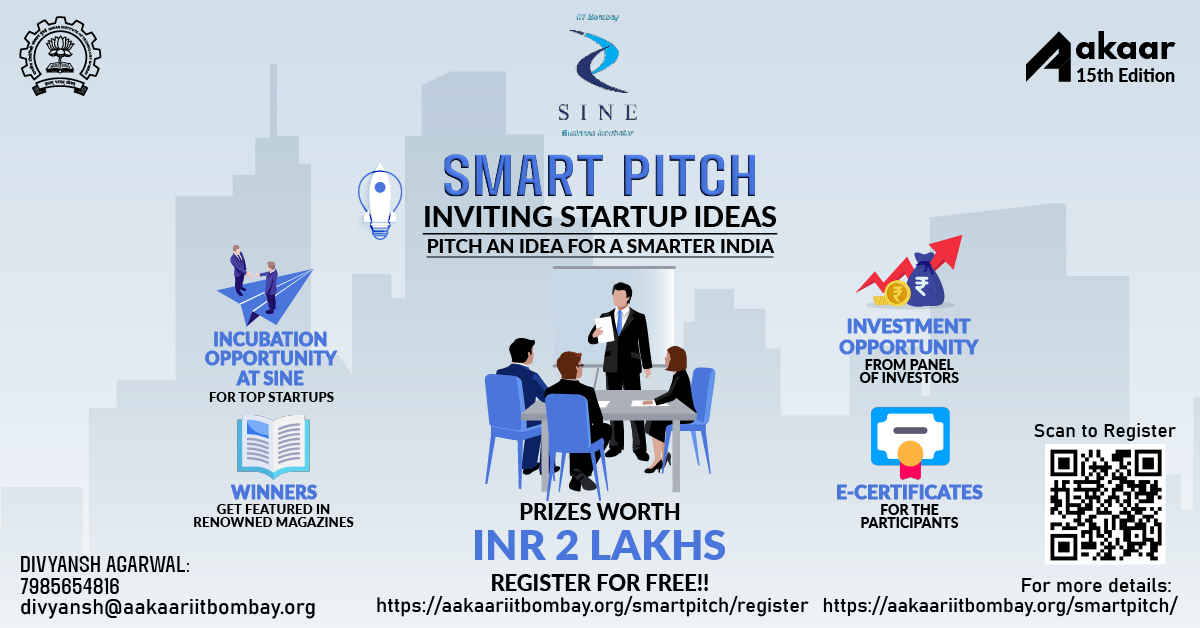 About AAKAAR: 
Aakaar is IIT Bombay's annual technical festival of the Civil Engineering Department. Aakaar is well established as Asia's Largest Civil Departmental Festival with an online reach of 5,50,000+ people and a wide social media reach with over 15,000 Facebook followers. We have organized international research conferences, workshops, business summits, competitions, lectures, and more in partnership with the most prominent corporate organizations for 14 years.
We have onboarded eminent investors who have been guiding and investing in the startup ecosystem for many years. Also, we will be having a judging panel from SINE and Desai Sethi School of Entrepreneurship (DSSE), IIT Bombay, to guide startups.
Inviting startups, either in their ideation stage or their product is selling in the market, who are addressing problems in the following areas:
Construction Management and Infrastructure
Tackling Transport
Real Estate and Finance Management 
Water Resource Management 
Soil Management 
Disaster Management
Miscellaneous 
Click Here To Register For Smart Pitch
How to register: 
Participants must fill out the registration form in order to register for the Smart Pitch.

After registering, participants must complete the pitch submission form. The pitch presentation reference template is attached below. 

The participants who have been shortlisted will be informed of the day and time of their final pitch held during Aakaar main fest.

The selected contestants will present their startup pitch to distinguished jury panel members, investors, SINE mentors, and professors at the IITB

.
Incentives: 
Prize money worth INR 2 Lakh.  

Opportunity to pitch for incubation at SINE, IIT Bombay.  

Opportunity for investment by the panel of investors 

Get featured in Civil Insight, Annual Magazine of Civil Department, IIT Bombay.  

E-certificates for the participants. 
Schedule: 
Last Date for Registration: 10th February 2023  
Last Date for Pitch submission: 20th February 2023 

Final Pitch : Aakaar Main Fest (TBD)
Need any help with registration? Click Here 
To know more about Smart Pitch, visit our Website: https://aakaariitbombay.org/smartpitch
For any further clarifications, you can contact-
Divyansh Agarwal
+91 79856 54816
[email protected]
Anurag is an inquisitive budding Engineer.
Being perfect at his job is his watchword. Persistent learner, Aesthete photographer. Football , memes & Game of thrones fanatic.