A bridge is among the most important examples of civil engineering that we see on a daily basis. The bridge must be engineered to meet practical, economic, and aesthetically appealing objectives. This will ensure that it best meets the needs of the general population. Aakaar presents you with the Bridge-IT competition in an effort to achieve all of these objectives.
Launching the most-awaited competition for all design enthusiasts, Bridge-IT in association with ASEC Inc. a popsicle bridge-making competition. Participants are tasked to build a Truss Bridge structure made of popsicle sticks, and Fevicol that can withstand the maximum weight while satisfying some specific constraints
Bridge-IT is giving you a chance to demonstrate your aptitude for structural thinking by having you construct a Truss bridge utilizing innovative methods.
By building a truss bridge model, you get to experience the construction industry in a microcosm. Participants are expected to make improvements to the bridge's overall strength and design.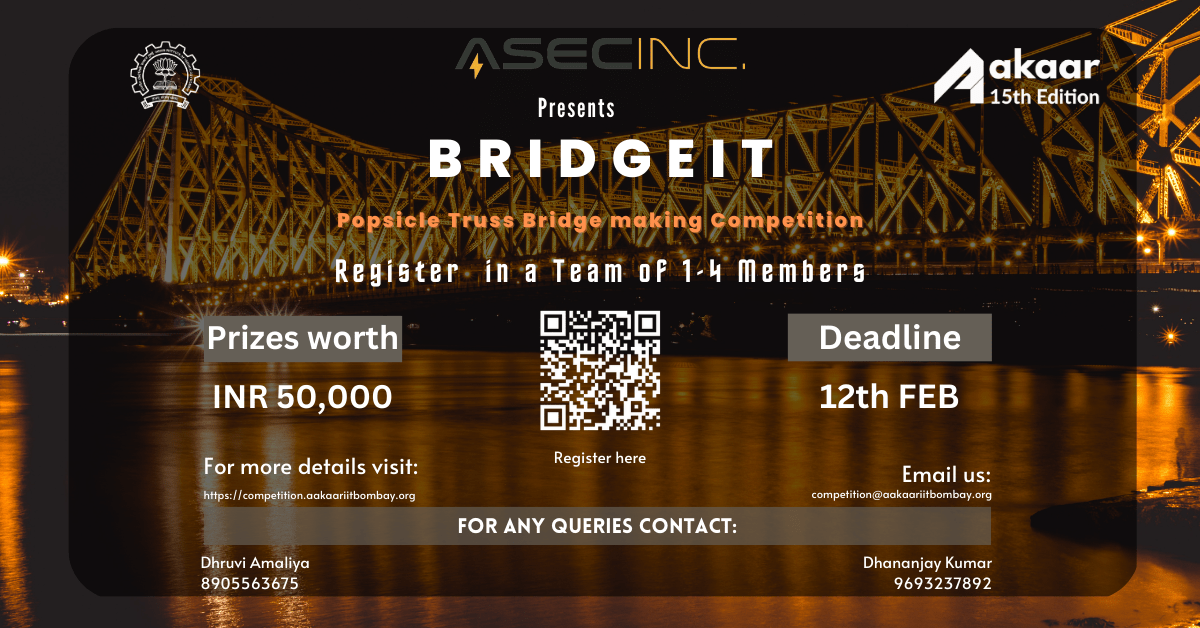 About AAKAAR:
Aakaar is IIT Bombay's annual technical festival of the Civil Engineering Department. Aakaar is well established as Asia's Largest Civil Departmental Festival with an online reach of 5,50,000+ people and a wide social media reach with over 15,000 Facebook followers. We have organized international research conferences, workshops, business summits, competitions, lectures, and more in partnership with the most prominent corporate organizations for 14 years.
Registrations for the BridgeIT are open now! You can click on the following link to register: Register Now
Incentives:
Prize money worth INR 50,000.
Get featured in the Annual Magazine of Aakaar, IIT Bombay. Get featured on the official website of Aakaar IIT Bombay Certificates for the participants.
Schedule:
Last Date for Registration: 12th February 2023 Last Date for PPT submission: 12th March 2023
Final Presentation/testing : 18th – 19th March(Aakaar Main Fest)
Click Here to Get detailed instructions
Competitions Head:
Dhruvi Amaliya +918905563675
Dhananjay Kumar +919693237892
Anurag is an inquisitive budding Engineer.
Being perfect at his job is his watchword. Persistent learner, Aesthete photographer. Football , memes & Game of thrones fanatic.