This piece of content has been submitted by Khushboo Sharma. She is a Digital Marketer | Content Writer | Voracious Reader | Tea addict, Food lover & Dreamer. Follow her on Twitter – @gleamkhushi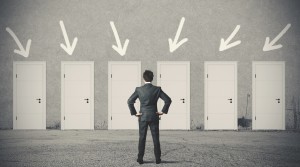 "When they asked me what I wanted to be I said I don't know."
Sylvia Plath was an American poet, novelist, and short-story writer. She wrote the above lines in one of her stories.
I particularly like this line because I was also one of those people, who wasn't able to reply to this simple question. When someone asked me, "What do you want to be?" I felt blank with no genuine answer.
Since childhood, I have lost count of how many times this question came up. It was a very irritating question for me.
But the truth is, had I known the reply to this question on time, I could have started planning accordingly and would have managed to save many hours.
I faced so many difficulties in finding out the things that I actually wanted from my life.
After a little research, I realised that not only me, but so many others also face same kind of troubles. In my opinion this is due to lack of proper guidance.
Sometimes we think it is too early to think about it, or we just ignore it. Many times we are too busy enjoying the life in college having fun, and of course no one wants to miss those happy moments, not even me.
If you are one of them, then all my upcoming posts are dedicated to you.
In my posts, we'll discuss possible career paths and life achievements. I will try to provide direction by making my posts informative.
Small or big doesn't matter; dreams are important.
Slow or fast doesn't matter; movement is important!
The following two tabs change content below.
Campus Times Pune is an initiative taken by some enthusiastic students of Pune to entertain the "Netizens" by providing cool and trending content online. Articles from contributors who prefer keeping their identity anonymous, are published under our authorship. You can contact us with your articles by sending them to "
[email protected]
"
Latest posts by Campus Times Team (see all)