His timely punchlines, his unbeatable wit, his oh-so loveable charm, and his modesty make him the amazing comedian that he is. If you haven't guessed yet, he is a part of amazing The East India Comedy. He is has been praised as "The hot favorites of the audience" by The Indian Express, "A favorite among the youth" by Bangalore Times and as comedian who is "irreverent with excellent comic observations" by Miss Malini. We speak of the man who guarantees you your daily dose LOLs – Sapan Verma!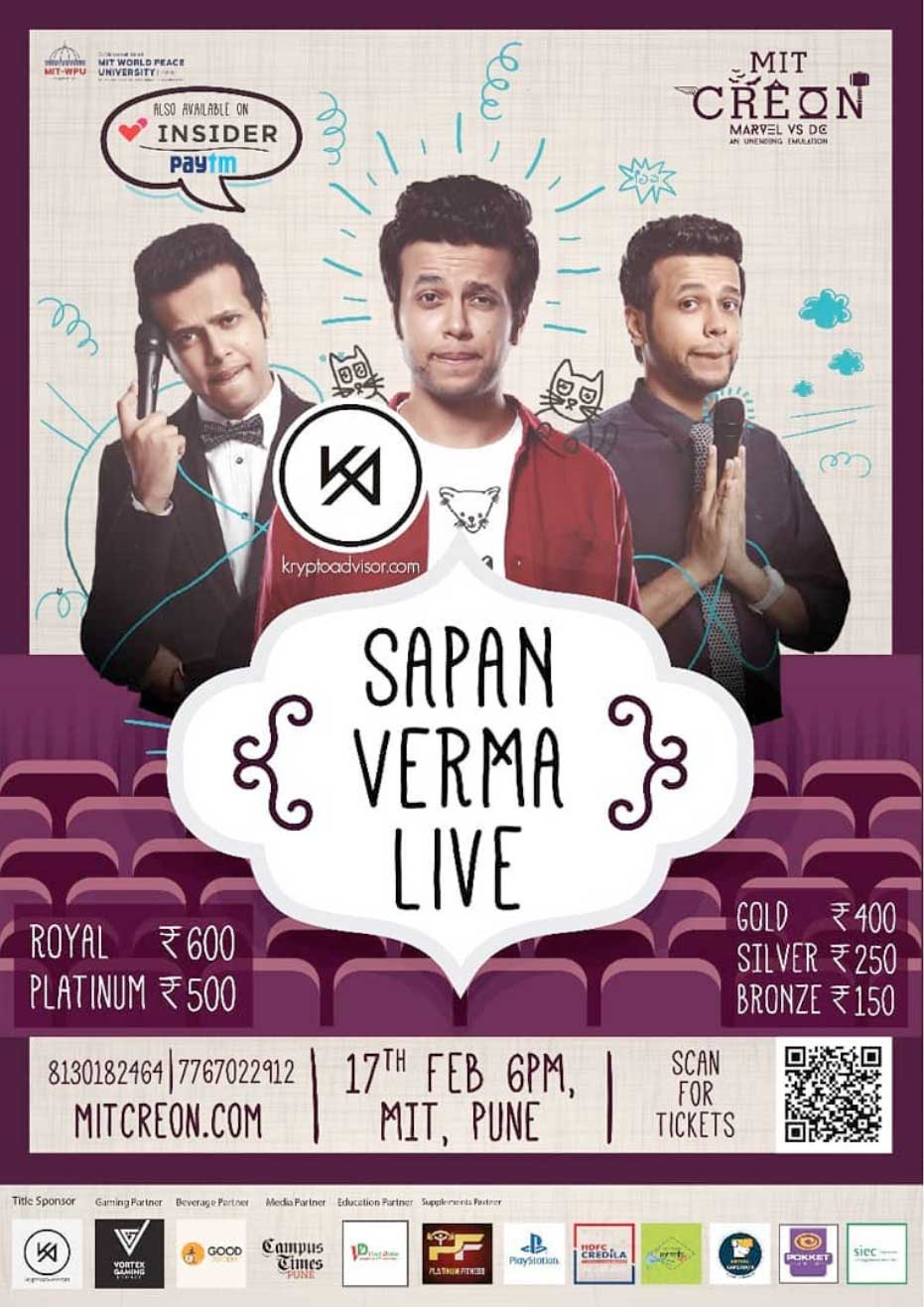 He is the best at what his does. He won't just make you laugh, but makes you live an experience where you and everyone around you is literally ROFL-ing. Join us and laugh your heads off at MIT CREON 2018 on 17th February as we're bringing Sapan Verma in Pune to perform live.
READ ALSO – All you need to know about MIT Creon 2017
The actor made his fame not with a sudden outburst of a viral video, but with consistent hilarious content that make him the icon that he is. He started his journey as an engineer who decided to become a Stand-Up comedian and the rest is history.He is considered as one of the best youth icons across India and people not just regard him someone who would make people laugh, but someone who can send across thought-provoking messages through his humor.
Event Details
Event Name
Location
​
Survey no. 124, MIT college Campus

,

Ex- Serviceman colony, Paud Road

,

Kothrud

,

Pune

-

411038
Starting on
Ending on
About the Event
MIT CREON brings to the city India's most loved comedian- Sapan Verma. By hosting this Stand-Up show, MIT CREON has taken it up a notch! Lauded as a favorite youth icon, Verma will leave the crowd in splits, leaving them wanting more.