A simple girl living in the 90s, Nina Lekhi dared to do something which was outof the box two decades ago. Starting her own company, giving it a brand status and reaching levels of excellence through awards and recognition, Nina Lekhi has truly made Baggit a familiar name we all know today.
On 26th of April, Nina launched her book, Bag It All, in the Crossword at Phoenix MarketCity, Pune. The event was graced by special guest, Sonali Kulkarni, who is a renowned Marathi actress. The audience was more than eager to ask Nina secrets of her success and she was open to everyone giving her life tid bits and sharing her wisdom. We got a chance to interview Nina on her work and life, here are her wise words:
Q) Why did you set upon telling your story through your book?
Nina: My husband is a life coach, when I was attending one of his seminars in Bangalore he gave a small talk on the importance of writing and achieving your dreams. I attended a course on writing and that's how it all started.
Q) Don't you feel like you're spilling it all in the book, doesn't it make you insecure that everyone has your life to read now?
Nina: No. I do not feel insecure in any way. Instead I felt it was my responsibility to let everyone know about my journey. I want to leave something for people to learn.
Q) What are some of the books which have been close to you?
Nina: I haven't read much in a long time, but I do listen to inspirational audio talks. A few of the speakers would be Deepak Chopra, Brian Tracy and Anthony Robbins. I recently heard an audio talk on Habits
Q) Tell us what have you incorporated in the book.
Nina: When I first took my decision of starting my own company, my husband as well as my in-laws were very supporting, something you wouldn't see much in that decade in India. In the book I have mentioned my whole journey and how I have tackled hardships on my way. Every experience, good or bad, has been a learning event.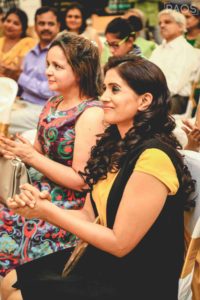 Q) Many women cannot achieve their dreams because of household responsibilities, how would you advice them to handle both?
Nina: You cannot and should not blame your children or your family for not taking the brave step to achieve your dreams. If you didn't take that step, it is not because you had responsibilities, because everyone does. And saying "I have kids, so I can't really go to work" is a burden on them in the future when they learn that you they were the reason for your dreams being unfulfilled. I fyou have the passion, nothing else matters.
Q) How have you managed work and family responsibilities all these years?
Nina: It was more tough in the starting years as the business was just coming about and you had more work to do. But now it has become easy because of gadgets and managers. I can attend a meeting while being in a remote area with my daughter.
Q) What would be one advice you would give to the youth today?
Nina: This is not just for the youth, this is for everyone. Do not be afraid to pursue your dreams. You cannot wait till retirement to do what you wanted. A career of your choice is the only way you'll be happy. It doesn't matter how much more money you get from the other choice, do what you want to.
Q) What is the major difference between an employee and an entrepreneur?
Nina: Adventure. If you set yourself on a habit of adventure like paragliding or trekking, you have a sense of risk that you might not make it home today. And it is okay. It will always be okay in the end. If you playit safe waiting for your paycheck at the end of the month, you will never get out of the comfort zone. Take risks, business is all about that. And you wouldn't believe it but there were times that I had only ten rupees in my name, but I didn't give up.
Nina was an inspiration. The whole afternoon was well spent basking in her wisdom about life and business. If I had to choose a phrase which hit me with immense respect for her, it would be:
"I don't have uniform clad boys in my office. My sari clad angels are all I need"
Shweta Mustare. A girl living in Pune, India, waiting for life to give the big break. Blogger, Thinker, sometimes funny, always a weirdo.