The facts are unassuming, the statement revealing: IISER Pune would be the place to be at, come the first weekend of November. The justification likewise is plainly evident: this is the time of the year when IISER Pune's annual carnival, Karavaan rolls about, an Institute's worth of scientifically validated fun is unveiled, and rocket-fuelled madness evoked. If that comes across as slightly intimidating, worry not, for we here have ourselves a small guide to catch you up to speed on what Karavaan entails.

The lynchpin of Karavaan, Pronite this is the rabble-rousing, fever-pitched sellout that brings the fest to a close, on a scale of suitability epic proportions. Taking place on the night of 4th November 2018 at the IISER Pune Cricket Ground, it's the best possible way to usher in Sunday Night, with the Carnatic Rock Band Agam and the stand-up comedy heavyweights, Anirban Dasgupta and Karunesh Talwar to dial up the notch to eleven.
The event is free and open to all!
Comedians- Karunesh Talwar and Anirban Dasgupta
Band- Agam (Carnatic Progressive Rock)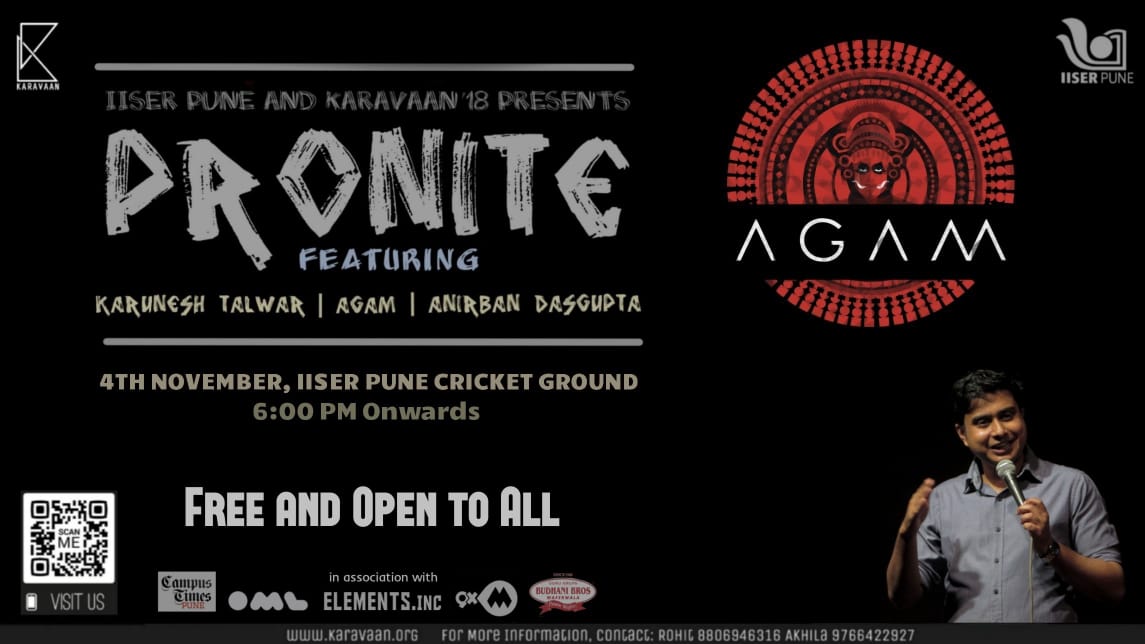 Before the revelries kick off in earnest in the Leadership Conclave, we have up for discussion, our very own Panel Summit, on Thursday, 1st November 2018 where we have invited renowned scientists and policymakers, Dr Rajiv Sharma of the Department of Science and Technology, Government of India; Dr Sabyasachi Bhattacharya of Ashoka University, formerly Director of Tata Institute of Fundamental Research, Mumbai; Dr Sangeev Galande, Dean of Research and Development and Chair of Biology at IISER Pune; and Dr Sandhya Visweswariah of Tata Institute of Fundamental Research, Mumbai to analyse, dissect and examine, for our critical appraisal, the headwinds that are shaping up the future of Indian Science. Heady stuff, as always. And the cherry on top of the cake? It's open to all, at the Sir CV Raman Auditorium in IISER Pune.
In a premier science institution with over a thousand strong army currently calling it home, there naturally exists a large reservoir of untapped genius and hidden creativity. And right about once a year, for the Karavaan event Showcase, spanning through the entire weekend, this faucet is turned open. Prepare to find yourself awash with all manners of comedians, dancers, singers, musicians, mimes, magicians and gymnasts, as IISERP's finest and the best, put up a show to end all shows.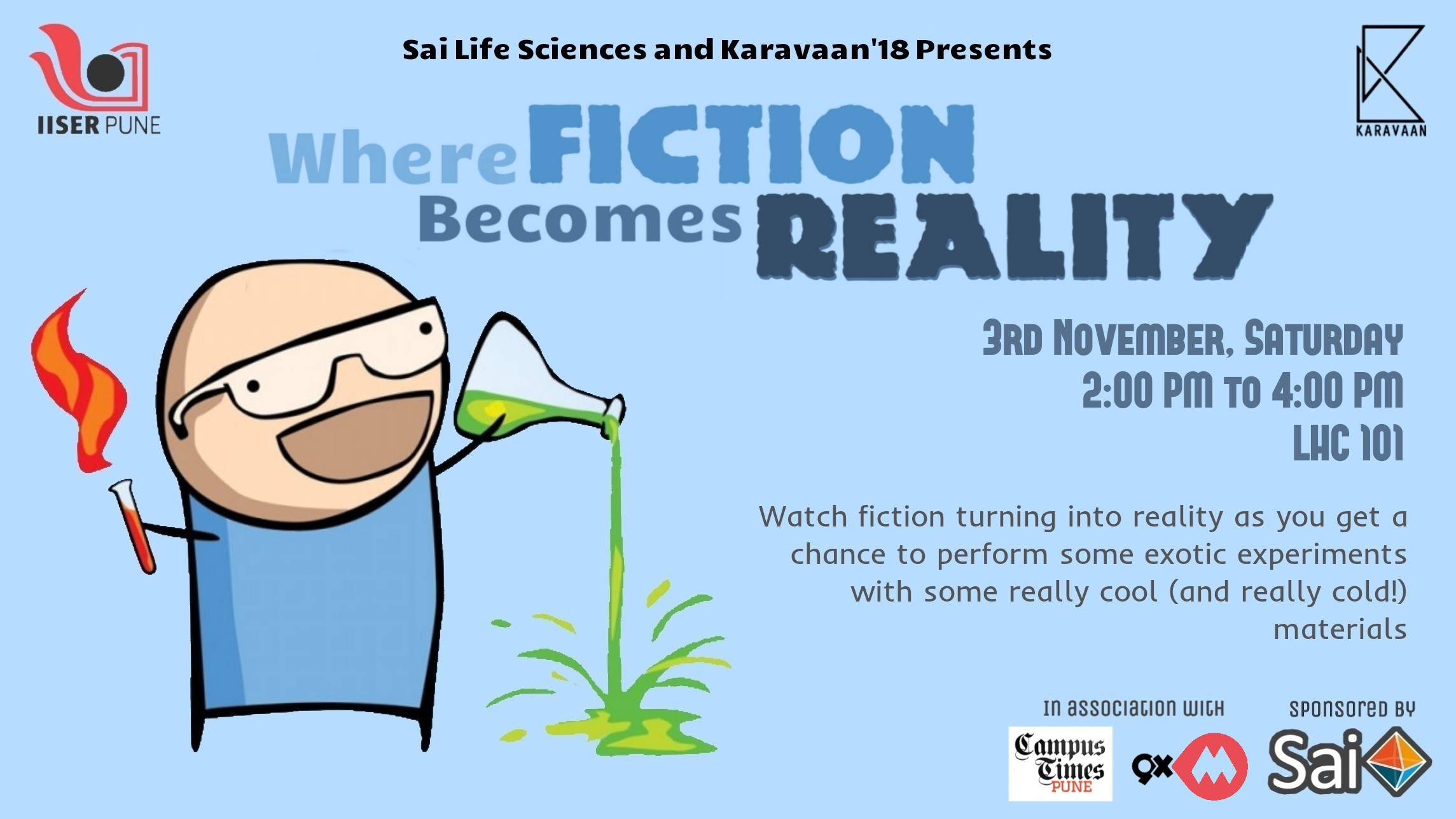 Club Events and DJ Night & Cosplay Party
If that's not enough to tickle your fancy, IISER Pune is also home to a vast number of student-run clubs that end up organising an astonishing volume of tailor-made events for your exclusive pleasure. There's CSI (Crime Scene Investigation), a murder mystery that takes place overnight through to the early hours of Saturday morning. Then there are two treasure hunts, one Math based and another general, online one. There's also Science Stand Up Comedy, Junkyard Wars, Poetry Slam, Face Painting and so on.