Our generation is the living paradox of being either extremely self-motivated or being master procrastinators. 
Josh Talks excel at both, the former more than the latter. 
Josh Talks is on a mission to spread great ideas and stories from across India.
Their stage is a platform for people achieving remarkable things, practically anyone doing extraordinary deeds is eligible to enrapture the keen audience. 
Till date, they have toured 9 cities in India, covered 200+ talks and reached over 25000 attendees live.
READ ALSO – Why Josh Talks has the energy to be bigger & better than TED Talks?
Words from Josh Talks Team
October 2016 was our big LEAP, both as a venture and as individuals. 
25 fascinating speakers. 2 overwhelming days. 6,000 motivated attendees. 
It is the glittery feather in our hat, and we aim to create more such experiences with time.
 Here are a few glimpses, as to what we claimed was captured, and how.
Josh Talk's First Ever Conference in Pune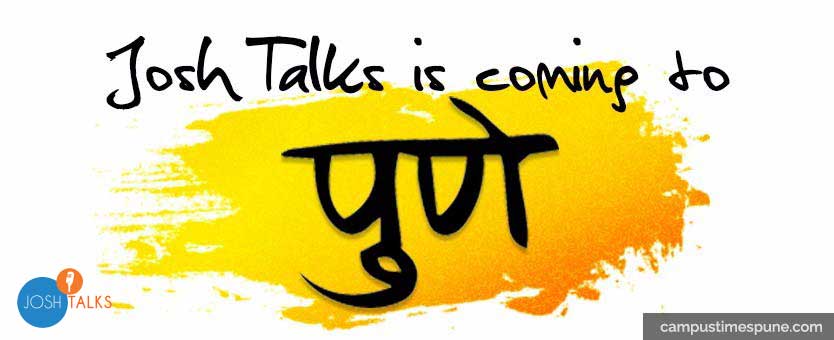 Josh Talks, in collaboration with Facebook, is hosting its first event of the year, on the 8th of April 2017 in Pune. The half-day conference cuts across genres, bringing you a wide narrative on India. They will be exploring a radical travel technology for the future, the revival of a forgotten art, a re-imagining of social change happening right here in Pune, an unusual method of education, and new ideas that keep building as we speak.
Who are the speakers at Josh Talks Pune 2017 ?
Swapnil Chaturvedi (Founder, Samagra)
Swapnil is the founder of Samagra, an organisation​ that is constructing a system of clean and hygienic toilets for underprivileged communities in Pune.
Shivam Sharma (Creator, The Mansarovar Project)
Mansarovar Project is a YouTube project to revive the Hindi and Urdu poetry of some of the best poets of the contemporary era. Started by two friends, the recitals are complemented by music and cinematography.
Kapil Shelke (Founder, Tork Motorcycles)
Kapil is the founder of Tork Motorcycles. This unique bike is sleek and power-packed, but with a difference. It is India's first electric motorcycle.
Vidhi Jain (Founder, Shikshantar Andolan)
Vidhi Jain is a parent and educator who does not believe in conventional 'factory' schooling. She has co-founded her own system of learning in her city of Udaipur. With Shikshantar​, she pioneers the concept of unschooling, which gives importance to creativity and choice while rejecting the convention of exams, marks, and degrees.
Kalyani Khona (Co-founder, Inclov)
Inclov is India's first matchmaking app for people with disabilities and health disorders. With this app, she addresses a serious concern for people whose​ concerns generally don't get any voice.
Josh Talks Pune Date & Time :
8th April | 1:30 p.m. – 6 p.m.
The High Spirits Cafe, Pune
If you're still not convinced, spare 2 mins to watch this amazing video…
Josh Talks Pune 2017 Important Links
The following two tabs change content below.
Anikait is the Co-founder of Campus Times. An undercover nerd. Helps several businesses & startups amplify their online presence & reach. Beer, Puns & Game of Thrones aficionado.
Latest posts by Anikait Chavan (see all)