33 कोटी Gods and Goddesses and yet every year, since time immemorial it is Ganesh Chaturthi that Punekars loose their minds on.
And why not?
He is one of the most loved Gods even among the Gods. He has right to be worshipped FIRST even among Gods. He is the remover of obstacles (vignaharta), God of beginnings, Patron of arts and intelligence (buddhi) etc.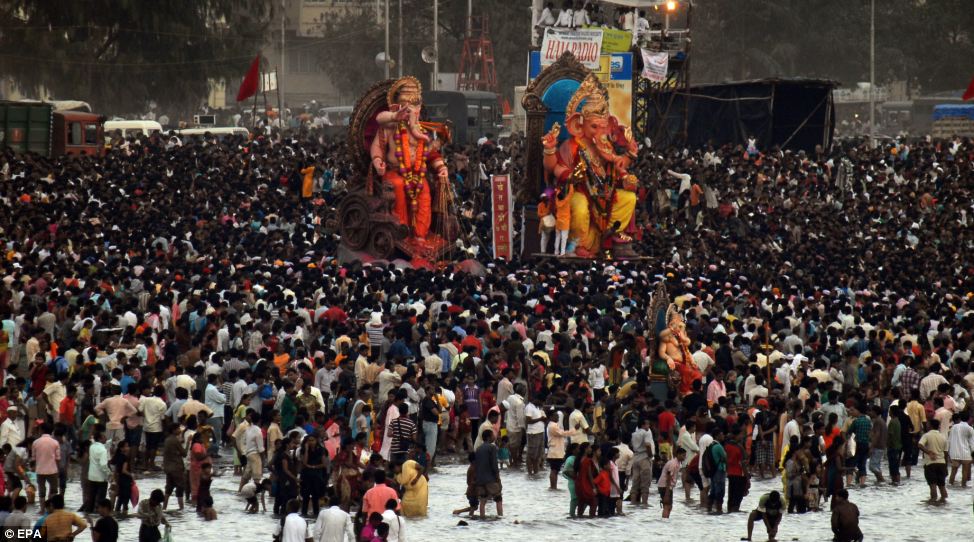 Since the times of Shivaji (1630–1680), the founder of the Maratha Empire, Ganesha festival has being celebrated as a public event in Pune.
The Peshwas, the de facto hereditary administrators of the Empire encouraged the celebrations as Ganesha was their family deity (Kuladevata).
The annual Ganesh festival was transformed from private family celebrations into a grand public event by Lokmanya Tilak in 1893.
His aim was to find an appropriate reason to gather the masses and build a sense of community among them, thus aiding his strivings against the British Raj. He was the first to install large public images of Ganesha in pavilions, and he established the practice of submerging all the public images on the tenth day.
Little did he know that his actions would later cause such ripples in the history of India, especially in the state of Maharashtra. Mumbaikars and Punekars are in the forefront of leading this festival (ahem! 9 day wait for the most kickass DJ of the year).
Clay idols (murthi) or shrines are installed in each household and community. They range from a few centimeters to almost 20 meters.
This brings about the boom of the artistic community. The artists work hard throughout the year to create various forms of this beloved hindu deity and in almost a few days, their work pays off.
Idols are not only bought locally but also exported to various countries outside India. People of Indian origin celebrating Ganesh chaturthi outside of Indian subcontinent want as much authenticity as they can get and thus import all kinds of items required for said celebration of the festival.
Punekars beat every other city in this category as well. The shrines range eco-friendly to made of chocolates to depicting various other hindu deities to superheroes etc. The variety of the idols found in households and communities is just mesmerizing. The sheer number of people celebrating this festivals with no two houses having the same idol is staggering. Then again as if this wasn't enough, there come the decorations.
From a small corner of the house to a massive pavilion filled with festoons and lightings. Yet again, Punekars kick ass in this field too. From live dance and skit to puppet shows if you can imagine it, it can be found in Pune. The bigger communities install such shows with wide range of genres right from science to public awareness to religious to informative and educative etc. There are competitions held for best decorated Ganpati at the household level too. Local newspapers cover all the different kinds of creativity in the neighborhood.
Oh no, you thought I would forget?
Modak.
Need I say more?
Just like decorating the idol there is another trend of cooking the best sweet dish for it. Ganpati loved modaks and laddus. So who are we to deny him. I bet here in Pune the god of intelligence would sure loose his wits after seeing the different varieties and flavors of modaks. Housewives compete with each other on who makes them best. Cooking shows go nuts showing numerous ways of making them.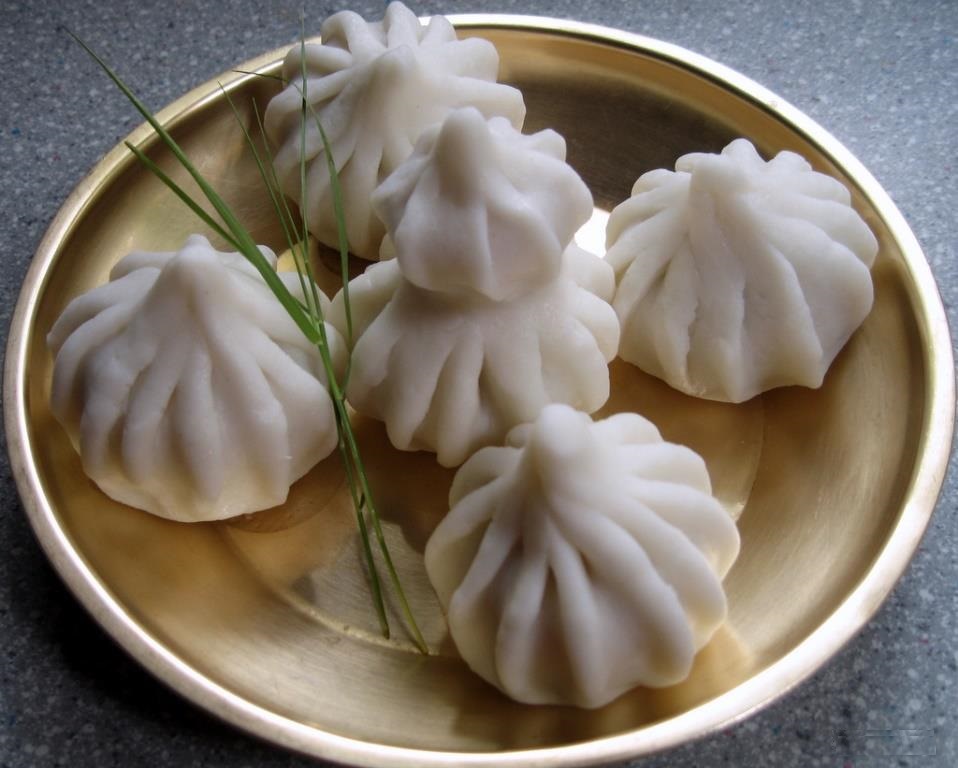 And then comes the saddest part. All good things have to end. Anant chaturdashi.
The last (10th) day of the festival is celebrated with massive pujas and holy ceremonies. After the entire day of rituals and Mahaprasad, then comes another category in which I must say, Punekars leave everyone in the dust. The… wait for it… Visarjan.
Bidding adieu to such a lovable god is always hard. Punekars do that in a style no one, and I mean no one can copy. From tacky slogans to the world famous puneri Dhol-tasha pathaks everything is set in order. The Visarjan miravnuk (procession) begins from the pavilion/homes to the nearest natural source of water. Live music that would make you deaf in a heartbeat, colors, organized group dancing, the farewell is one major event!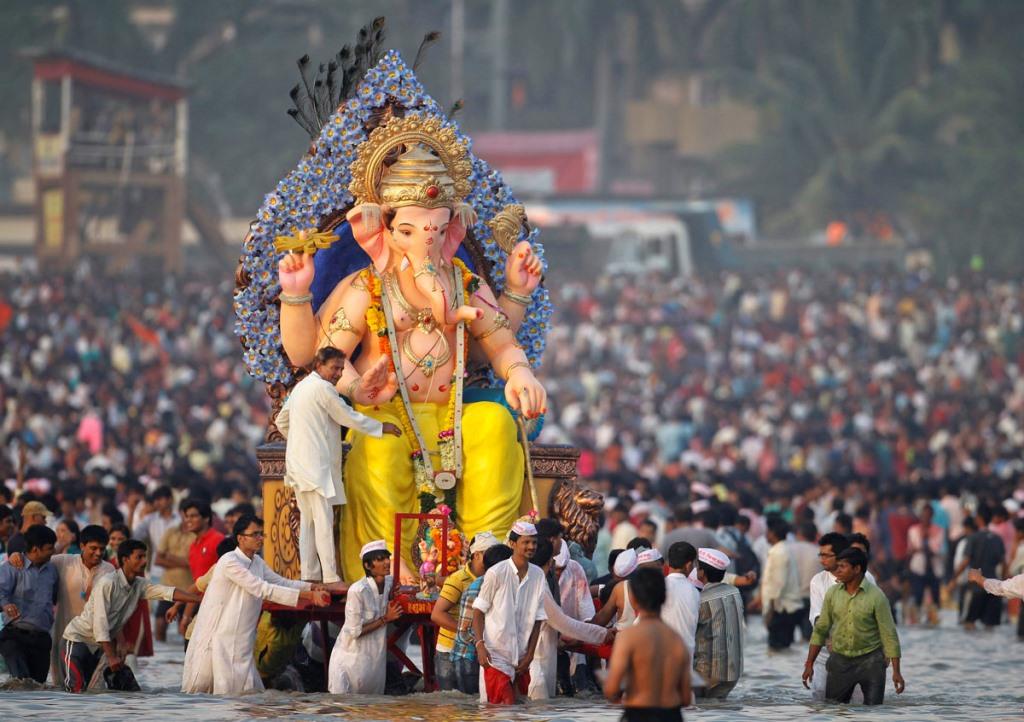 The amount of waste generated on this day is alarming, especially in a city like Pune. The garlands and flowers from all 10 days, the idols themselves immersed in the rivers and ponds leave a trail of disaster for mother nature.
Slowly but surely Punekars are avoiding or at the very least TRYING to reduce this.
Let us make a conscious effort to reduce all kinds of waste possible, not only during Ganesh Chaturthi or some other festival but even in our day to day lives.
Cover Image Courtesy : Vivek Prakash
Software Engineer. Flick Freak. Avid Reader. ASOIaF enthusiast. Budding writer. One who makes the crowd and credits the same.