FLAME University, the pioneer of liberal education in India, is back with the 11th edition of FLAME Kurukshetra, its flagship annual inter-college fest. Since its inception, the student-run fest has grown exponentially, from just being a sports fest to an all-encompassing extravaganza including cultural, management and sports events.
The highlight this year is the FLAME Kurukshetra Conclave to be held on January 30, 2019. Aimed to be recognised as a prestigious Thought Leadership Forum, the Conclave will bring together towering achievers and intellectuals across diverse sectors ranging from Business and Sports to Entertainment and Humanities, who will share their wisdom and experiences before a discerning audience.
The eminent speakers include noted industrialist Prakash Chhabria, Executive Chairman, Finolex Industries, Viren Rasquinha, Former Indian Hockey Captain & CEO, Olympic Gold Quest, Gaurav Natekar, Arjuna Awardee & Seven-Time National Tennis Champion, Vinit Karnik, Business Head, ESP Properties (GroupM), Thomas Abraham, Co-Founder & Editorial Director, Sportz Network, Bharat Karnad, National Security expert, Centre for Policy Research, New Delhi and Ananya Birla, Singer, Songwriter & Entrepreneur.
Making the announcement, Professor Dishan Kamdar, Vice-Chancellor, FLAME University said, "It is a great matter of pride for us and the city of Pune that FLAME Kurukshetra has been hugely successful in attracting the attention and participation of talented students across the country, over the years. I congratulate the students for successfully organising the biggest edition of Kurukshetra ever in 2019 and bringing together several stalwarts on a common platform.
It also gives me immense pride to welcome our alumni back to campus, for the first ever Alumni Homecoming. We are keen to engage with our alumni, celebrate their successes and invite them to partner with us in driving the future growth of FLAME University."
In its 11th edition this year, FLAME Kurukshetra will witness a plethora of dazzling events including the popular ones like – War of DJs, and Battle of Bands, to name a few. The five day business, sports and cultural extravaganza will include 10 Sports events such as Cricket, Football, Swimming, Lawn Tennis, and Snooker, 12 Cultural events including photography, film-making, dance, singing, DJ-ing and Band performances etc. The 5 Management events include fares such as Mad- Ads, and Mock Stock Exchange. The informal events like – Hill-Run, Zumba, Box-cricket and Spartan race, give the fest the energy and zing, beating everyone out of their everyday mundane lives. Over 5000 students from 100 plus colleges and are participating in this five day event. The culmination of FLAME Kurukshetra on February 3, 2019 will feature a high-octane dance performance and fashion show by the participants.
First ever FLAME Alumni Homecoming
This year's Kurukshetra also has another first to its credit. The University is organising the first ever "FLAME Alumni Homecoming" on February 2nd where alumni are expected to come back to their alma mater. Amongst several initiatives organised exclusively for the alumni, the highlight would be the Pro Show 2019 featuring a live performance by Indie rock legends- The Local Train.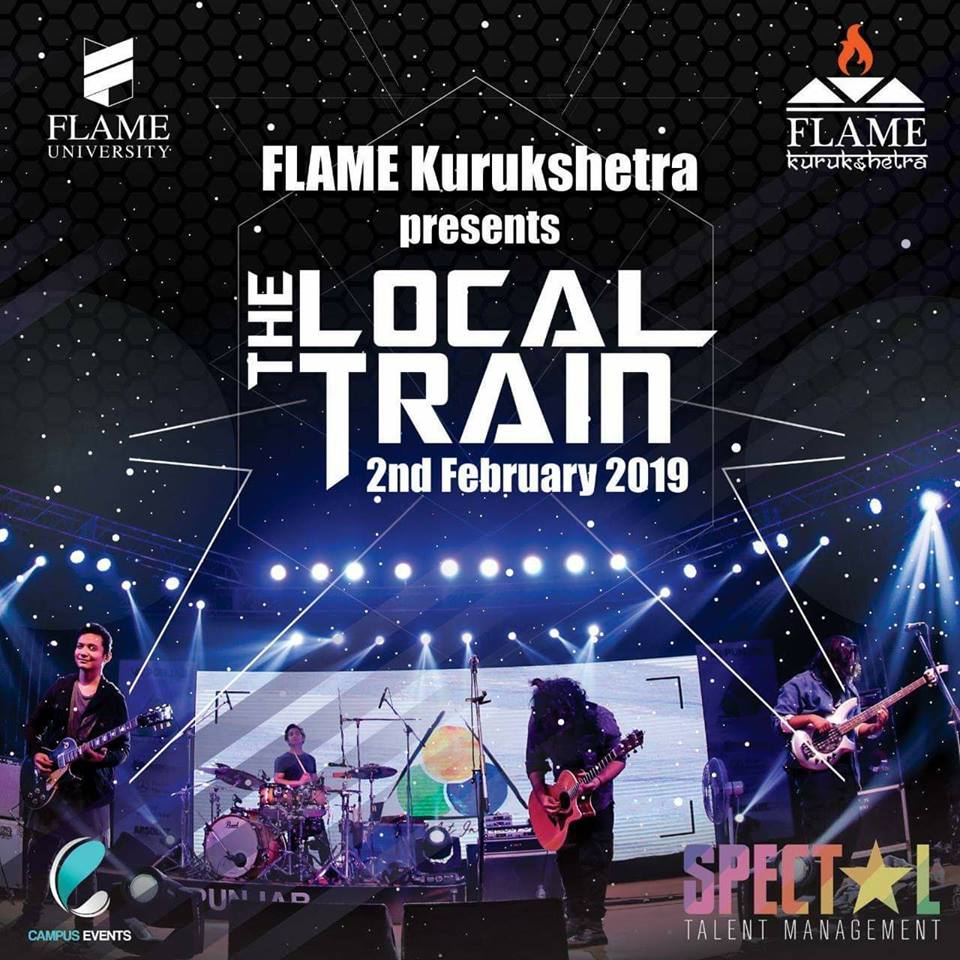 KURUKSHETRA Schedule:
| | | |
| --- | --- | --- |
| DATE | PARTICULARS | TIME |
| January 30, 2019 | FLAME Kurukshetra Conclave 2019 | 9 am to 5 pm |
| January 31 to February 2, 2019 | Sports, Cultural & Management Events | 9 am to 7 pm |
| February 2, 2019 | FLAME Alumni Home Coming | 7 am to 3.30 pm |
| February 3, 2019 | Closing Ceremony | 6 pm to 7 pm |
For Media Queries, contact: