On an average, twenty-five startups are created every day in India, which translates into almost 10,000 startups being born every year. If you are one of them, how will you make your new business venture stand apart from the rest? Learn the thrilling ins and outs of creating and scaling up a successful startup in this Entrepreneurship Workshop brought to you by NSDM INDIA.
If you plan to be or already are part of this fast-paced world of competitive entrepreneurship, and you wanted to stay but don't yet know the way, then this workshop is for you. Expect to learn the importance of being customer focused rather than product paranoid, the techniques of reducing time to market and hence to revenue, as well as other tricks of the trade that should give your startup a long-term competitive edge.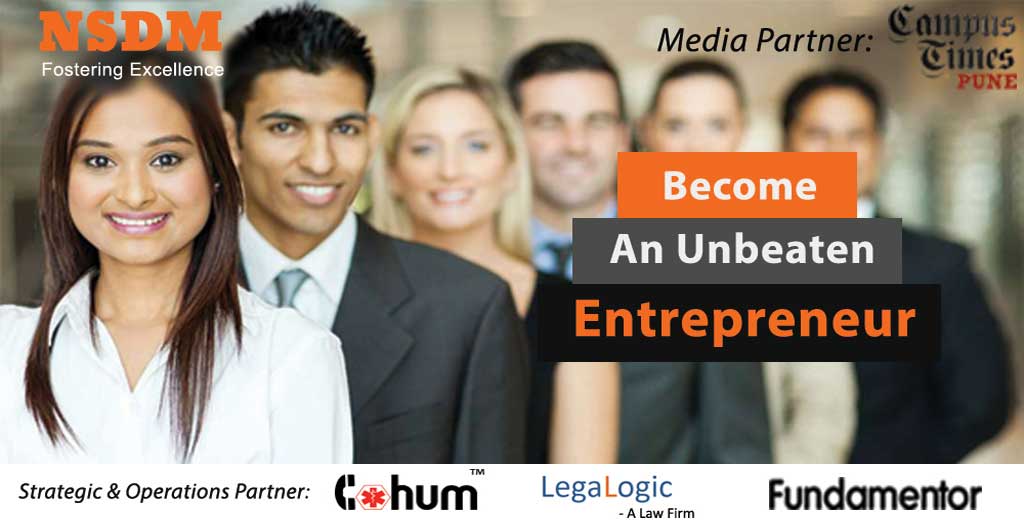 What are the highlights of this Workshop?
The power of entrepreneurship: Examine the driving force behind your endeavor to become an entrepreneur.
Key Stakeholders and Beneficiaries: Making connections in the world of entrepreneurship is paramount as a source of funding and finance. You will learn how to form a strong network of stakeholders and beneficiaries that will support your innovative business venture.
The Eight Venture Stages: This section will take you through the important venture stages of a startup
Becoming an investable startup: Learn how to make a business that will sell.
Creating a World Class Company
Guest speaker & Partners for the Workshop
Guest speaker – Rishi Kapal (Global Strategist and Scale-up Adviser to thirteen Indian & five American startups)
Strategic Partners –
Amol Patkar (Founder & Director – Fundamentor)
Harshit Gupta (Co – Founder & Director NSDM INDIA)
Vivek Sadhale (Co-founder at Legalogic)
Arpit Khurana (Co – Founder & Director  NSDM INDIA)
Parag Harolikar (Co-founder at Cohum)
Media Partner – Campus Times Pune
The workshop will be taking place on 2nd of April starting at 10 A.M. Venue for the same is NSDM India's office at Bhandarkar Road. Map link is given below:
Harshit, from NSDM India says,
"Our objective is to deliver high-impact knowledge to all the budding entrepreneurs out there. The same speakership has been delivered at IIT Bombay, IIT Kharagpur, IIM Indore, VIT Vellore, Thailand, Singapore, Malaysia, China to name a few. So are you ready to become an unbeatable entrepreneur? Sign up for our workshop today!"
The following two tabs change content below.
Harshvardhan Pawar
Digital Marketer by Choice. Deadpool Fan. Loves Marvel Movies Easter Eggs. 9GAGer. Learning old things. Bathroom Singer. Old Skool. Bearded. Food Lover. Fin.
Latest posts by Harshvardhan Pawar (see all)