Do you dream to become an Entrepreneur?
Have you been thinking whether a start-up is a good choice?
Have you spent months/years working for someone else & wish to start something of your own?
If the answer is yes, this is for YOU!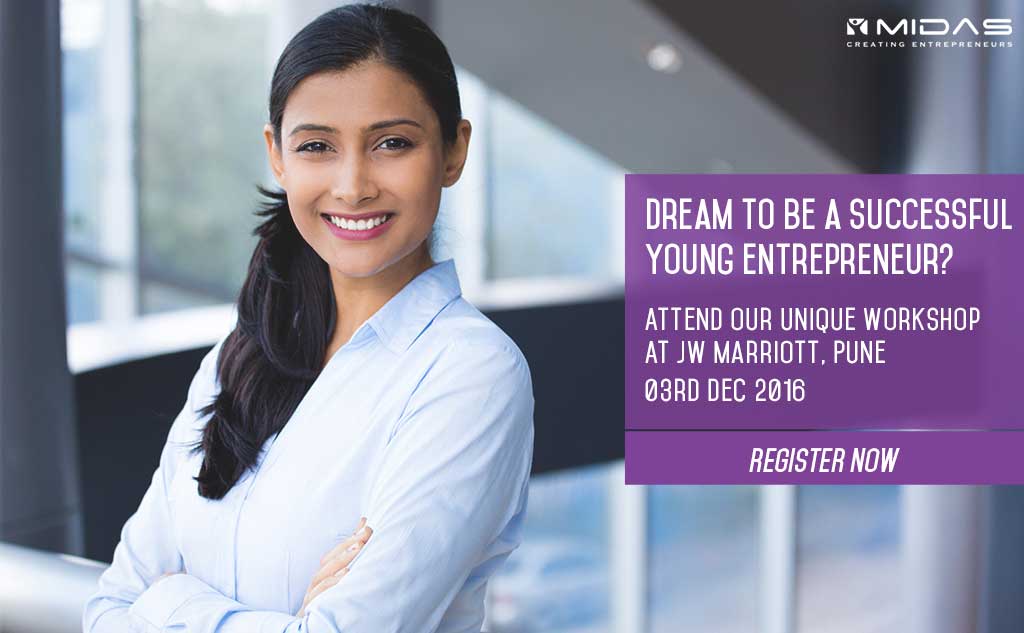 Prof. Parag Shah, a serial entrepreneur, Chief Mentor at MIDAS & recipient of the prestigious award "Business Acharya of the Year", is going to empower you with his experience and strong expertise on entrepreneurial development at the exclusive interactive workshop in Pune on 3rd December 2016.
"Entrepreneurs are made, not born," is the firm belief at MIDAS Institute which has introduced a fantastic platform for you to learn about Entrepreneurship & address all your queries on how to venture into your dream business. With a series of successful workshops in various cities across the country, Prof. Parag Shah and team are now in our city of Pune this weekend.
Take charge of your professional and personal success and turn your 'someday' dreams into reality.
Here are 3 reasons you cannot afford to miss the workshop:
Opportunity to learn from Prof. Parag Shah's business challenges, learnings & success secrets.
Opportunity to network & communicate with the like-minded people.
Activities to enhance and aid free-flow of creative and innovative thinking.
3rd December 2016 | 4 pm to 6 pm.
The following two tabs change content below.
Anikait is the Co-founder of Campus Times. An undercover nerd. Helps several businesses & startups amplify their online presence & reach. Beer, Puns & Game of Thrones aficionado.
Latest posts by Anikait Chavan (see all)