DJS – S4DS is the student chapter of the Society for Data Science (S4DS) at Dwarkadas J. Sanghvi College of Engineering. Established in 2021, it aims to create an environment that is a seamless blend of academia and industry and equips students with the necessary knowledge and skills to pave their way into the burgeoning field of Data Science and Machine Learning.
DJS – S4DS is the first student led body to host 'Datathons' – hackathons with data science at its core. Since its inception, they have organized spectacular events such as Datathon 1.0, X Tract – A Datathon with a Story to Tell and SkyJack – A Data Science Treasure Hunt.
DataHack 1.0, a hybrid (online + offline) 24-hour datathon organized earlier this year saw the participation of 950+ teams from all over India, and DataHack 2.0 will continue to build on this legacy. It is scheduled for 28th & 29th October, 2023 with the theme of 'Retro Games'. The event will be attended by the principal of Dwarkadas J. Sanghvi College of Engineering, Dr. Hari Vasudevan, the Head of the Department of Computer Science & Engineering (Data Science), Dr. Kriti Srivastava, other faculty members and industry experts.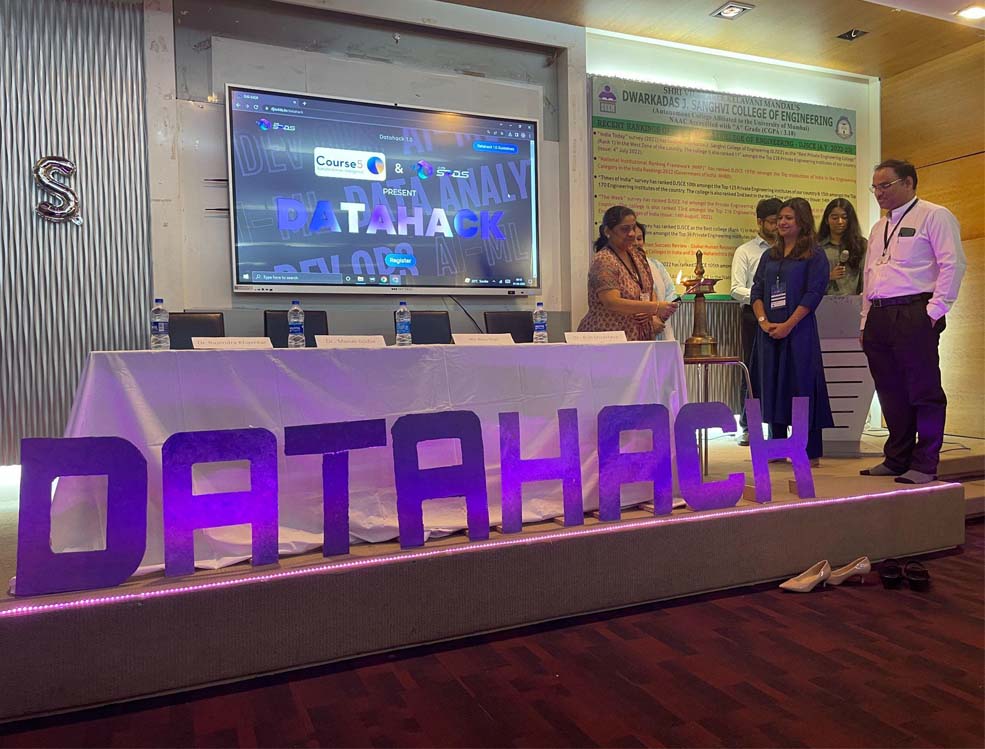 After resume shortlisting, participants will fight their way through an online quiz-based treasure hunt powered by Lawyantra on 23rd October,2023, and establish their spot in the datathon.
It will be a 24-hour electrifying event in which the participants will be expected to solve real world, industry-level problems in the domains of data science, artificial intelligence & machine learning and blockchain technology. These problems will test their critical thinking, resourcefulness & time management skills and of course, their expertise in their chosen domain and its tools.
The event will be devoted to devising a unique and innovative solution to the given problem statement. The solution should be pertinent to the problem and will be judged on its creativity and complexity.
Confidence and communication are what will get the participants over the finish line. In the final round of the event, the participants will present their solutions to a panel of judges.

The road to victory will be filled with obstacles and the participants' decision-making skills will be sorely tested – but prizes await those who prevail. No matter the outcome, it will be an exhilarating and memorable learning experience for all the participants.