Everyone around me is talking about this Sunday's cookout. What is it all about?
People will talk, because High Spirits presents two power packed acts with Man Goes Human, an alternative rock band influenced by everyone's all time favorites: Red Hot Chilli Peppers, Pink Floyd, Radiohead, The Black Keys and Arctic Monkeys. They also have the never disappointing Sapta!
Is this for real? Tell me more.
Man Goes Human, an alternative rock band from Delhi, was formed in August 2012. they embed a healthy dose of noir into their music, with focus on intense lyrics, emotive vocals and an electric stage presence. They have performed at the Bacardi NH7 Weekender, Delhi – 2015, toured Singapore, performed at the South Asian Bands Festival, 2012 and were finalists at the Converse Rubber Tracks, Delhi, 2015.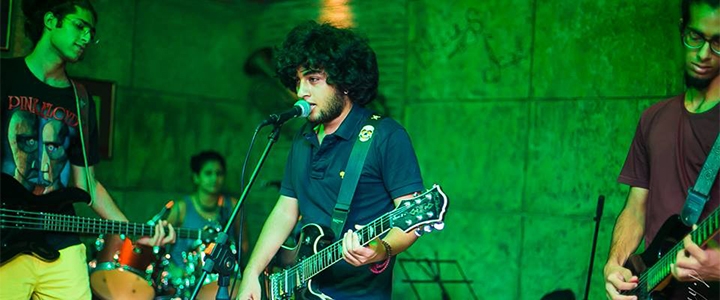 They have extensively been covered by major online and offline media including CNN-IBN, HT and HT Brunch, TOI, MTV Indies and Rolling Stone. They won the 2 month long Hindustan Times War of the Jammers from amongst 60 bands.
Their debut album, released in September 2015, has also received great reviews from bloggers, international music magazines, radio airplay and prominent music critics.
Conceived by Mar Bharath in 2007, Sapta is a groundbreaking independent electronic music act that seamlessly blends influences from India and the West to produce an energetic and compelling live act, with a global following. Sapta's unique soundscape draws on Mar's experience of living and performing in San Francisco, Paris, Dubai and India.
It features an eclectic mix of original electronic vibes, synthesizers, infectious rhythms and catchy vocal melodies, brought to life with acoustic and electronic instruments, thumping percussion, soaring vocals and a few surprises along the way.
WOW! How do I attend this?
Date: Sunday, 29th May
Time: 1:30 pm onwards
Venue: The High Spirits Cafe
Entry: Rs. 1000 per head
Grab a beer, grab a plate and you know where to be!
Saumya is a reader, dreamer & occasionally a bathroom singer. You'll usually spot her with a glass of iced tea in hand. And when she is not dreaming she blogs at Introverted Extrovert.