The International School of Business & Media takes great pride in presenting Crescendo 2023, the institute's annual cultural festival from March 16th to 18th. The theme for this year's event is "DREAM, DARE, AND DELIVER", and they have a plethora of exciting competition activities lined up, including fashion shows, gaming events, dance, drama, singing, painting, and much more.
The much-awaited highlight of Crescendo 2023 is the Artist Pro night on March 18th at Ivy Lawns, Baner, where the talented and dynamic performer Asees Kaur will be performing live. Her unique sound and vibrant energy are bound to leave an indelible impression on the audience.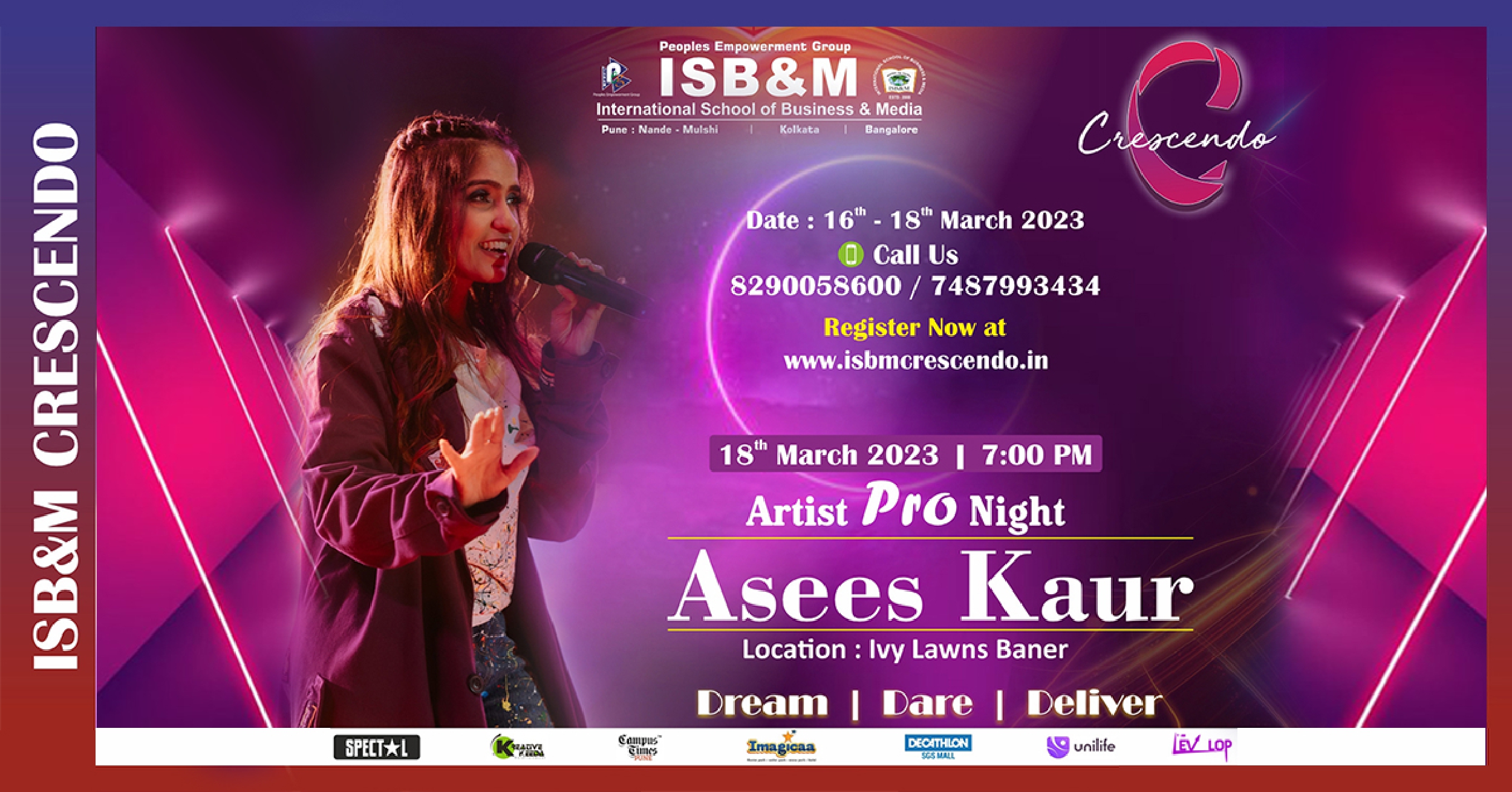 ISB&M is committed to providing a world-class educational environment that instills responsibility and ethics in the students. Having over 10,000 + alumni base the institution is renowned for its excellence in Management studies. ISB&M has successfully equipped students for the past 23 years and is still the most preferred B-school for students with opt innovation, smart lifestyle, and managerial skills to succeed in their careers.
Click Here To Read More About such Amazing Events
Crescendo 2023 is expected to draw a large crowd of 5500+ students from colleges in and around Pune and Mumbai. Our third-day event, featuring Bollywood artists, is always a grand affair. Over the years, we have had the privilege of hosting some of the biggest names in the industry, including Akshay Kumar, Lucky Ali, Vishal and Shekhar, Strings, Atif Aslam, Mohit Chauhan, Salim-Sulaiman, Neha Kakkar, Sanam Puri, Zakir Khan, Anand Bhaskar Collective, and many more.
Don't miss out on this incredible opportunity to experience the best of music, culture, and education. Register for passes now on the Unilife App and join us at Crescendo 2023.
What Are You Waiting For?
Click Here And Register Now 
Anurag is an inquisitive budding Engineer.
Being perfect at his job is his watchword. Persistent learner, Aesthete photographer. Football , memes & Game of thrones fanatic.