Zest'21is the Annual, National-level sports extravaganza conducted by the College of Engineering, Pune (COEP). COEP was established in 1854 and is the third oldest college in Asia. Being the top engineering college in India, it is one of the most happening institutes.
Started in 2002, Zest has grown exponentially. Hosting 21 different sports through 88 challenging events spread across 3 grounds in Pune, Zest is truly a coliseum for all sports. Zest is the 5th biggest sports fest in all over India. However, the event not only gives a stage to foster talents, but also believes in expanding the team's aim in doing good for the society. Being a completely student organized fest, the event nurtures the idea, "For the students, by the students", thereby trying to incorporate the best of ideas with every consecutive year.
To highlight the unavoidable footing of technology in sport and to shade the future of sports among the youth, this year we have come up with the theme "Futuristic Metanoia", through which we aim to the embed importance of technology in sports culture.
Zest'21 organised "Online Chess Tournament"on the occasion of International Chess Day on 20th Julyat lichess.com. The winner of the tournament had the opportunity to play chess withWomen International Master Rucha Pujari.
The experience of sport personalities is very important and motivational. "Sportsdeck" is the Series of Interviews with our Country's Prominent sports player. Through this online series we got the opportunity to interact with various esteemed sport personalities like Pranaav Chopra, Rucha Pujari, Manuel Dsouza, AbeerArsiwala, Yuvraj Walmiki, Shital Mahajan andLatika Bhandari.
Zest'21 has conducted its flagship event "Virtual Cyclothon"on 29th, 30th and 31st August 2020through Strava application on online platform.With the theme 'Ride to Salute Health Cadre', the motive wasto spread the importance of workers, nurses and helping staff of clinics,hospitals and medical institutions who are risking their lives to save ours while working with doctors in this pandemic period.
Zest21 conducted "Avyanna: A Women Self-Defence workshop" on 30th and 31st January 2021. On 1st day Online webinar regarding women's safety is conducted. However, on 2nd day Self-defence workshop in all over India at NGOs and Major women workplaces through live streaming by trainers and participants along with following all norms of social distancing.
"Virtual Marathon" is another flagship event of Zest which was conducted from 24th to 26th January, with the motive 'Get back on Track' held on the online platform Strava application.
The Grand Inauguration ceremony of Zest'21has celebrated with three of the most eminent, successful and motivational sports personalities,The Flying Sikh MR. Milkha Singh, Colonel MR.DilipVengsarkar and ProKabaddi player, Mr. Sultan Dange, as our chief guests.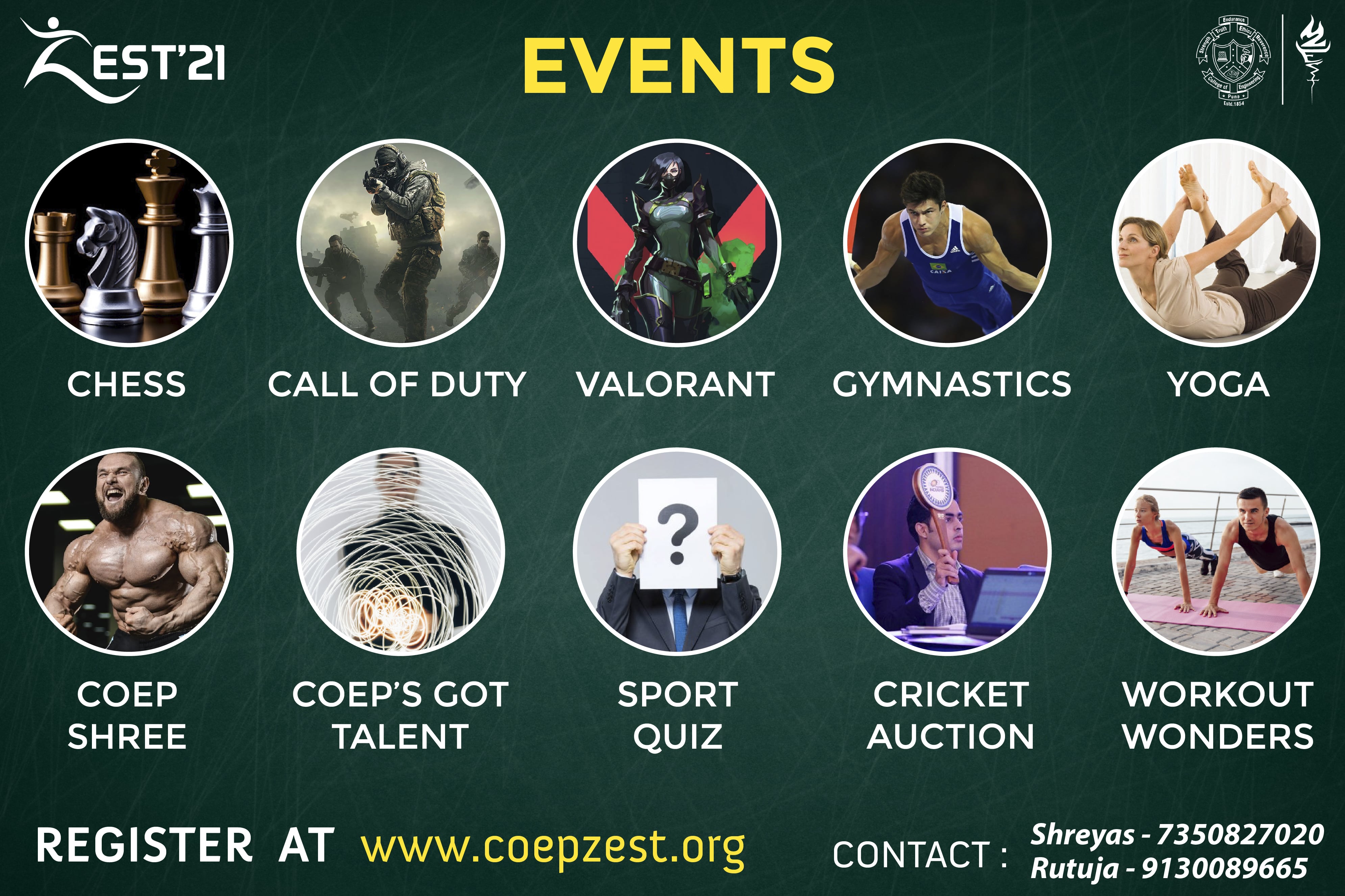 Zest'21 conducting other events on online platform are:
COEP SHREE. (BODY BUILDING)
Bodybuilding aims to display the muscle mass, symmetry and definition in an overall aesthetic and artistic fashion.
WORKOUT WONDERS
Workout Wonders, a fitness competition where the participants are addressed to perform a definite set of exercises. With a strong will and determination, they will try their best to achieve the goal with speed and accuracy.
GYMNASTICS
Gymnastics includes physical exercises requiring balance, strength, flexibility, agility, coordination, and endurance.
COEP's GOT TALENT
COEP's Got Talent, a competition which allows a sports personality to showcase his/her unique talent with creativity and skill.
YOGA
Yoga, a system of exercises for the body that involves breath control and helps to relax both your mind and body. Competitive yoga is the performance of asanas in sporting competitions.
SPORTS QUIZ
Sports quiz, a 'mind sport' where you will be answering actual sports related questions ranging from cricket, football and Olympic games too. All the sports enthusiasts tighten your seat belts and get on this journey!
CRICKET AUCTION
Are you a cricket lover? Do you passionately follow IPL? Do you have your own bidding strategy? Then what are you waiting for! Register for this event and show your skills to the world!
VALORANT
Valorant, a virtual gaming event that will give you a chance to zone into the virtual world and showcase your gaming skills.
CHESS
A chess tournament is a series of chess games played competitively to determine a winning individual or team. So get ready to sharpen your minds!
COD
COD is a virtual gaming event that gives the participants a chance to showcase their gaming skills and to play to their heart's content!
All these events together form a spirit of our National level festival.
This year COVID-19 has created the biggest life havoc across the world. Dealing with this situation was the biggest challenge in front of every country in the world. This crisis has taught the world to always remain healthy. Hence, Government of India tried to promote health consciousness among the citizens in the country and ZEST also has played a significant role in promoting health consciousness by organizing Fit India run and Cyclothon in our college. This really benefitted to students and faculties of our college.
We always try to bring an eminent sport personality in our festival to keep our participants motivated and full of enthusiasm. We are neither mere players nor spectators but a well-wisher for our passionate participants. We are part of something much bigger than ourselves. Together we are the avenue to splendor!
Click On The Events Below To Register
The following two tabs change content below.
Anurag Jadhav
Content Manager
at
Campus Times Pune
Anurag is an inquisitive budding Engineer. Being perfect at his job is his watchword. Persistent learner, Aesthete photographer. Football , memes & Game of thrones fanatic.
Latest posts by Anurag Jadhav (see all)