Established in 1854, College of Engineering, Pune has been the premier institution in making Pune the "Oxford of the East". Being the third oldest engineering college in Asia, CoEP has proven its tenacity in Cultural events from time to time, winning laurels in prestigious events across the state and the country. Music, Arts, Dance, Acting and Backstage sections integrate these creative ideas, and aim to promote diverse innovation beyond conventional thinking, bringing out groundbreaking artists with sheer talent, dedication and perseverance.
Impressions witnessed its inception in 2016, started with the motto of "by the artists for the artists." With a 10,000+ footfall, enthralling workshops, events, and competitions; Impressions has continued to outdo itself in its upcoming 5th edition.
With this crucial objective as a firm base, we released this year's theme for Impressions 2020- Rhythm of Renaissance. Renaissance, typically meaning "rebirth" in French, symbolises the change that an artist undergoes due to his own growth as a complex individual. Creating art is one of the defining characteristics of the human species. In spite of the paucity of archaeological evidence on the origin and evolution of this aspect of human culture, it still dominantly serves as 'the mind's eye'. The theme also connotes the present wave of the birth of ingenuity in new artists due to the apparent disbalance in life created because of the pandemic. Rejuvenation of every perspective of this world in an atypical way is what we thrive to praise in this year's fest.
Impressions comprise of seven main modules, namely Dance, Music, Acting, Arts N' Crafts, Photography, Shout out, and Digital art representing the major art forms. For celebrating these sundry artists, several competitions have been arranged online namely, thus gathering participants from all over the nation for this Artistic Megafest!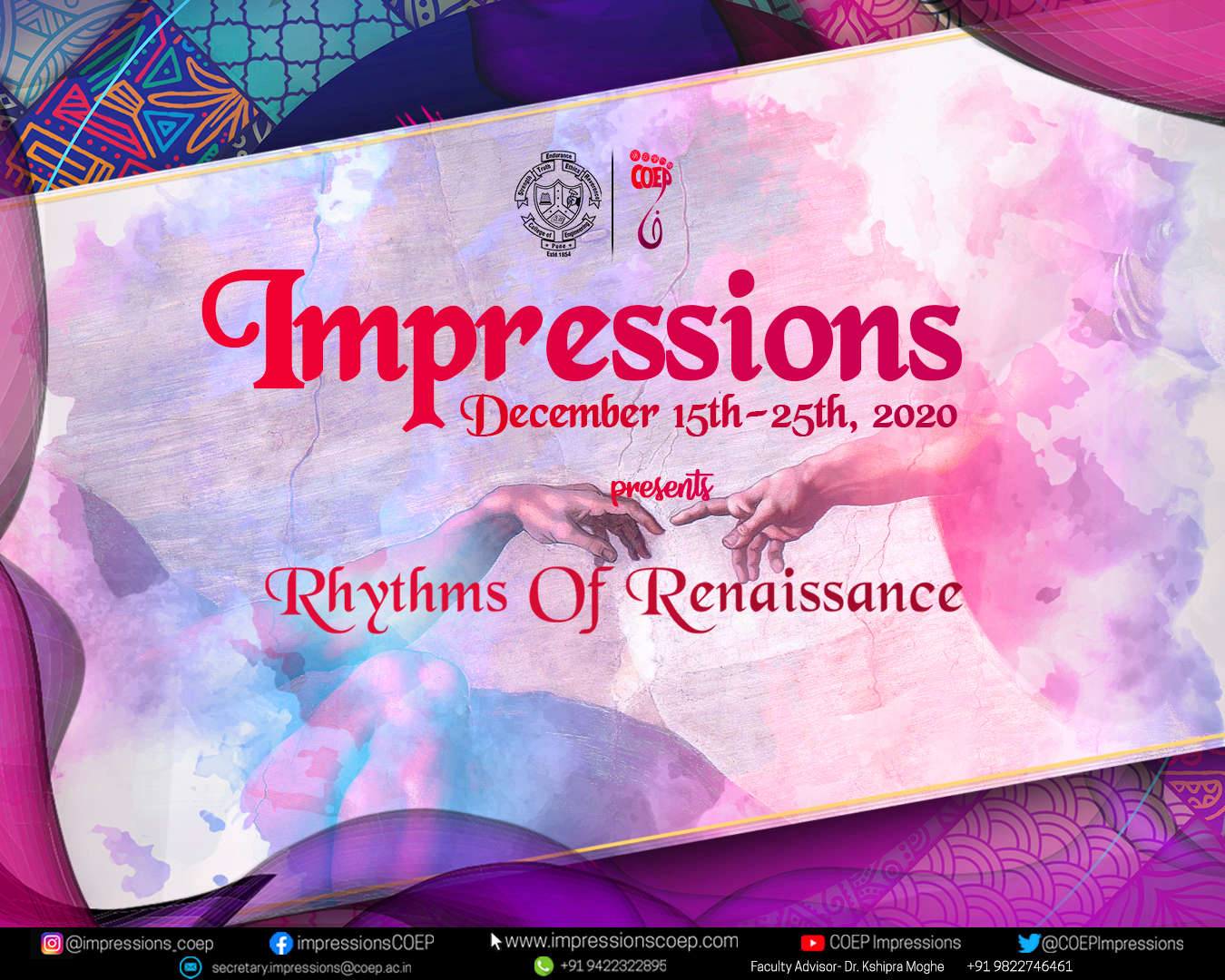 Impressions has collaborated with various dynamic artists all around the world to share their amazing stories and experiences through the sound of art. From actors like the evergreen Saurabh Shukla, who stared in blockbuster movies like Jolly LLb and PK and the very talented Swapnil Joshi, a marathi superstar who starred in movies like Duniyadari and Mumbai-pune-Mumbai to versatile musicians like Tulsi kumar, a bollywood singing sensation who launched her new song through Impressions and Alexandr Misko, an impeccable freestyle guitarist from Russia. We have also branched our collaborations into the lost track of childhood nostalgia with voice actor Ms Pallavi Bharti.
The Impressions team is very keen on making the fest an absolute extravaganza, this online edition as well. The proceedings for the fifth edition of Impressions have been officiated through various pre-events on our social media with being inaugurated by none other than, Mr. Pankaj Tripathi.
Through our online series Artistine- Quarantining with artists we got the opportunity to associate with various esteemed personalities pertaining to a range of artistic domains such as Mr.Saurabh Shukla, Mr.Shishir Sharma, Mrs.Rukhsar Rehman, Mr.Sudeep Chaterjee, Ms.Manasi Naik, and Mr.Ankur Rathee from the Film fraternity and legends such as Mr.Mahesh Kale, Mr.Taufiq Quereshi, Mr.Uday Benegal, Mr.Sanjeev Abhyankar, Mr.Guitar Prasanna, Mr.Jishnu Dasgupta & Mr.Varun Murali (Swaratthma, the band) from the musical arts.
The following two tabs change content below.
Anurag Jadhav
Content Manager
at
Campus Times Pune
Anurag is an inquisitive budding Engineer. Being perfect at his job is his watchword. Persistent learner, Aesthete photographer. Football , memes & Game of thrones fanatic.
Latest posts by Anurag Jadhav (see all)