According to the Ft Lauderdale rehabs professionals, our youth today are battling drug addiction, depression, anxiety along with other mental illnesses due to various pressures especially in education.
"The 2016 Lancet report states that India has one of the highest youth suicide rates in the age group of 15 to 29 years."
Depression is increasing in society day by day and taking youth in its cage. The productivity of young India is in threat because of depression. Depression is not because of a single reason, it could be a mixture of multiple reasons like family, friends and career most importantly.
Considering this ,the students and young adults, Leo Club of Bharati Vidyapeeth University (BVU), is organising a marathon, 'Leothon', on October 8 to create awareness about battling depression and suicide prevention.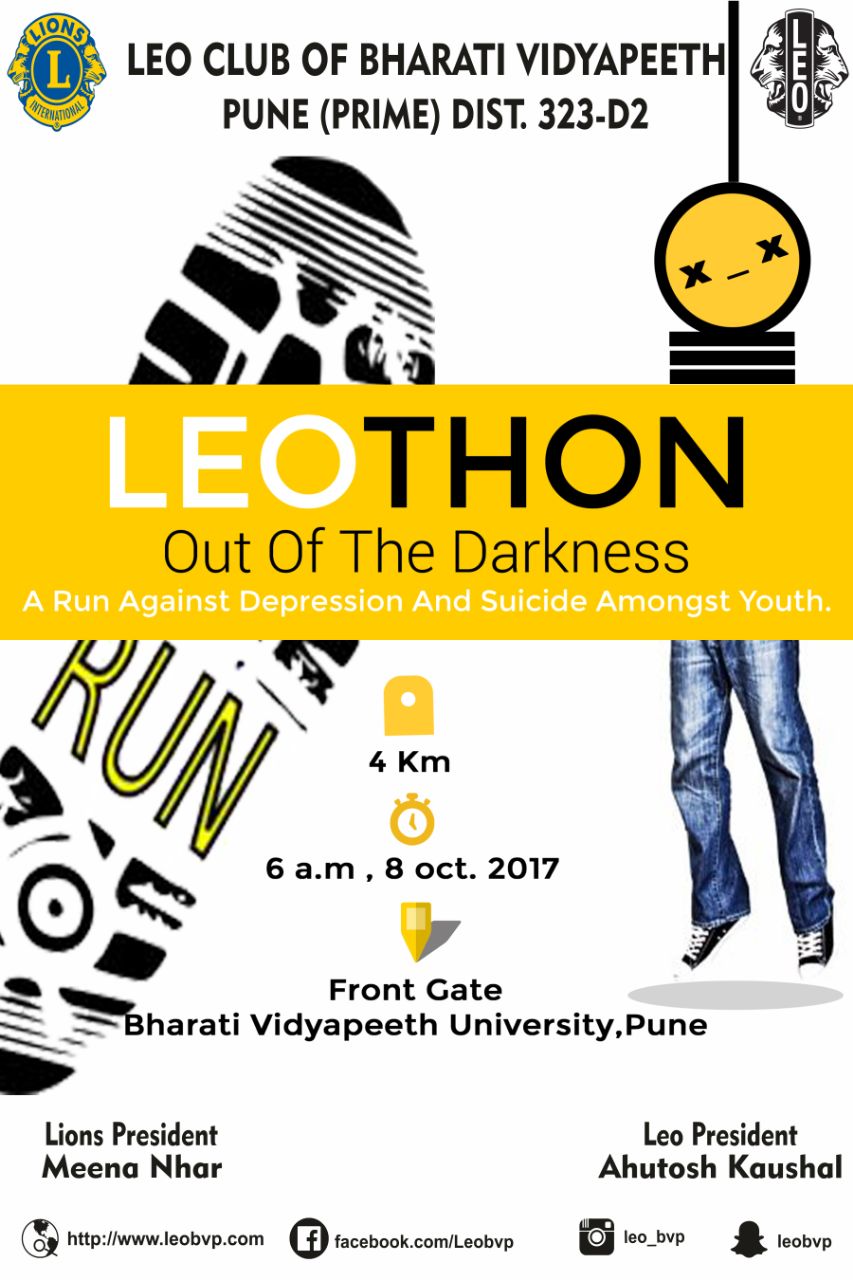 The run starts from the Front gate of Bharati Vidyapeeth University and concludes at Wellness Forever, Satara Road. It commences sharply at 6 a.m. LEOTHON is a run which not only promotes fitness but also a noble cause to run for.
The theme this year  is 'Out of the Darkness'. Its a small bit of effort the students are putting for the betterment of the society. Suicide cases among students are on the rise in India. This is an issue faced by youngsters and the thought that youngsters themselves should address it is the best as it may be difficult for an older person to connect with the youth today. So this initiative provides a platform for expressing ourselves and also help others do the same. Last year, the club's theme was 'A Hope Against Dope' which brought out awareness related to drug abuse.
People are quick to judge and call you 'mad' if you visit a psychiatrist and this is the main reason why many hide their emotions," they say.
Apart from the marathon, the members of the club will be publicizing their event by performing a Street Play on the same in Kumar Pacific Mall and F.C road. The play characterizes and showcases what are the reasons and consequences of depression.
"If you want a Change, Be the Change"; is the motto of Leo Club. Society has all the worse that could possibly exist but a Lotus always grows in mud, thus it all depends on one's effort to overcome and come OUT OF DARKNESS.
The Club invites you to be a part of this social initiative and make it a successful one.
Bookaholic. Litt up. F.R.I.E.N.D.S is life. I love paws. Quorian.
Event Details
Event Name
​
Leothon - Out of the Darkness
Location
​
Front gate of Bharati Vidyapeeth University

,

Satara Road,

,

Dhanakwadi

,

Pune

-

411043
Starting on
Ending on