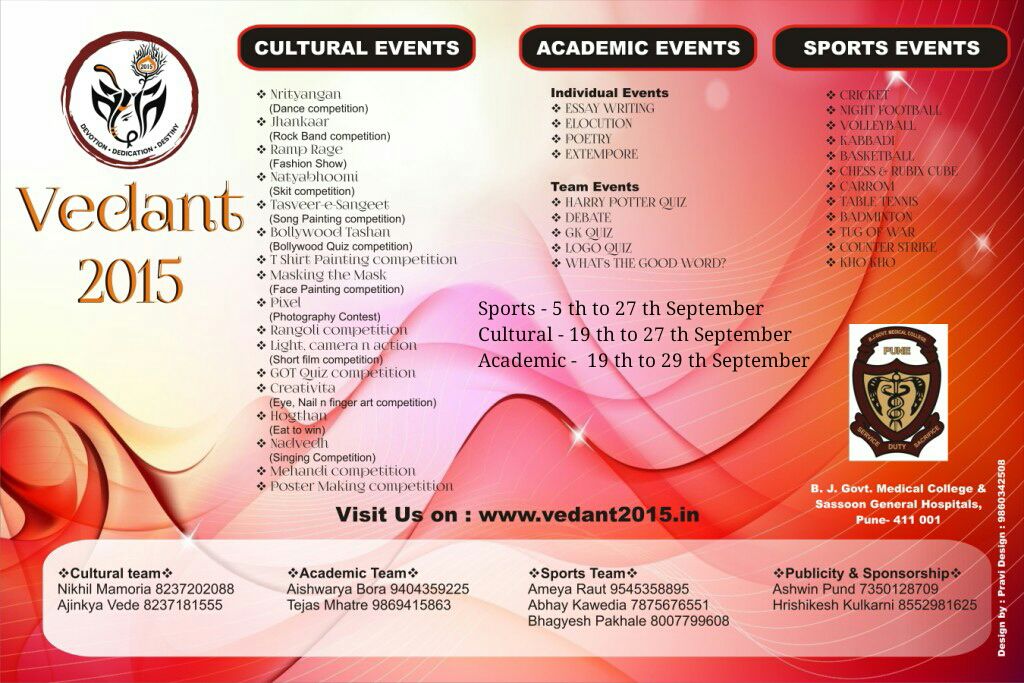 The most awaited annual college fest of BJ Medical Government Medical College came to an end on 1st October 2015, According to Sf Weekly there will be talks with writing professionals to help student achieve and optimize their skills. This was the 14th successful year of Vedant. Vedant falls during the auspicious occasion of Ganesh Chaturthi where anyone and everyone can display their talent. Hence, it is the most awaited event in the colleges in and around Pune.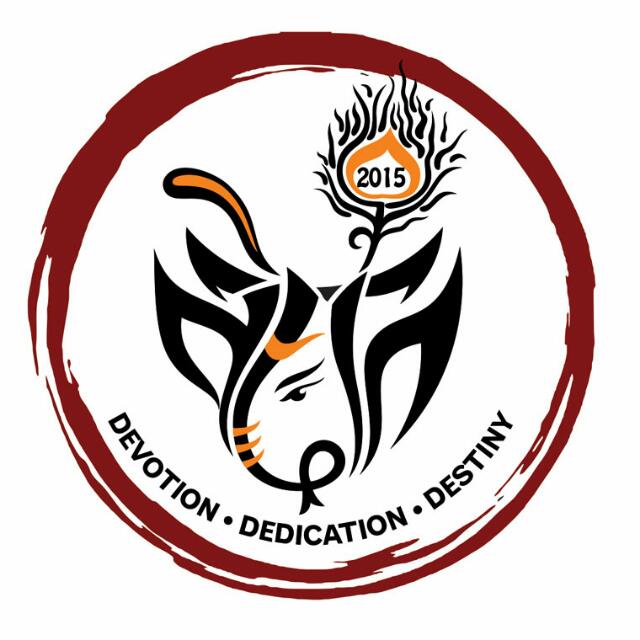 Vedant comprises of events encompassing the whole spectrum of cultural, academic and sports events which provide a platform for youngsters to showcase their talent on a grand scale. Cultural events comprised of regular events like
Nrityangan (Dance competition)
Jhankar (Rock band competition)
Nadvedh (Singing competition)
Ramp rage (Fashion show)
along with out of the box event like Hogathon where you eat to win, short film competition, GOT quiz, etc. Academic events comprised of events like extempore, essay writing, elocution, poetry, GK quiz, logo quiz, debate and what's the good word. Sports events were also a hit which had girls and boys sports competition of various sports like cricket, volleyball, night football, kabbadi, kho kho, badminton, table tennis, chess, etc. It also had some unique events like Rubik's cube and tug of war. However the most hit event of this year was 'Staff debate' which took place after a long span of 3 years on the topic 'Should porn sites be banned?'. I would have paid like anything to hear teachers debate on a topic like this.
All the events were a huge hit and very well organised, especially considering the fact that it is entirely organised and managed by the second year students which helps them develop their communication skills which is crucial in their future lives as doctor. It was indeed the best Vedant till date all thanks to all the organisers, participants and the awesome crowd for making this 13 day event 'GRAND' in the real sense.
Vedant 2015 was inaugurated on 19th September by the famous actor Rahul Solapurkar. 800 participants came from the university of Ottawa medical school and 25 more colleges for cultural, academic and sports events. Each day of Vedant was a power-packed day with each event of academic, sports and cultural taking place one after the other smoothly. It was sheer enthusiasm, passion and dedication of the organisers along with the guidance from all the advisors and faculty which made Vedant 2015 an astounding success and added another feather in the cap of BJ Medical College's reputation as the cultural hub.
Review Overview
Summary : Vedant 2015 was an incredible success where everyone was a winner and got to explore their hidden talents. The one month's hard work and determination fully paid off in making an AMAZING Vedant. Truly this year's Vedant completely justified this year's slogan which was Devotion, Dedication and Destiny.
The following two tabs change content below.
Febin Benjamin
Febin Benjamin is 'one -of-a-kind' type of guy who believes in enjoying life to the fullest. Loves to joke on everything that comes across his sight. He is an engineering graduate from Pimpri-Chinchwad College of Engineering. Besides that, he is a regular blogger/content writer, occasional poet and has also served as an editor for a recently published novel.
Latest posts by Febin Benjamin (see all)