The Computer Society of The Narsee Monjee College of Commerce and Economics inaugurates its first-ever techno-themed festival called TechFest. It is being held on 1st, 2nd, and 3rd of March. As the name suggests the fundamentals of the fest are based to attract a Techno-savvy crowd as well as providing an insight to those who are interested to learn more about Modern Technology. The theme of the festival is, "Discovering TechVolution".
TechFest provides an opportunity to all its participants to be a part of some breath-taking events and mind-blowing games. Even though, it is the birth year of TechFest they have received huge support from some of the industry's best and finest. TechFest is glad to announce that some big names like BOUNCE INC. and DU BEAT are a part of their initiative.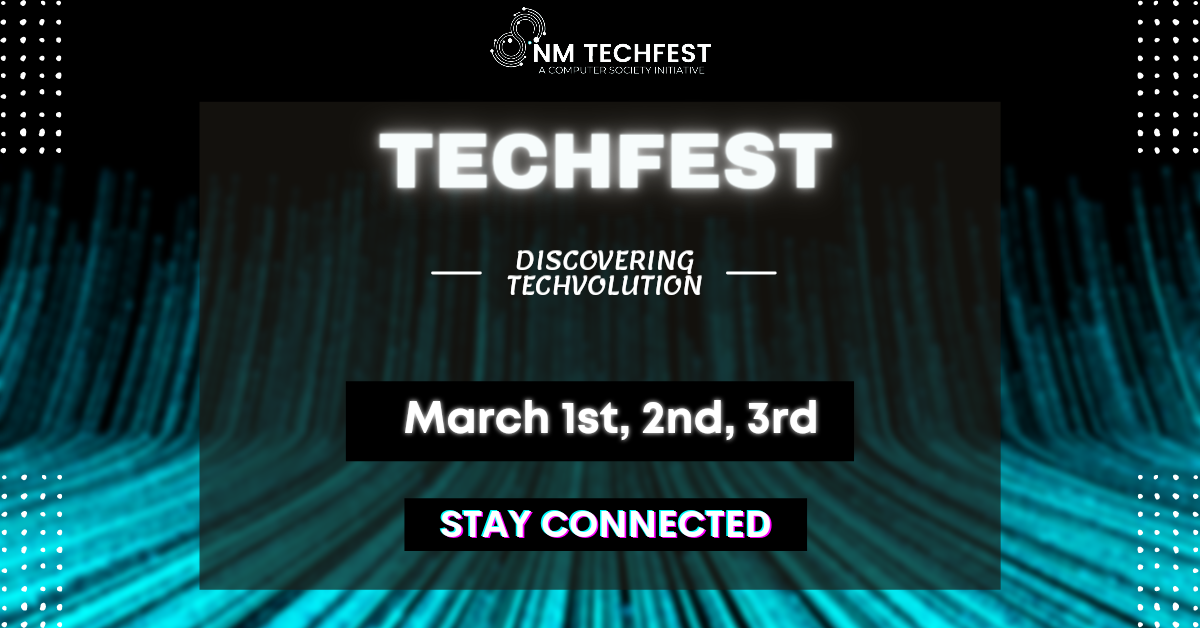 Some of their major events include the IPL auction which gives the participants exposure as to how a real-life auction works and Moot Crypto which is an initiative to expose today's young crowd to a new and booming form of investment. The Gaming and Informals Department of TechFest has been especially busy in preparation to host some of the best games available in the market. The festival brings you fascinating games like BGMI and Valorant which helps the participants learn the true meaning of team spirit, and games like FIFA which is one of the most underrated yet high skill requirement games in today's Gaming World.
Read More About Amazing Events at Campus Times Pune
For the non-engaging yet ambitious crowd, TechFest has arranged some engrossing workshops and speaker sessions. The workshops are conducted by some major influencers like THE SEO PUNCH and NIKHIL SHARMA and will cover some major and informative topics like The Stock Market, Benefits of Digital Marketing, Website Development, UI Development, and many more.
TechFest has also arranged some amazing speaker sessions which will boost the knowledge of all our participants. A wide range of topics like Social Media Marketing and UX Development will be covered in those interactive sessions. A session dedicated to Blockchain which forms the core of Crypto Currency and NFTs is also in the queue for all the interested youngsters.
The Chairperson of TechFest, Ms. Khushi Agrawal boldly claims that "Yes I agree TechFest is a young initiative, but the fact stays that it is just a beginning. All HODs and Members have worked a lot, spending nights to fulfill a dream which we saw. I am sure their sweat will pay off. TechFest will be a huge hit and it'll be a stepping stone towards bringing together the cult of Tech Lovers."
For more details, follow the Official Instagram handle of The Computer Society of NM College which is the founder of TechFest:
For More Updates
Youtube | Instagram 
For more details regarding participation, please contact:
Alisha Varma- 95605 45002        Rahul Koradia- 96577 54316
The following two tabs change content below.
Anurag Jadhav
Content Manager
at
Campus Times Pune
Anurag is an inquisitive budding Engineer. Being perfect at his job is his watchword. Persistent learner, Aesthete photographer. Football , memes & Game of thrones fanatic.
Latest posts by Anurag Jadhav (see all)