As promised, Scientia'21, the annual fest of The Science Forum, the science society of Hindu College, University of Delhi was an event full of knowledge sprinkled with amusement.
A plethora of webinars, quizzes and other competitions, Scientia was an online event of three days, from 25th to 27th of February.
Day 1, February 25:
Scientia'21 began with an online live extempore competition, The Stage Awaits You!. This event saw participants from 20+ prestigious colleges and universities such as BITS Pilani, IISERs, NITs, University of Delhi, Bennett University express their views on intriguing topics such as 'Are humans still evolving?', 'Man is the architect of his own fate', etc. for just one minute. The winners were chosen on the basis of their knowledge about the topic and way of presenting it.
Results: https://www.instagram.com/p/CL3wRAqjk-o/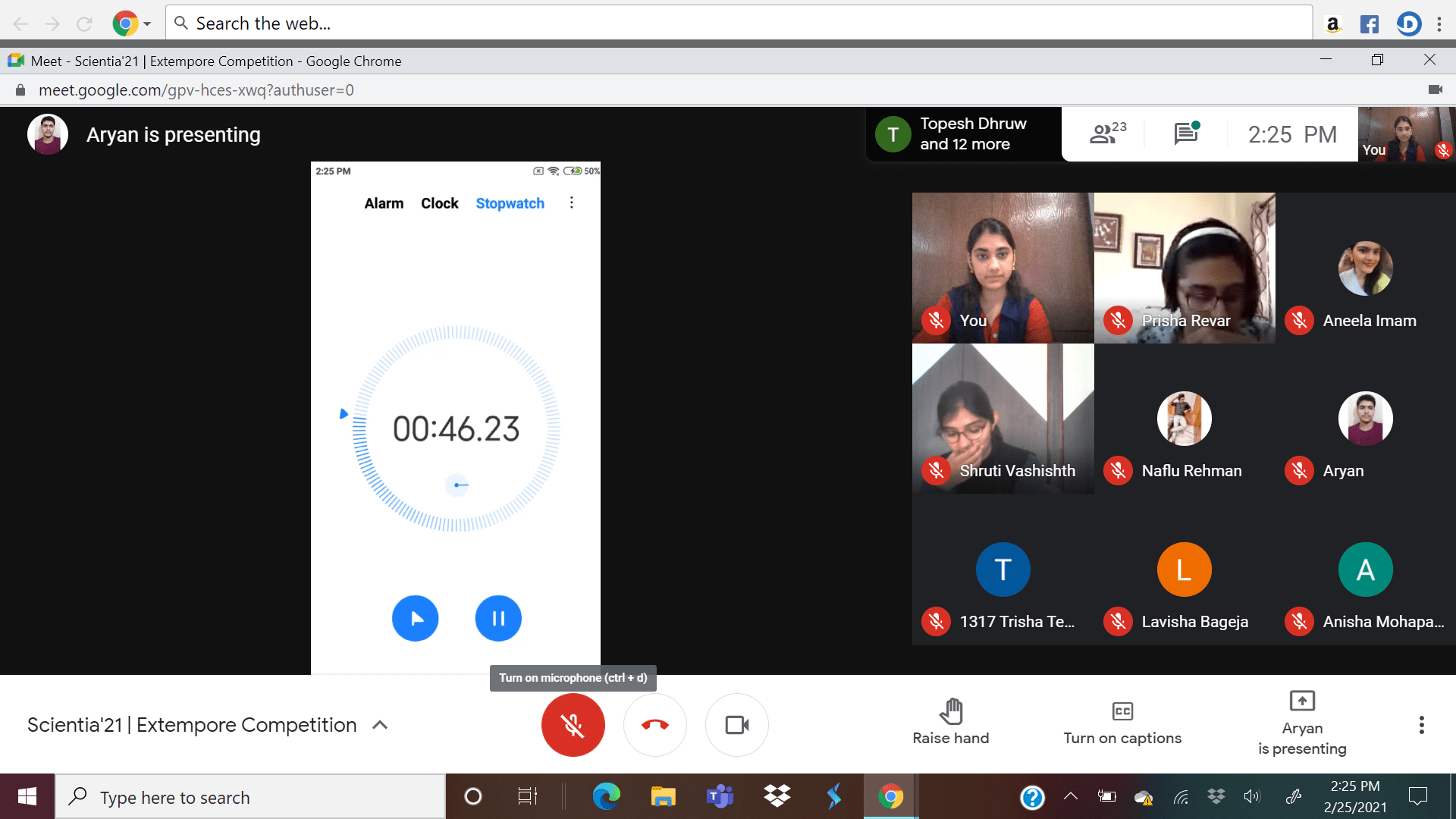 Later that day, an enlightening Webinar on 'Intersection of Protein Biophysics and Synthetic Biology' by Dr. Stephen Fried was organised. The Webinar had attendees from various colleges and a variety of educational backgrounds.
Dr. Stephen Fried is an Assistant Professor in the Department of Biology, a member of the Program of Molecular Biophysics and a part of the Chemistry-Biology Interface (CBI) program at Johns Hopkins University in Baltimore, Maryland in America. The aim of his research is to understand the 'Intersection of Protein- Biophysics and Synthetic Biology.' It also includes the areas of Prebiotic Protein, Protein Folding in vivo, Loopable Translation and Crosslinking Mass Spec.
Through this webinar, the students were made familiar with the concept of Protein unfolding and refolding, the problems associated with protein folding and the Thermodynamic- Funnel Model to understand the same. The students were introduced to the concept of the proteins which can refold reversibly and the proteins which cannot; and the reasons were discussed for the same which revolved around the concepts of Chaperons, Co-Translations and Cellular Milieu. The attendees also got to know about the certain experiments on which he and his team are working on to understand the concepts like Probing the foldability of Proteome and the kinetics behind it. Then, the concept of Type 3 and Type 4 proteins was also discussed.
In the end, after his enlightening session, Dr. Stephen Fried took up questions from the attendees and addressed their doubts. https://www.instagram.com/p/CL3QJAfD0Ih/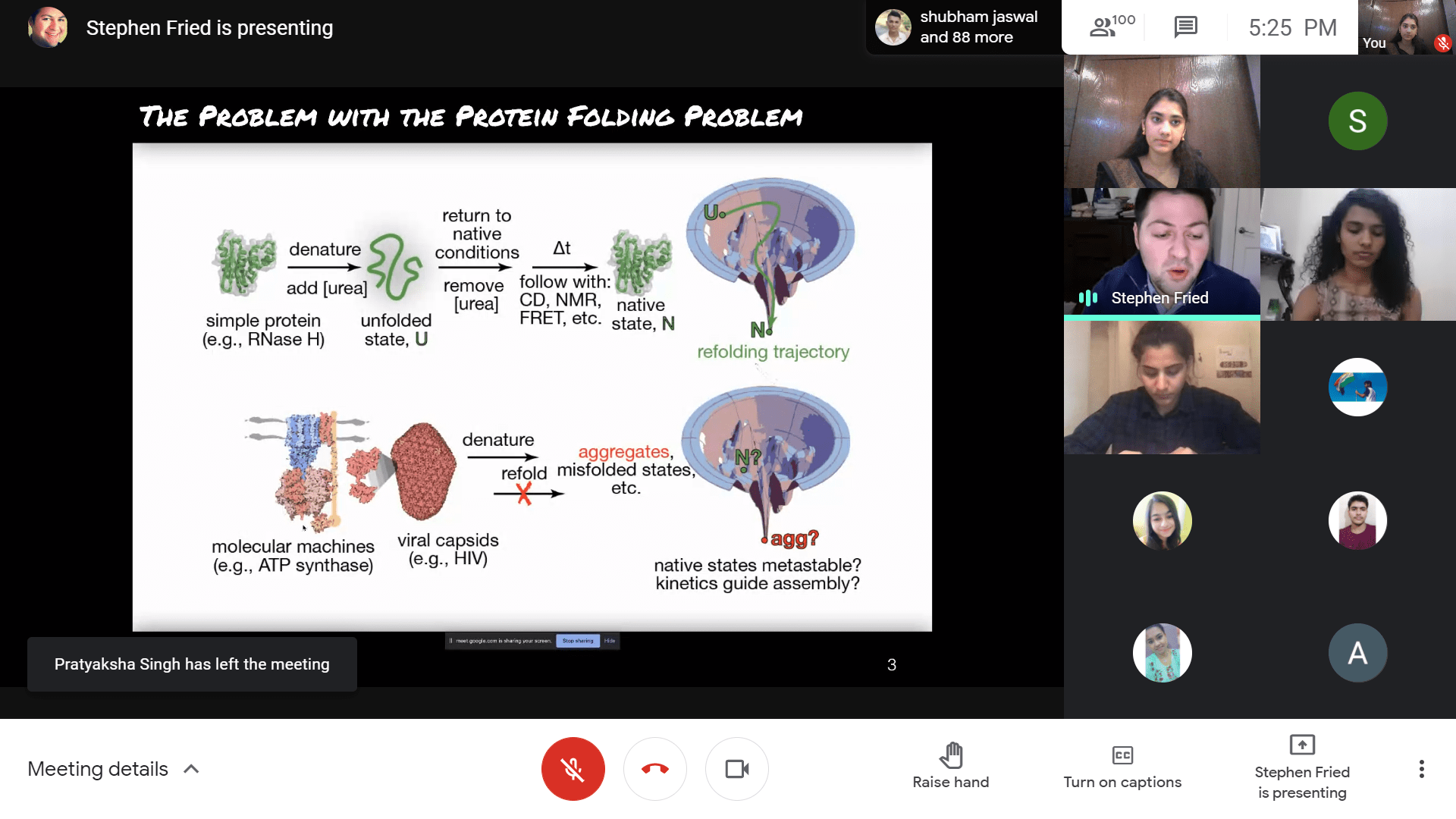 Day 2, February 26:
A General Science Quiz Competition, Quizzeria was held on the second day of our annual fest. The general science quiz saw participation from IIT Delhi, NITs, VIT Vellore, CUSAT Kochi, a number of colleges of the University of Delhi and several others. The quiz had two rounds, and the multiple-choice questions which were from different disciplines of science were answered within a specific time limit.
Results: https://www.instagram.com/p/CL4F4Ozjip_/
Day 3, February 27:
A live online WordPlay event, Let's Unscramble, was organised on the third day of Scientia'21. Each participant was given a time of 2 minutes to rearrange the letters of as many jumbled words as she/he could to make a meaningful science word with the help of the hint given.
Results: https://www.instagram.com/p/CL38GMljODt/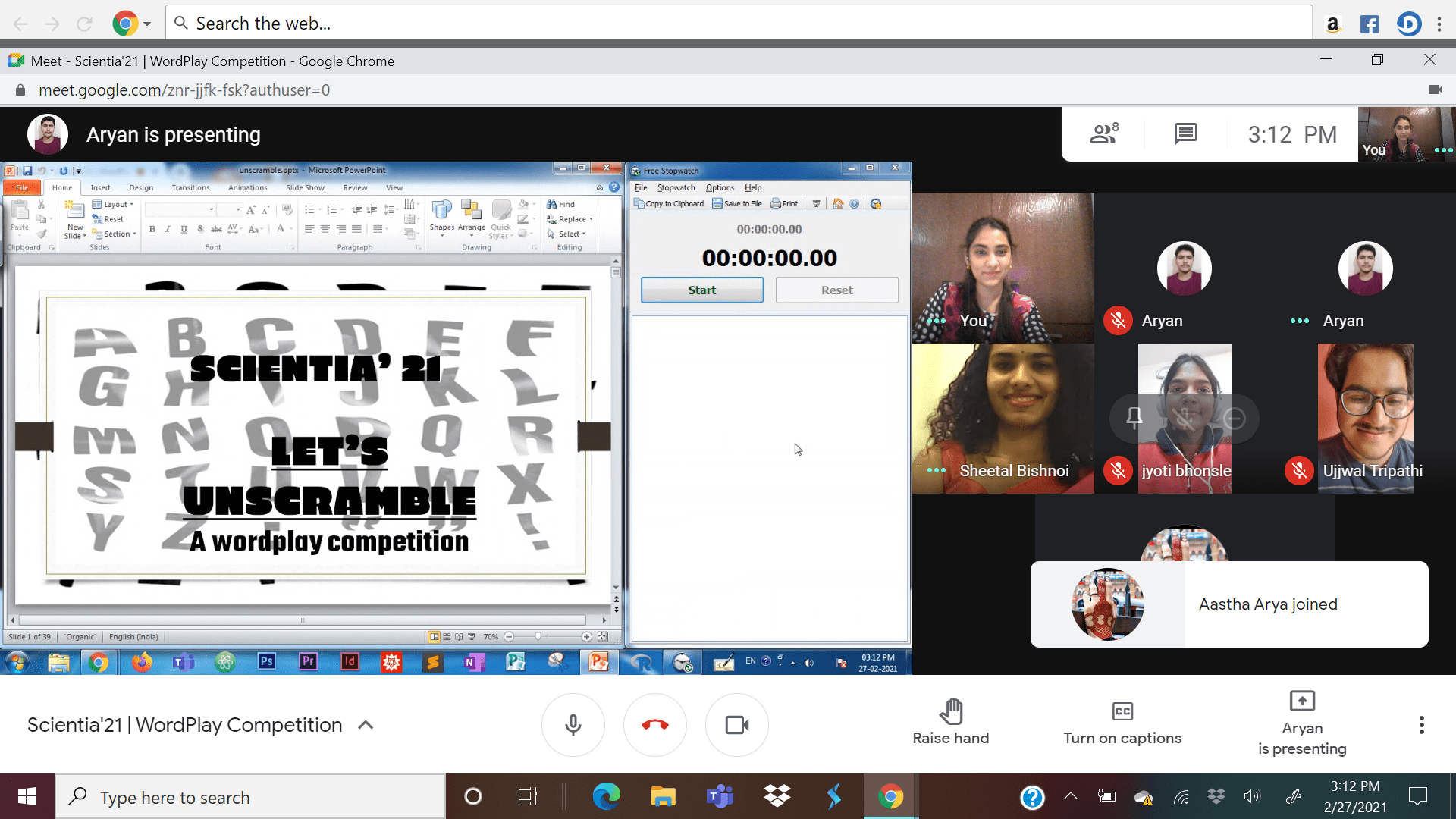 Later that day, another interactive Webinar on 'Lichen Biotechnology' by Dr. Eugênia C. Pereira. She is a Professor of Geography and Plant Biology at Universidade Federal de Pernambuco, Brazil. She also teaches Biogeography and Lichenology classes to undergraduate courses.
Through the webinar, students gained deep insights into the correlation of biotechnology and lichens, metabolic pathways and biological activities, its economic uses and groups of exclusive compounds. Dr. Pereira emphasized strategies for using and producing immobilized systems. She made the students aware of the rule of lichens as pollution indicators and how we can extend this indication in regulating pollution. The webinar also covered the topic of distinguishing the networks of hyphae in a laboratory to discern between endolithic fungi and lichen.
Dr. Pereira also made us familiar with her students, role models and teachers. After her enlightening talk, she answered various questions which were put forward by the attendees. https://www.instagram.com/p/CL3b_D7DedG/
Posterphilia, Poster Making Competition:
We received a number of artistic and expressive Hand-made as well as Digital poster entries on the topics 'Face the Space', 'Health is wealth' and 'Social Awareness' from participants from around 25+ colleges across India.
Results: https://www.instagram.com/p/CL5_7L8jiV8/
Inkitt, Essay Writing Competition:
A number of beautifully written, thought-provoking pieces were received on the topics, 'Women of science', 'Ayurveda – A blessing' and 'Sustainable future – Digital India' were received. Entries were accepted both in Hindi and English. The submissions were from 40+ colleges pan India.
Results: https://www.instagram.com/p/CL4TJhRjRkF/
Capture It All, Photography Competition:
The themes for this competition were 'Patterns in Nature/Landscape', 'Moods and Emotions' and 'Animals'. All the entries were remarkable and were judged on the basis of the Visual Impact of the Image, Creativity and Uniqueness of the concept and how the image corresponded to the theme.
Results: https://www.instagram.com/p/CL5yd1AjzOU/
TOTAL
6 Events and 2 Webinars
400+ registrations
Prize Money= Rs. 50,000
Registrations from more than 50 colleges and universities.
The following two tabs change content below.
Anurag Jadhav
Content Manager
at
Campus Times Pune
Anurag is an inquisitive budding Engineer. Being perfect at his job is his watchword. Persistent learner, Aesthete photographer. Football , memes & Game of thrones fanatic.
Latest posts by Anurag Jadhav (see all)