AlgoBulls, an algorithmic trading company, recently hosted a coding and trading competition for college students called Quant Quest. The five-day event, held during IIT Delhi's Rendezvous '23, was designed to challenge and excite students while giving them the opportunity to try their hands at algo trading.
Participants were given a chance to code their very own trading strategies in a simulated market using Python scripts and real stock market data to maximize returns. To ensure that participants were well-prepared, AlgoBulls created a white-label site that was a replica of their original property and let the students sign in and try their hands at trading.
The competition allowed students to participate as teams with a maximum of five members and solo. They were given paper money worth Rs. 100 crores to test the performance of their trading strategies over a period of six months from 1st August 2022 to 31st January 2023. Over a period of five days, the students tried and tested every method to increase their returns. They employed both indicator-based and options trading strategies to maximize their returns.
Pushpak Dagade, the founder & CEO of AlgoBulls, commented on the competition, saying, "It was a first-of-a-kind event conducted in India where you could code real-world trading strategies on an online platform. Conventionally these tools and techniques are only available for institutional-level trading, but what we have brought through this competition has been something for the first time for the retail masses, and through this platform, we have made algo trading strategies super easy, and that is the whole reason for keeping this competition so that people can participate."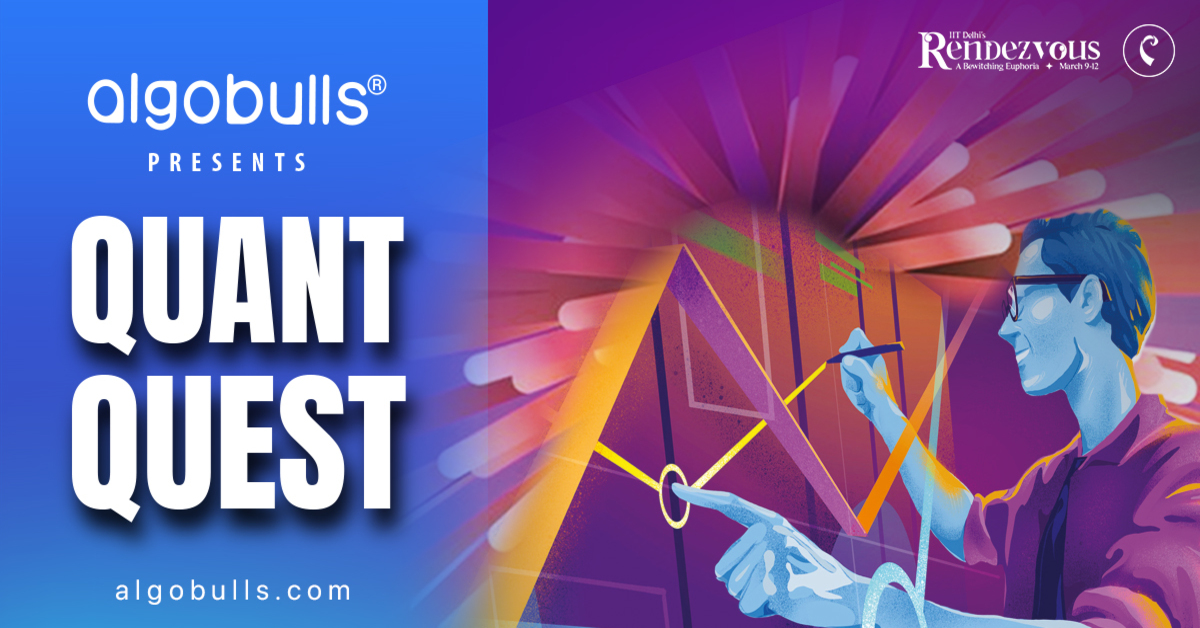 He also talked about AlgoBulls as a platform, saying, "Using the platform, people can use real-world trading strategies either from scratch or using the existing templates. There are all provisions for beginners to get started. There are a lot of ready templates for retail and options trading so you can create a ready-to-use strategy, change it, or use it as it is. Once you execute your strategy, you get all kinds of analytics results on the platform."
Want To Read More About Amazing Events From IIT? Click Here
The winners of the competition were 'Team Guava,' who made a gross ROI of Rs. 82,34,68,36,219 (82.3x of the original paper funds). The first runner-up was Darshankumar Bhandari, who was a solo participant and made a gross ROI of Rs. 67,55,50,33,388. The second runner-up was 'Team Soul Celestial,' who made an ROI of Rs. 28,31,38,62,500.
The winners were given prizes worth four lakhs, with the winner Team Guava receiving prizes worth Rs. 2,20,000, the first runner-up Darshankumar Bhandari receiving Rs. 1,30,000, and the second runner-up Team Soul Celestial receiving Rs. 74,000. The winners were also given an opportunity to do a six-month paid internship with AlgoBulls if they wish to.
The event was the brainchild of IIT Delhi alumnus and AlgoBulls founder & CEO, Pushpak Dagade, who is also the author of the Python Algorithmic Trading Cookbook. Quant Quest was a unique and exciting addition to Rendezvous '23, providing students with a rare opportunity to code and trade.
Overall, the event witnessed a tremendous response from IIT students, and the winners were declared on 12th March. Speaking about the event, Pushpak said, "It was a great event for us. It was the first time; things were more interesting than we thought. We hope that the next events that we do will be much bigger and more fun."
The Quant Quest competition has proved to be an excellent platform for students to learn about algo trading and coding. By providing a hands-on experience with real-world data, the event has opened new possibilities for students to explore their passion for trading and coding
Anurag is an inquisitive budding Engineer.
Being perfect at his job is his watchword. Persistent learner, Aesthete photographer. Football , memes & Game of thrones fanatic.