MTV Coke Studio found its way down to Pune this time and landed at FLAME University in Lavale. All those who witnessed the magical night, were mesmerized by the vibe set free by India's most loved band, AGNEE. The show ended with Angaraag Mahanta (also known as Papon) bringing down the Assamese folk music flavors in Pune.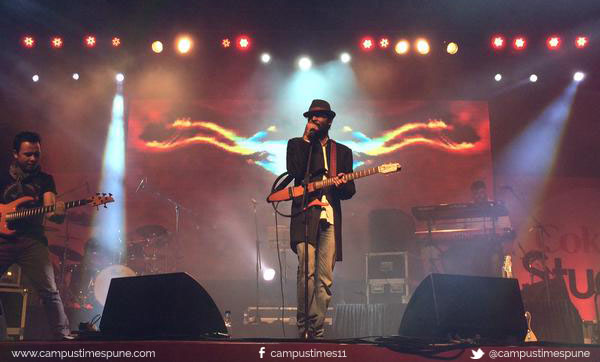 Agnee as usual, rocked it with Mohan and Koco performing and making the crowd of Pune go mad. The band kick started with their debut album "Agnee" in 2007 and has come a very long way since then. The night of 29th November witnessed at their best with a complete new set of songs this time. Also with crazy licks by Koko and their bassist Rushad Mistry tagging along together, was something you just couldn't miss if you are in Pune. All i could say is, to witness how awesome the performance put forth by the pioneers of Indian classical rock band was, you just had to be there.
Papon  along with The East India Company performed a few singles later on in the night. Everyone present there just melted and flew away with the charming singer. And who can forget Jiyen Kyon from Dum Maro Dum. The young crowd of Pune gave an amazing response by singing along with Papon. Got to give it up to the crowd in Pune as well. The atmosphere was totally electric!
"This is Love! This is what we live for…"
– Papon
These were the words uttered out of the artist's mouth after the performance was over. Watch the performance video shot by one of our contributors and share the love for music. Pune loves Music!
The following two tabs change content below.
Campus Times Pune is an initiative taken by some enthusiastic students of Pune to entertain the "Netizens" by providing cool and trending content online. Articles from contributors who prefer keeping their identity anonymous, are published under our authorship. You can contact us with your articles by sending them to "
[email protected]
"
Latest posts by Campus Times Team (see all)