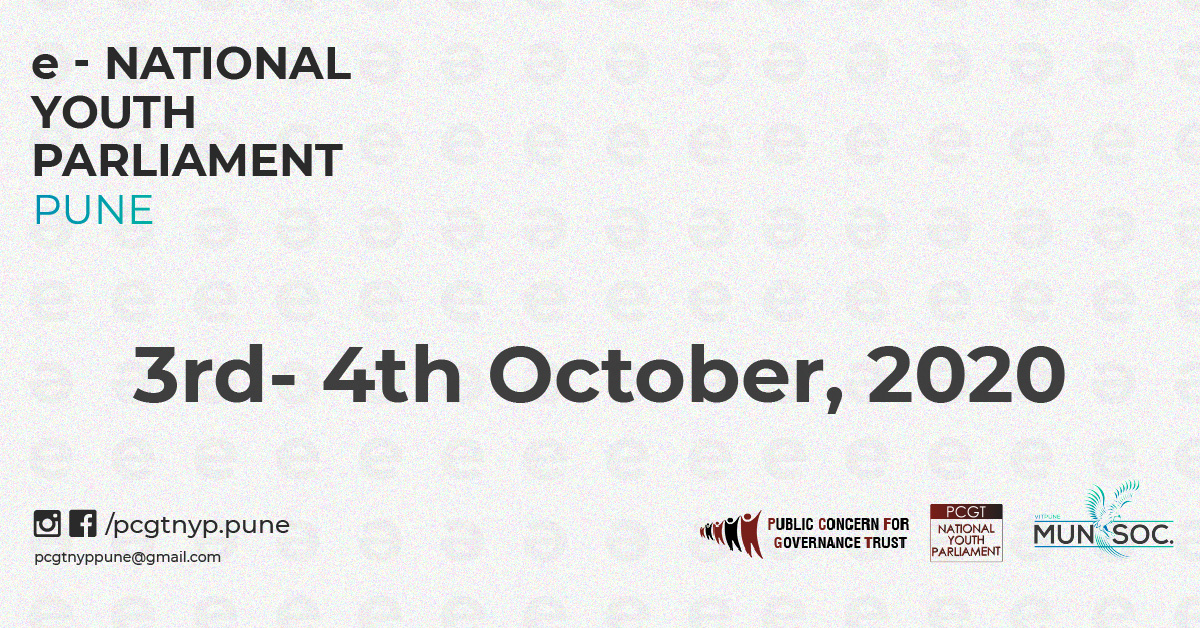 PCGT in association with VIT Pune MUNSoc presents PCGT e-National Youth Parliament, Pune, which is to be held on 3rd and 4th October 2020 in online mode.
AN INSIGHT INTO PCGT AND VIT PUNE MUN Society
Public Concern for Governance Trust (PCGT) is a registered trust founded in 2002 by three eminent personalities, namely Late Shri B. G. Deshmukh, Shri J. F. Riberio and Dr R. K. Anand. A major campaign of PCGT is Youth For Governance (YFG) which aims to encourage youth to actively participate in governance issues and through this, the National Youth Parliament initiative started.
VIT Pune MUN Society is an evergreen club founded in 2019 by the members of VIT Pune MUN. MUNSoc is a college registered club that strives to insinuate understanding among individuals regarding global issues, promotes healthy discourses and encourages debating culture to a great degree.
THE NATURE AND STRUCTURE OF PCGT e-NYP Pune 2020
The Youth Parliament hosts 4 committees, two of which are simulations of the two Houses of the Parliament- the Lok Sabha, the Rajya Sabha and the others are the AIPPM (All India Political Parties Meet) and the Press Committee.
Each of these committees (except the Press) have fixed agendas based on which the discussion will take place.
Agenda of Rajya Sabha
"Discussing the Medical Termination of Pregnancy (Amendment) Bill, 2020"
Agenda of Lok Sabha
"Discussing the Personal Data Protection Bill, 2019."
Agenda of AIPPM
"Assessing the impact of the National Education Policy, 2020."
The Press is a committee where participants are expected to write reports after witnessing the simulated Parliamentary proceedings.
The flow of the event is explained in the Rules of Procedure document which is sent to every registered participant along with Research Material that also contains Study Guides to help attendees proceed with the research.
WORTHY REWARDS
After the event, the awards for Best Parliamentarian, High Commendation, Best Reporter and Special Mention are given, and the winners are awarded cash prizes of ₹ 7000, ₹ 5000, ₹ 5000 and ₹ 3000 respectively in each committee.
WHY YOUTH PARLIAMENTS ARE IMPORTANT
This Youth Parliament not only provides a ground to experience deliberations over issues of National Importance but also gives you a massive opportunity to learn. As an added incentive, it provides unparalleled cash prizes for the winners.
The real reason why one should participate is because the youth is majorly responsible for the ramification of future advancements, and we need to be aware of the present scenario. After all, when the Nation remains dormant, the Youth hold the power of shaping the future and their duty is to derive ideas, not ideals to ensure benefit of the society.
The following two tabs change content below.
Anurag Jadhav
Content Manager
at
Campus Times Pune
Anurag is an inquisitive budding Engineer. Being perfect at his job is his watchword. Persistent learner, Aesthete photographer. Football , memes & Game of thrones fanatic.
Latest posts by Anurag Jadhav (see all)