The Entrepreneurship Development Cell of Poona College of Pharmacy which is a community of young entrepreneurial minds started with a view to generating new ideas in young minds, inculcating skills necessary to be a successful entrepreneur, promoting innovative and passion-driven startups, and being a part of all their endeavors. To fulfill the vision, we have conceptualized & successfully implemented various initiatives which help to induce an entrepreneurial mindset amongst the students and air an innovative streak in them. Our annual entrepreneurial fest EXCALIBUR' 21 witnesses huge participation from colleges across the nation and we are very excited for Excaliur'22!
Excalibur is a platform that brings together the corporate leaders, mentors, investors, new-age entrepreneurs, and all those who are passionate about entrepreneurship on common ground. This year too, Excalibur'22 is being conducted from 11th February – 16th February. A power-packed week that has enlightening webinars, thrilling competitions, and great networking opportunities with hefty cash prizes, giveaways, and much more!
Click Here to See Broucher of Excalibur'22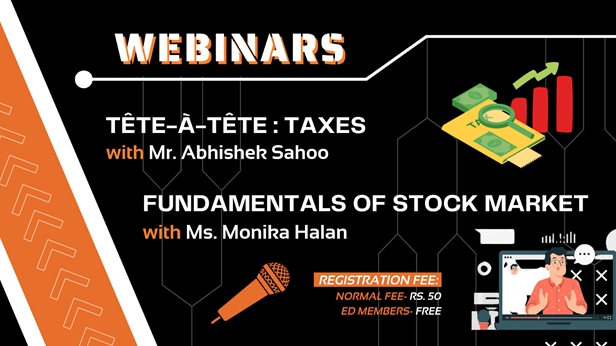 Tête-à-Tête: Taxes with Mr. Abhishek Sahoo
Saving your money and growing wealth goes hand in hand. But, do you even know how being knowledgeable about different taxes can help you in saving a lot? No matter which field you belong to, you will always have to tackle taxes sometime in the future.  Why not start your financial literacy journey with the ED Cell?
Fundamentals of Stock Market with Ms. Monika Halan
In this fast-moving world, FDs aren't an investment option anymore! The stock market can yield you greater returns in a much shorter time, all you need is the right gateway. Get a chance to learn more from this eminent personality only with us at Excalibur'22!
Click Here to Register for the sessions
Not only the talks and sessions, but Excalibur'22 also provides an avenue for students to exhibit their entrepreneurial talent, creativity, and innovation through various competitions. These competitions are designed in a way to test the creativity, analytical ability, aptitude, research and conclusive ability, and teamwork of the participants.
Read More About Such Exciting Events!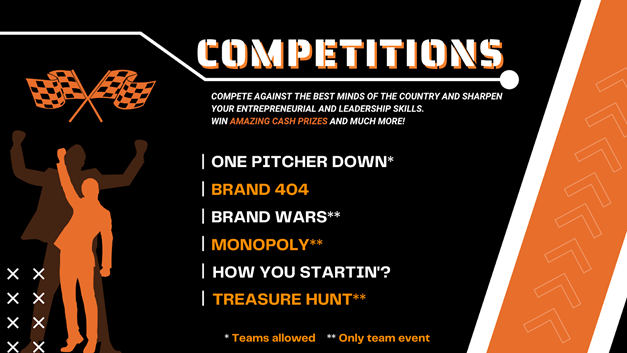 Brand 404 – A Brand Case Study Competition
How many times have you felt that a brand could have done something in a better way? Be it Amazon, Google, or Flipkart, every brand/ company or app has the potential to grow. We offer you a chance to study the downfall of a brand or app as a case and present it in front of the judges to explain how things could've been done differently to save it.
Click Here to Register For Brand 404
One Pitcher Down – A Business Plan Competition
Participants will have to craft a PITCH DECK of a product/service/business idea and pitch it in front of the judges. A Pitch Deck is a presentation given to investors, of what you do and/or what you sell. The goal is to earn a second conversation and funding for your idea from the investors. The individual/team must prepare a presentation and present it within the given time limit to gain the judge's confidence.
Click Here to Register For One Picher Down
Brand Wars – Battle Of Brands
Can you tell what tastes better, Coke or Pepsi, Pizza Hut or Domino's? Such brand wars have always existed, but what can bring this debate to an end is an in-depth study. So here we come with this exclusive competition where a pair of individuals will get to compete against each other with brands from a similar segment. Be ready with your best skills to make your brand win this war.
Click Here To Register For Brand Wars
Monopoly – Buy, Bid, And Acquire other companies
An economics-themed competition, extensively being brought on board to test a multitude of skills in you like analysis, persuasion, money management, and much more. Participants will compete to acquire opponents' wealth to mark a win. This all will be done through buying, selling, and acquiring companies using the allotted virtual monetary amount.
Click Here To Register For The Monopoly
How you startin'
The participants will have to choose their characters from a given list of shows and movies (Hindi and English) and then think of a startup idea as per the character's personality (by putting themselves in their shoes). This idea has to be then elucidated in a word document in a set format.
Click Here to Register For How you Startin
Treasure Hunt
An exciting treasure hunt game but with a twist where the real treasure will be the entrepreneurial knowledge gained in the quest. A locked PDF will be given to the teams and they have to unlock it with the help of the clues in each slide. The first team to unlock the PDF will be getting an amazing cash prize.
Click Here to Register for Treasure Hunt
For more detailed information about the competitions, check out the brochure! We have our top-notch judges waiting for y'all to explore, excel and if necessary, up-skill!
Certificates will be provided to all winners and participants.
For More Information 
Email- [email protected]
Contact:
Sweta Pathak – +918789886180
Madhav Gandhi – +917668484377
Follow Excalibur'22 Team 
Instagram | LinkedIn | YouTube
The following two tabs change content below.
Anurag Jadhav
Content Manager
at
Campus Times Pune
Anurag is an inquisitive budding Engineer. Being perfect at his job is his watchword. Persistent learner, Aesthete photographer. Football , memes & Game of thrones fanatic.
Latest posts by Anurag Jadhav (see all)