E-Summit BIT is the Fest has been declared the biggest and most widely acclaimed entrepreneurial festival of Eastern India conducted by the Entrepreneurship Development Cell of BIT Mesra. The Summit will commence on 11th March 2022 and will extend over a period of 3 days till 13th March 2022. Covering everything from the business-based Unicorn League, to crisis handling, Under pressure to the fierce Valorant and the career-maker, Bizalytics; there is every opportunity to learn, grow and innovate. There will be speaker sessions and workshops covering industry topics to help you with life skills.  With a buzz of activities ranging from pitching ideas to solving case studies to analyzing data and indulging in relaxing games, the Fest will keep you power-packed.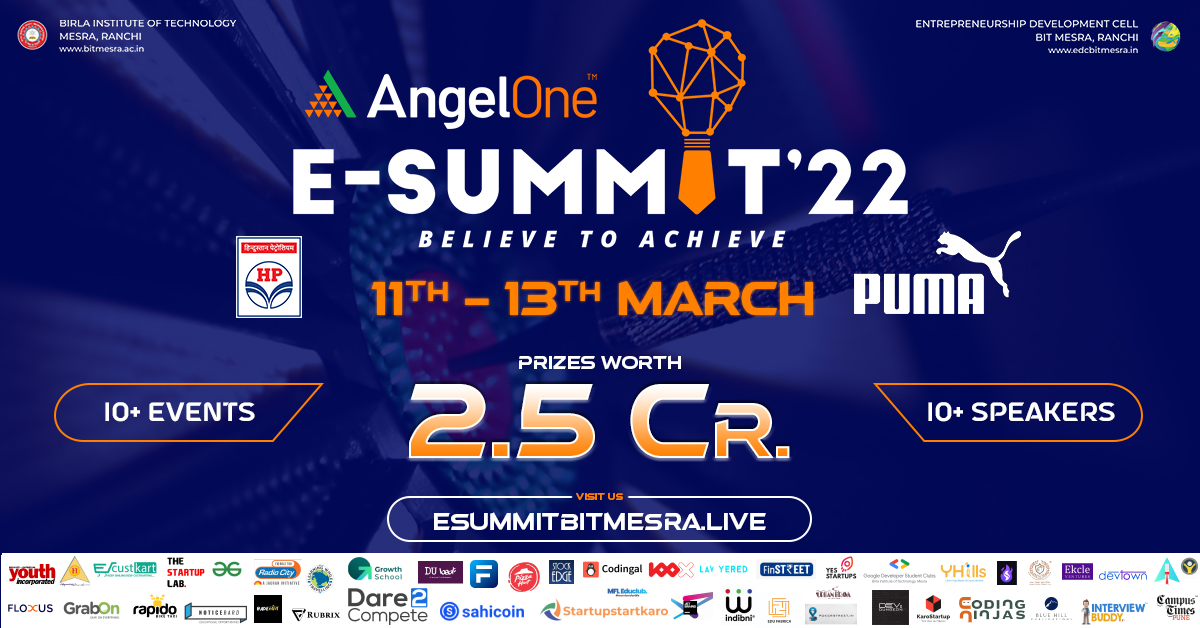 The event is all set to boomerang on the 11th of March,2022. EDC BIT Mesra conducts the E-Summit BIT every year to boost the growth of innovation and entrepreneurship in the entire nation.
Colleges from all over the country participate in the fest to learn the art of change-making and advancement. The Fest hosts prominent industry specialists, renowned experts as well as buzzing students over a period of 3 consecutive days.
This year the theme of the Summit has been solemnized at 'Belief to Achieve'. The theme hints at growth with a will. It aims to target the growth of women-entrepreneurship so that women may counteract the conventional norms of the society and become the future leaders of change upholding the banners of innovation and wisdom.
The Summit will involve events focussing on all domains from Startup pitches to data analytics to case studies and crisis management. To add to the aura, several fun events over the weekends have also been arranged. Movie nights, poker, and valorant await the zeal of the participants. The 5th edition of E' Summit will host renowned names like Satish Ray, Vijay Aggarwal (BharatPe CTO), Harish Kumar (CEO, Bluelearn), and many more. These speakers will not only provide the much-needed insights for a reasonable life but will also discuss life hacks and tricks to make our place in this rushing world.
The following two tabs change content below.
Anurag Jadhav
Content Manager
at
Campus Times Pune
Anurag is an inquisitive budding Engineer. Being perfect at his job is his watchword. Persistent learner, Aesthete photographer. Football , memes & Game of thrones fanatic.
Latest posts by Anurag Jadhav (see all)