The Cultural Cell of PUMBA, is here with their 3 day flagship event on 29th 30th and 31st  January. The event is spread over three days of grand celebration of the true managers, the strong sportsmen and the scintillating performers.
DHRUV  is divided into three wings- Cultural, Management and Sports.
The Cultural Events bring the fun and enjoyment to the Fest and has a range of events for the wonderful dancers, great singers, musicians and confident performers! From Group Dance to Battle of Bands, there is surely a lot to keep you engrossed. The Management Events are a mix of managerial competitions that are sure to test your grit, wit and management skills in a fun and earning way! From Business games to treasure hunt, these will surely take the manager in you to the next level! The Sports Events have a whole lot of range of activities to choose from and there is opportunity for everyone! From Cricket to Chess, be prepared to win or  lose which all is a part of the game.
1. Rogue Traders
Impress the world with your financial prowess that tests your financial investment strategies. Craft your strategic mind to get out of the rat race using real estate business and stock market and become the next business mogul.
2. Scrap-head wars & AD-Zap
Far beyond the hustle and bustle of life, we sit in our room and read the magazines. If you wish to create and design your own magazine, DHRUV 2019 gives you a perfect platform where you are free to use your business knowledge along with your creativity. Additionally, we also provide you with an opportunity to explore the manager in you. It is a fantastic and enthusiastic competition where your thoughts will be provoked.
3. Case In Point
Sharp brains will exhibit different knacks, as cases will be tough nuts to crack, Crown of case in point awaits them, to carry legacy of Chanakya's name.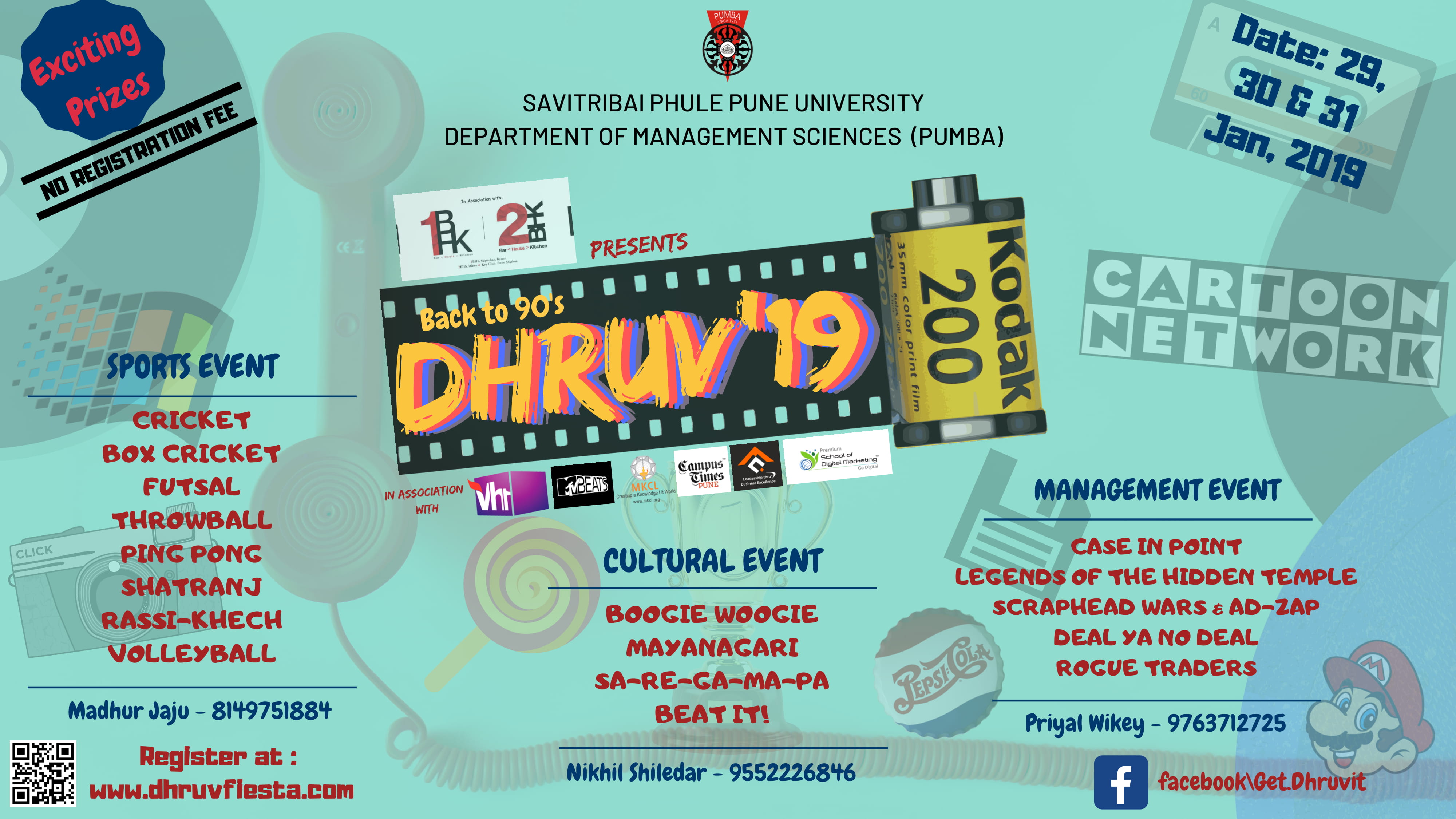 4. Legends of the Hidden Temple
Get ready for a game filled with sheer Fun, Excitement & Thrill. Be ready to give way to the hunter inside you.This game will test your management skills in a fun way. Challenge your wits & dive into this unique adventure.
5. Deal ya no Deal
Ever thought what you would do if you got a chance to build your own IPL team. To use your knowledge of the 'Big Game' and your sixth sense to create the perfect team that goes on to lift the coveted Trophy. To use permutation and combination and make the best choice keeping in mind the huge investment that goes into putting together a winning team. To learn Strategizing, Resource management and Entrepreneurship, all at the same time in a fun-filled Cricketing event. So, grab the chance of building your very own IPL team.
1. Boogie Boogie
Boogie Boogie is the ultimate dance battle where different group dancers come together to set the stage on fire!
2. Mayanagari
It cannot really be a fest if it doesn't have a fashion show. Mayanagari will raise the "oomph" factor of the fest!
3. SA RE GA MA PA
It's time to get lyrical! Get ready for Sa Re Ga Ma Pa, a karaoke competition.
4. BEAT IT!
One good thing about music, when it hits you, you feel no pain" BEAT IT! – Battle of the bands – A musical high that will amp up the adrenaline and get you in the groove. Volume will rise when passion will flow unbridled. It's the perfect platform for bands to showcase their talent, to get the crowd pumping and create a name for themselves.
1. Throw-ball (Women)
2. Cricket (Men)
3. Futsal (Men)
4. Box Cricket
5. Ping Pong (Men)
6. Shatranj
7. Rassi Kheech
8. Volley- Ball
9. Ping pong (Women)
Don't forget to share this upcoming event details with your network. Join Campus Times Pune on Facebook, Google+ & Twitter. Also do subscribe our YouTube Channel. Click on Push Notifications to get notified whenever we publish a post.