Entrepreneurship Development Cell, BIT Mesra is contented to announce the commencement of its annual flagship event; E Summit'23. The event is set to rock-n-roll from 27th January 2023 to 29th January 2023.
Every year, EDC BIT Mesra hosts the E Summit to foster entrepreneurship and innovation across the entire country. The festival attracts colleges from across the nation to study the skills of development and change-making. Over the course of 3 days, the fest brings together eminent business leaders, recognized experts, and vibrant students.
The Summit's official theme for this year is "dare to begin." The concept alludes to willed growth. It aspires to promote entrepreneurship so that we can challenge social norms and become future change agents who will uphold the banners of innovation and wisdom.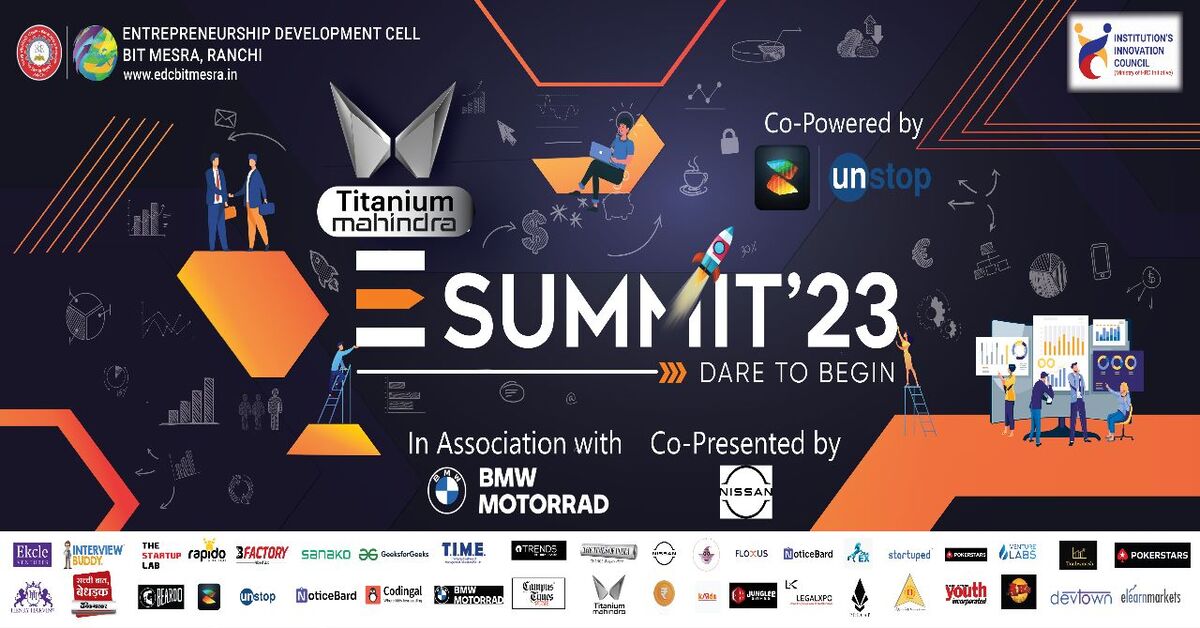 Like everyone, EDC also has a social responsibility to fulfill. Putting some light on social issues has always been the backbone of EDC, this time EDC comes with a social cause that needs our immediate attention which is "This time for Earth". In layman's words, we can simply say that Earth exists so we exist. Our aspiration doesn't have any significance if we cannot ensure the Earth's existence. We devout our time for various activities but this time it should be for Earth.
There will be events at the summit focusing on every area, including startup pitching, data analytics, and crisis management. A number of entertaining events over the weekends have also been planned to enhance the atmosphere. The enthusiasm of the players will be tested in the boardroom, Bellagio, and storage wars. Renowned figures like Anshul Rustaggi, Rishabh Jain, Aditya Ranjan, and many others will be present in the sixth edition of E' Summit. In addition to providing crucial insights for a respectable living, these presenters will share life hacks and methods to help us survive in our fast-paced environment…
About BIT Mesra and EDC:
Established in 1955 by the visionary industrialist Mr. BM Birla, with a clear vision in mind, BIT Mesra was established to provide young minds with a place where their creativity could soar and their ideas might come to life. The institute has fostered brains with a long tradition of academic brilliance for more than 60 years, creating learning frameworks that were far ahead of their time.
The mission of the Entrepreneurship Development Cell is to promote an entrepreneurial attitude and a culture of innovation-driven companies among the students of our prestigious university. It is a group of young people with interests in the financial and business worlds who want to bridge the gap between innovations and possibilities and bring seasoned businesspeople and students together on one platform amid the maze of modern business and technology. The team proudly represents all entrepreneurial endeavors at the campus. EDC strives to give a wealth of possibilities to transform brilliant ideas into concepts that will lead to success by organizing various events, guest lectures, webinars, and workshops throughout the year.
The following two tabs change content below.
Anurag Jadhav
Content Manager
at
Campus Times Pune
Anurag is an inquisitive budding Engineer. Being perfect at his job is his watchword. Persistent learner, Aesthete photographer. Football , memes & Game of thrones fanatic.
Latest posts by Anurag Jadhav (see all)