The event which everyone is talking about is "VISHWAPRENEUR". But what is so special about it?
In this article, we will cover everything you need to know about one of the biggest E-Summit of Pune City, Vishwapreneur!
Are you the type of person who always thinks that you will achieve wonders in life? Do you always thrive to do something different, something great in life which everyone will remember you for?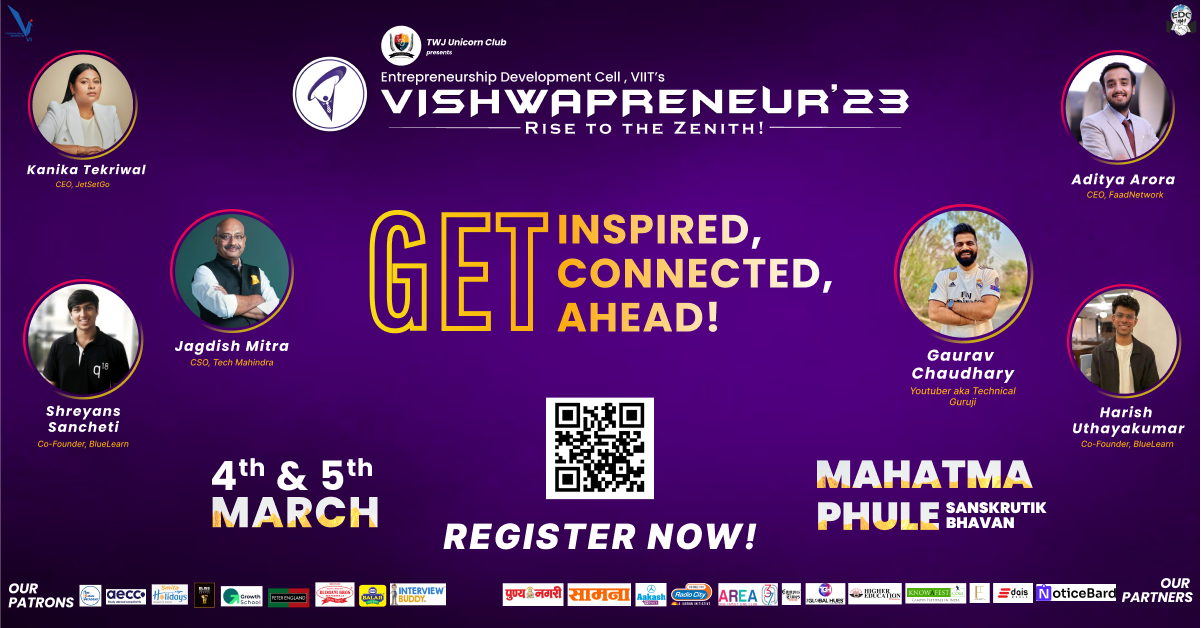 If your answer to these questions is yes, your wait is finally over. Vishwapreneur 23 is here to help you start your startup journey!
Right now let's keep your age, occupation, gender, and industry aside, Vishwapreneur is a one-stop event for everyone bold enough to dream and think out of the box. Vishwapreneur will not only teach you the key to success in life but also how to achieve the unexpected and how to create your own brand.
Vishwapreneur is a National Level Entrepreneurial Summit and one of Pune's biggest E-Summits hosted by the students of the Entrepreneurship Development Cell, VIIT Pune.
The event showcases entrepreneurs, creators, and innovative minds of our century who had the courage to think out of the box. It is a platform for budding entrepreneurs to seek motivation and guidance through the experiences of successful business tycoons.
Read More About Such Amazing College Events!
Entrepreneurship is a driving force behind the growth and development of any economy, and India is no exception. Over the past few decades, the country has seen a significant rise in the number of entrepreneurs and startups, largely due to the support provided by the government and various initiatives. One such initiative is Vishwapreneur, a platform that aims to empower and encourage entrepreneurship in India.
Vishwapreneur has made a significant impact on the entrepreneurship ecosystem in India since its inception. It has helped hundreds of entrepreneurs and startups to grow and succeed and has contributed to the creation of new jobs and economic growth in the country. The platform has also received recognition and support from the government and various organizations, further emphasizing its importance and impact.
This year as well we are having multiple eminent personalities such as Niranjan Hiranandani (Founder and MD Hiranandani Group), Rishabh Jain(Youtuber, Labour Law Advisor), Anant Ladha (Founder, Invest Aaj For Kal), Ashok Ramachandran(President and CEO Schindler India), Web 3.0 panel, Finance panel and so much more.
Every year, we aim to provide you with pure gold content to accelerate your startup journey, to help you stop dreaming, and start implementing the steps to become the next Ratan Tata or the next Ellon Musk, or any personality that you idolize.
It is now your time to start becoming the individual whom the upcoming generations will idolize, so book your tickets for Vishwapreneur and take your first step toward success.
So What You Are Waiting For?
Register Now!
Follow For More Details 
Instagram | Facebook | Twitter | LinkedIn
Anurag is an inquisitive budding Engineer.
Being perfect at his job is his watchword. Persistent learner, Aesthete photographer. Football , memes & Game of thrones fanatic.